I am blessed with a very cool little group of frugal friends. No bargain goes unnoticed, no opportunity to simplify life is missed, and nothing is wasted. Even food scraps are transformed and repurposed into valuable time-saving and money-saving morsels.
In that spirit, I am turning to my own cupboards to see what little treasures they will yield. Honestly, this is great fun! Suspending grocery shopping in lieu of creating nourishment from nothing makes one feel imbued with superpowers. (Okay, I am easily amused.) It can be empowering to to keep your money in the bank while, at the same time, feeding your family very well.
Full bellies. More shelf space. Saving money. Nothin' wrong with that.
So what needs to be saved from rotting today?
Tortilla Chips and Raw Cashews that had been ground into flour.
Perfect! The easiest stale tortilla repurpose may be the crunchy topping. And cashews can be so creamy. Spice them up and we may have something. By the way, these chips are really good. I don't know why we did not eat them all. You can use any corn chips or tortilla chips you have on hand.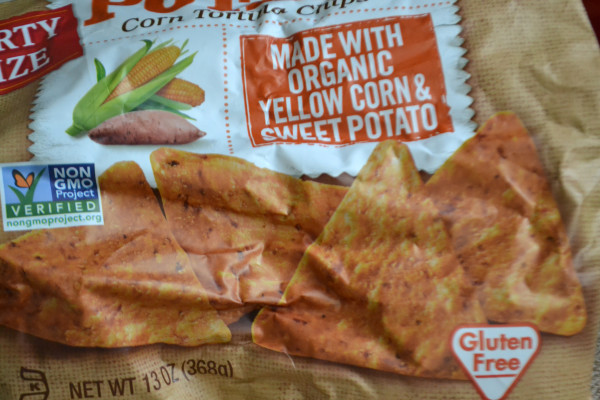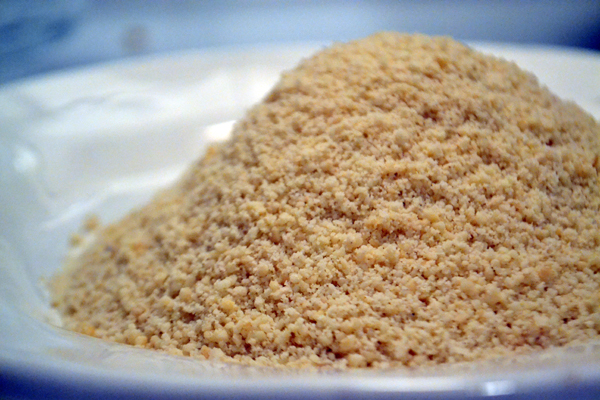 Vegan Creamy Cashew Mac topped with Crunchy Sweet Potato Tortilla Chips
First, pasta shells. We always have these. Nothing special, Just leave these slightly undercooked because they will be baked again later. These happen to be gluten free.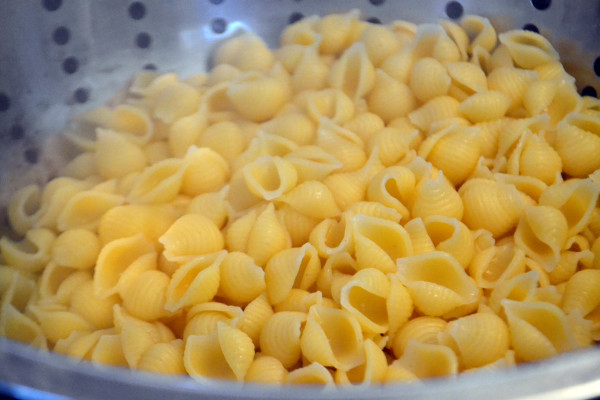 Next, the creamy delicious savory sauce. And it happens to  be gluten free and vegan! The cashew "flour" is soaked overnight, then combined with almond milk and spices. You can see more images here.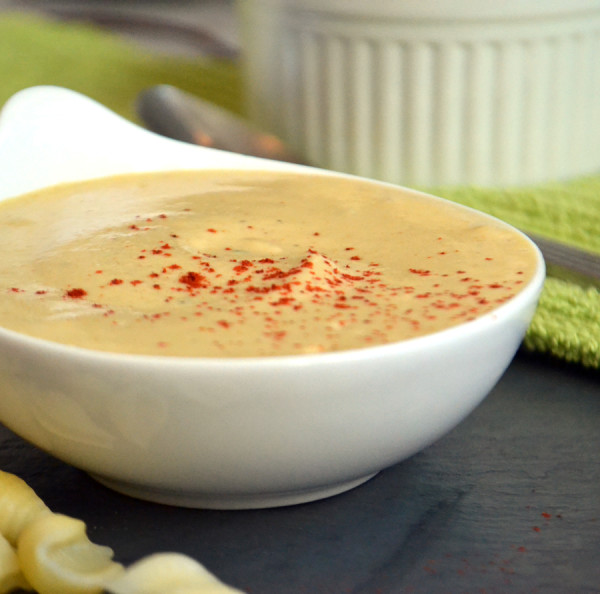 Now pour the yummy sauce over the al dente pasta.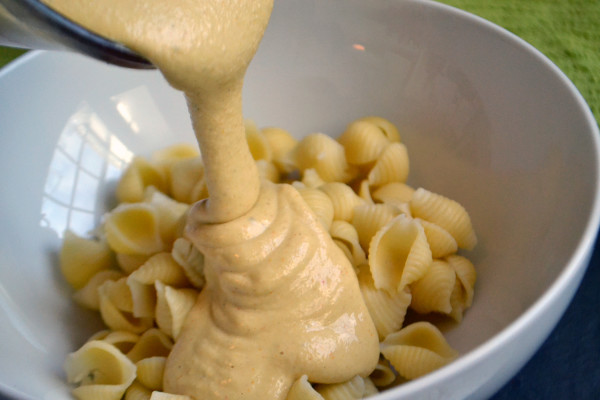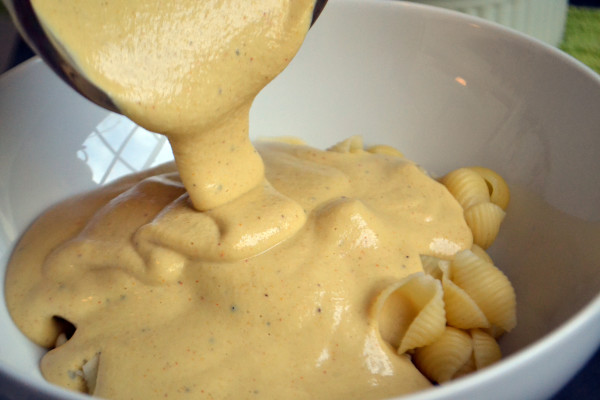 Mix it together… slowly for your enjoyment.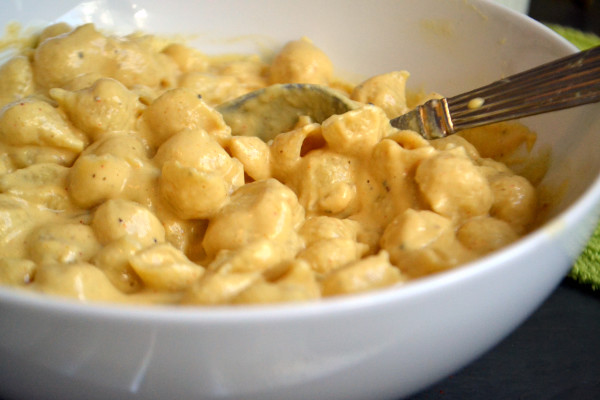 Fill ramekins or a small baking dish. (A little extra paprika for fun. Not needed.)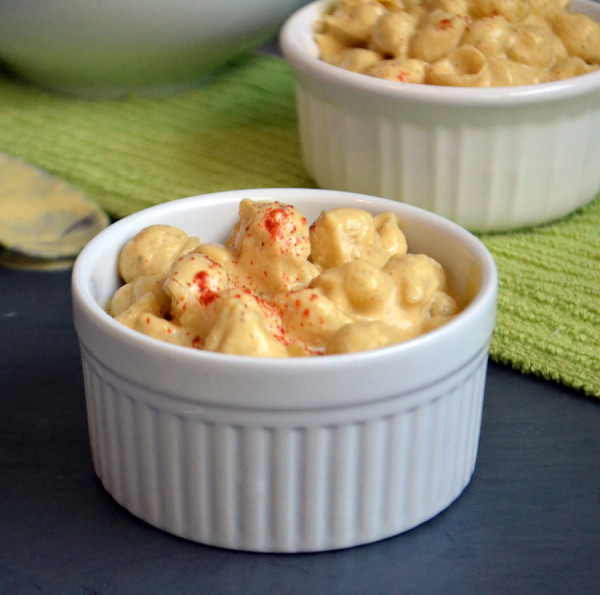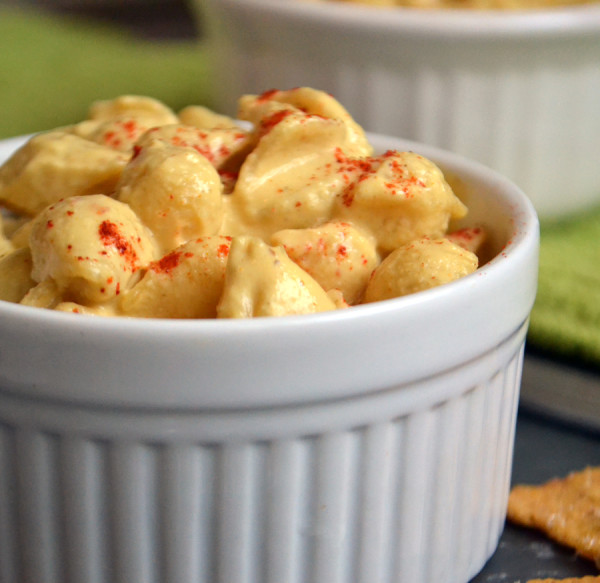 Now crumble up your tortilla chips, any tortilla chips you have on hand. Pile them up on top. Bake until stale chips are revived and crunchy and delicious. Sauce should be hot and melty.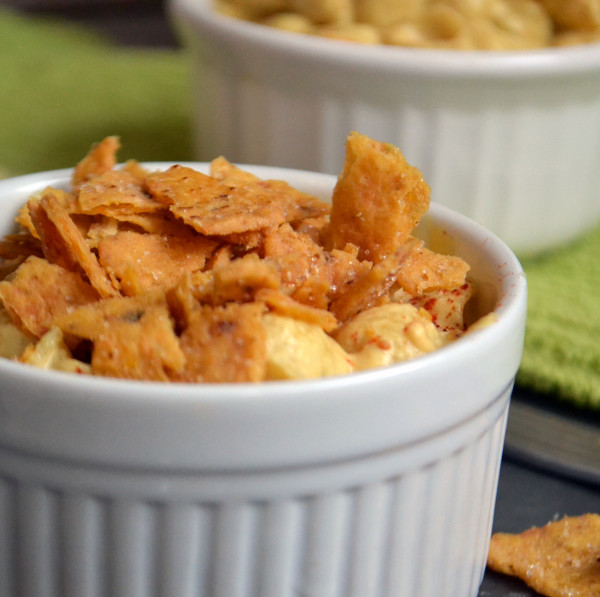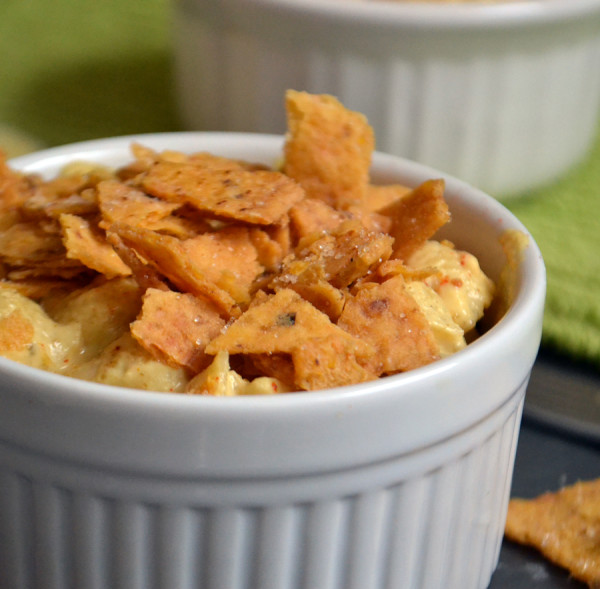 Creamy Cashew Mac topped with Crunchy Sweet Potato Tortilla Chips
Pureed cashew makes a delicious and creamy sauce. In this recipe are some flavors that I like. Feel free to change up the flavors to any that you like!
To make Cashew Mac
Cook pasta according to package directions, leaving it slightly undercooked
Make sauce and combine with pasta, put in a baking dish
Crumble tortilla chips and top pasta and sauce with them
Bake at 350° for a few minutes, just until the cheese is heated and chips are toasty
Ingredients for Easy Creamy Cashew Sauce:
Yields about 1 cup sauce. Perfect for about 2 cups pasta.
1 cup raw cashews, processed into a coarse flour*
1 cup water
1-2 cloves garlic, finely minced or roasted
1/2 – 1 t onion powder
1/4 t cumin
1/4 t paprika
1/4 t turmeric (if you have an aversion to turmeric, you can leave it out)
2 t lemon juice
1-2 T nutritional yeast – more if you like
1/8 cup almond milk
salt and pepper, to taste
optional flavorings: a little miso, mustard, or cayenne will change up the flavors
Method
Add water to cashew flour. Cover and put in the fridge to soak overnight.
Add all other ingredients to the soaked cashew flour. Place into a food processor or blender and puree until the texture is smooth. Salt and pepper to taste. Adjust seasonings, as desired.
If you like the viscosity, you are done! If sauce it too think, stir in a little more almond milk. If it is too thin, heat sauce in a small cooking pot on a low-medium heat to reduce it to the thickness you like.
Add to pasta, vegetables, anything you like!
*You can grind raw cashews into a coarse flour using a food processor, pulsing until you get the texture you like. Because you will be blending this again later, you can dispense with the processor and just mince cashews with a knife before soaking.
Enjoy!
If you like this, please Pin, Share, and Like
[pinterest]
[fblike]
[tweet]