[pinterest]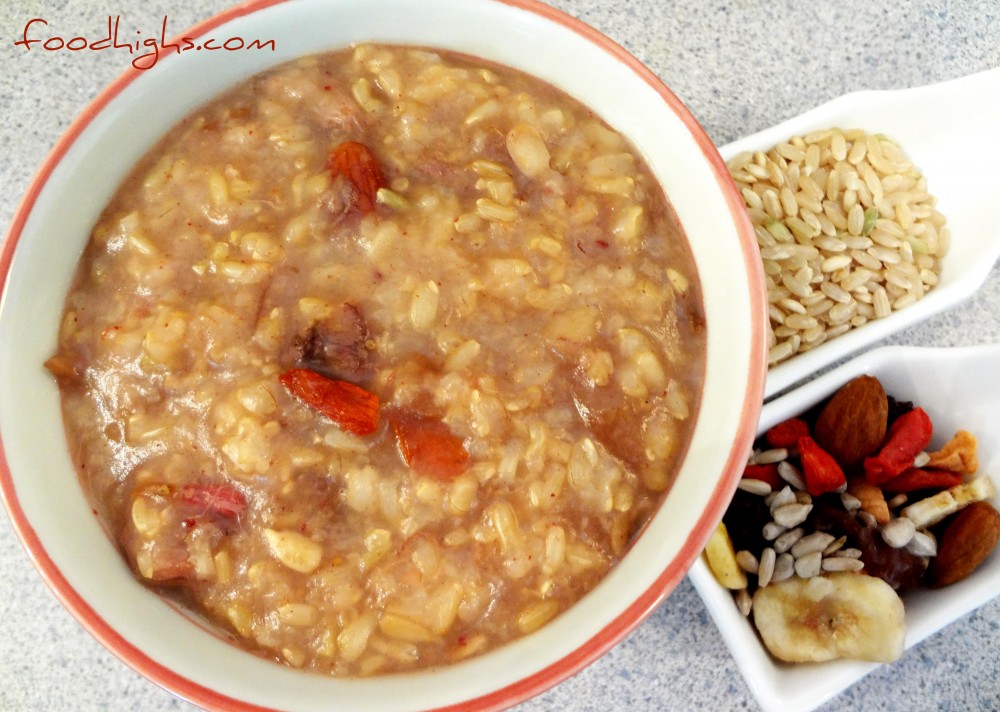 Of the five elements of Chinese Medicine, my mother is an "earth". The earth person is a nurturer, friendly, and generous. This is the person who gives you the comfy chair and softest blanket, and probably a bowl of stew and the t.v remote, while he or she rubs your shoulders. The unhealthy earth person worries… and worries… and ruminates… and worries some more. The earth person may have issues with food, which may include excesses or avoidance.
For my mom, it is avoidance. She seldom eats and has trouble absorbing nutrients when she does eat. Add to that an extreme chemical sensitivity, likely because of excessive use of antihistamines. Ironically, she took the antihistamines to combat her excessive damp condition. Her physician calls this "dry nose syndrome". This makes her a bit of a puzzle. In general, the earth person thrives on grains, which can dry a damp condition. But she is an earth person with a dry condition, who is wasting away because she doesn't eat and can't sleep. Hmmm
Enter Congee!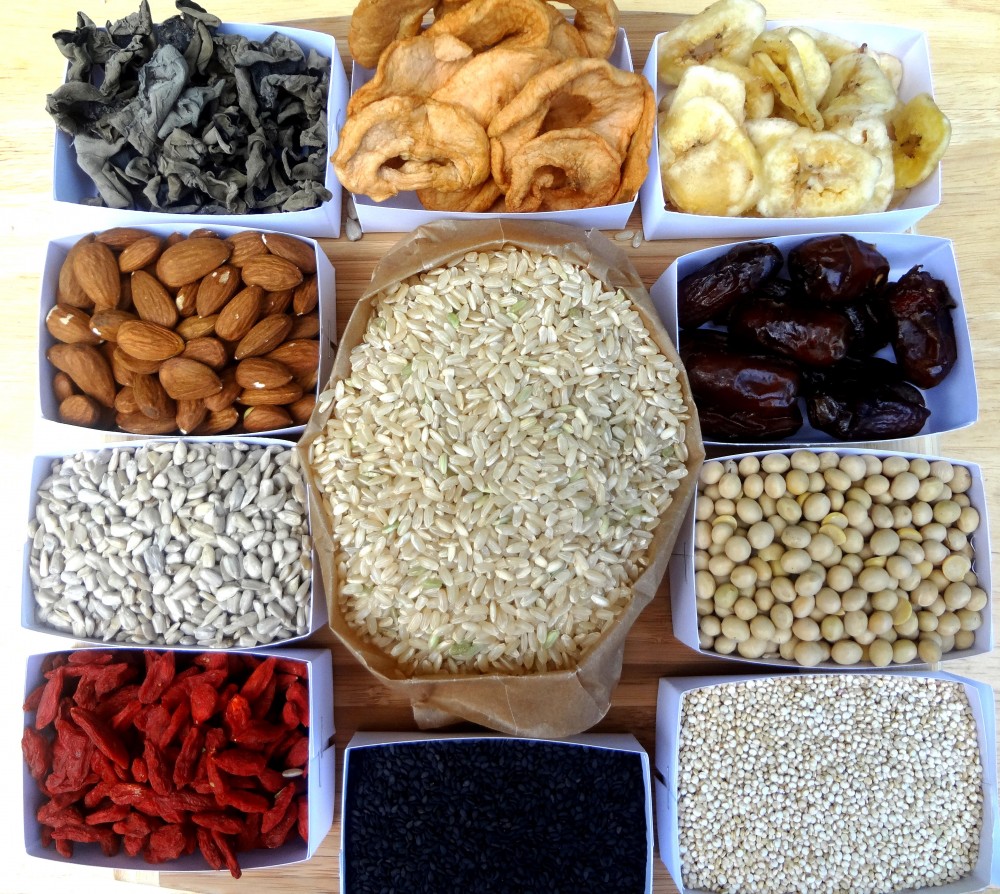 Congee is an intensely healing food used in Chinese Medicine for the treatment of many ailments. It is a rice based slow-cooked porridge with beneficial ingredients added. Properties of rice and the slow-cook method make nutrients in these foods more bioavailable. It is great for anyone in convalescence, individuals undergoing radiation and chemotherapy, new moms, or anyone who is overworked and under rested. Know anyone like that?
So, it is time for a congee care package for Mom. This will include hand chosen foods which are used to lubricate dry conditions. After a trip to an organic foods market and my favorite Asian foods market, as well as consideration to her personal taste preferences, here is an assemblage of specifically chosen potential ingredients for her Congee. These would be helpful for most people with lung issues or dry conditions.
First, a recipe for a great breakfast, or anytime, Fruit and Nuts Congee. This is yummy and comforting and nourishing for just about anybody. Later, I will pick and choose from my ingredients to make a savory Asian-inspired congee with black fungus!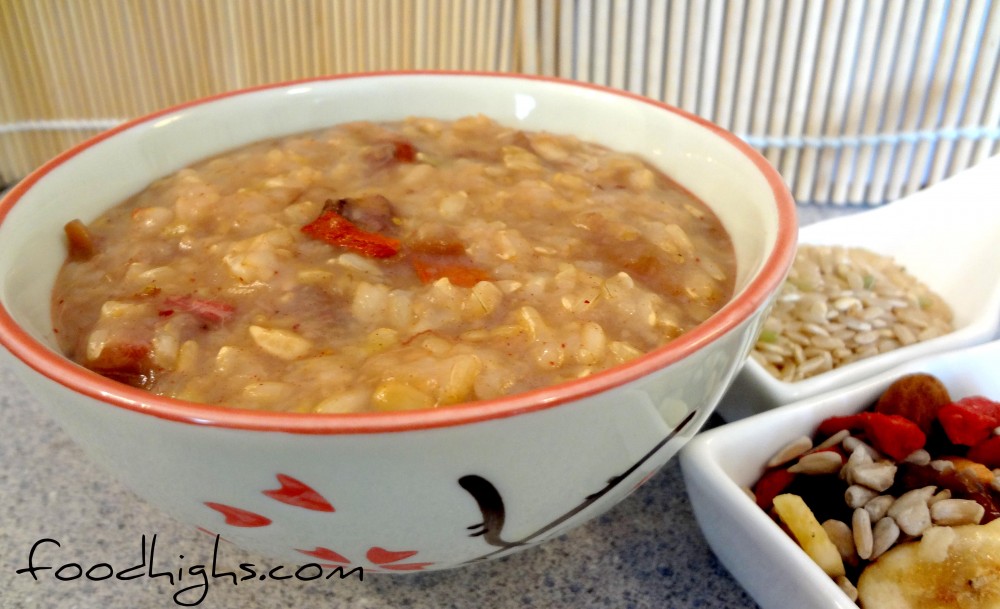 Fruit and Nuts Congee
Ingredients:
1 cup rice (I used organic brown rice)
1 cup any combination of fruit, nuts, and seeds – diced
6 cups water
Sweetener – to taste, if desired (if not vegan, honey is also beneficial for dry conditions)
Method
Add all ingredients, except honey, to a slow cooker or pot on the stove top. Simmer for 4 to 6 hours. In Chinese medicine, it is believed that the longer congee simmers, the more powerful it becomes. Stir occasionally. Add water as needed. You are looking for a porridge consistency and you do not want it to dry and stick to the bottom of the pot. Add honey to taste, when congee is almost done.
Note: For my mom, I filled a one cup measure with almonds, dried apples, dried banana chips, and raw sunflower seeds because these ingredients are used in Chinese medicine to treat dry conditions. I also included goji berries for added nutrition and dates because they are beneficial for the poorly nourished spleen and she likes them.
You do not need to use dried ingredients; you can certainly use fresh. Dried ingredients offer a texture which I find pleasing, and I find that for a care package, dried ingredients are much easier to mail than fresh!
If you send a care package, don't forget recipe cards or a link to this page.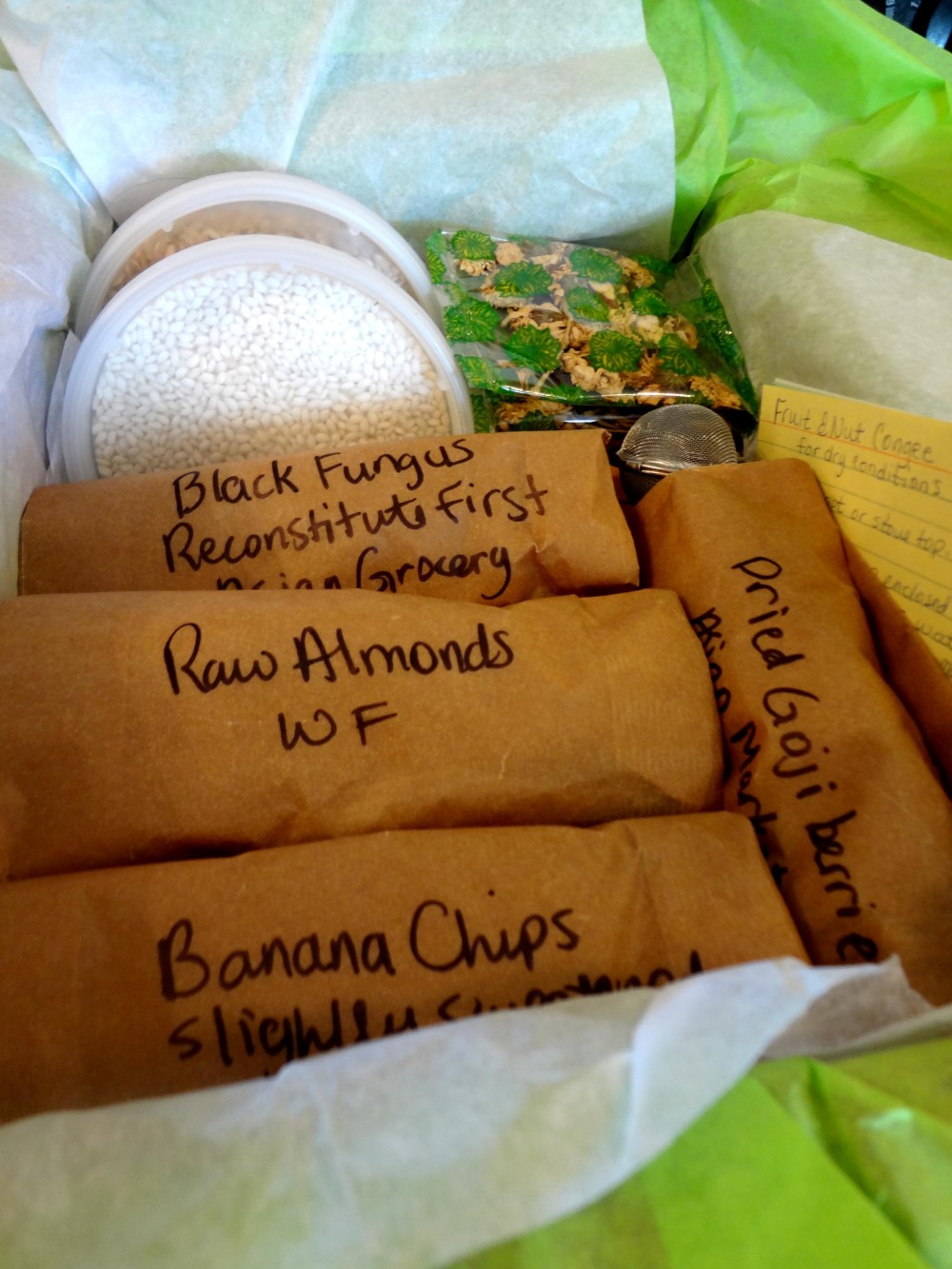 [pinterest]
Enjoy and Good Health!
If you find this useful, please like, share, and pin!