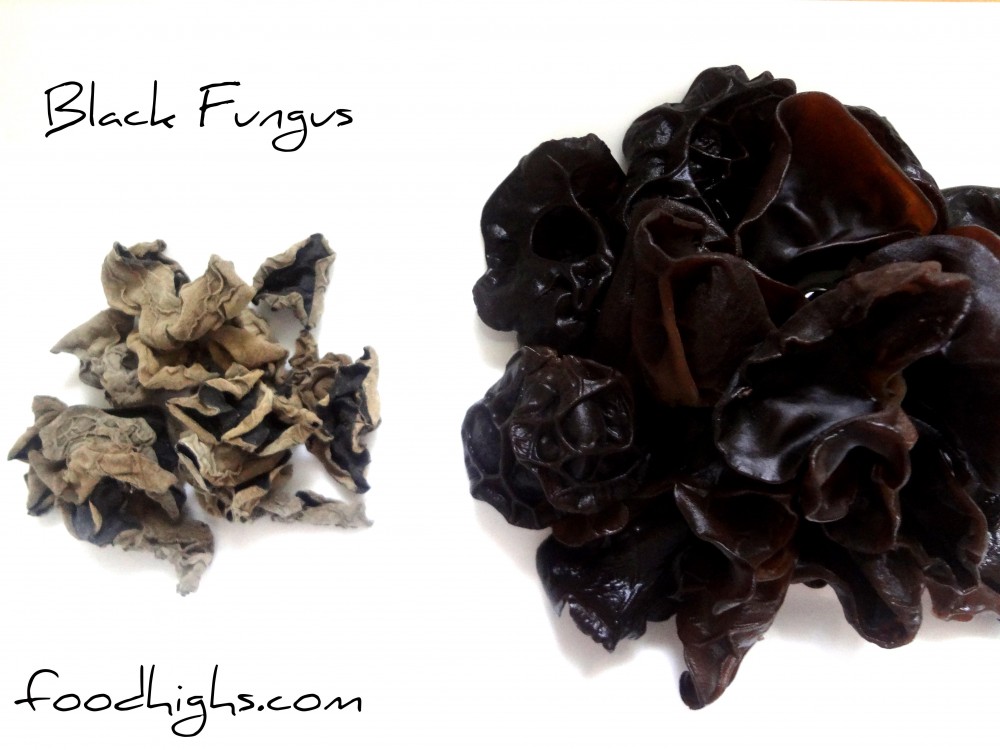 [pinterest]
Could bf be your new bff?
As promised, this post includes a savory congee recipe, using beautiful black fungus, a.k.a. wood ear, tree ear, cloud ear, or Judas ear.
While the name may not make you salivate, knowing uses for this marvelous ingredient may give you a beneficial addition to many dishes.
Black fungus is used in Chinese medicine for its healing properties. It has very little detectable flavor. This makes it great for adding to dishes, as it will not overwhelm other flavors. In case you wish to soften the texture, simply cook it longer. This characteristic makes it perfect for congee!
How Black Fungus is used in Traditional Chinese Medicine (TCM), including, but not limited to…
… help in dissolving fibroid and other uterine tumors

… treat dry conditions (as it moistens the blood)
… improve circulation (because of a chemical it contains which is thought to inhibit blood clotting)
… fight anemia because of its high iron content
BTW, Western medicine agrees. Black Fungus contains iron (and other minerals), protein, fat, vitamins, and polysaccharide (a cancer fighter)
What you need to know before using Black Fungus
You can purchase dried black fungus at an Asian Market or online
To prepare
Dried black fungus must be reconstituted and cleaned, like any other dried mushroom. Simple method – place black fungus in a bowl, cover with water. Allow to sit for about 20 minutes. Most of the dirt will settle to the bottom of the bowl. If needed, give the fungus a quick rinse to remove any remaining bits of dirt. Then cut away stems and discard. You can feel them between your fingers, they are a bit tough. I use kitchen scissors to easily snip them off.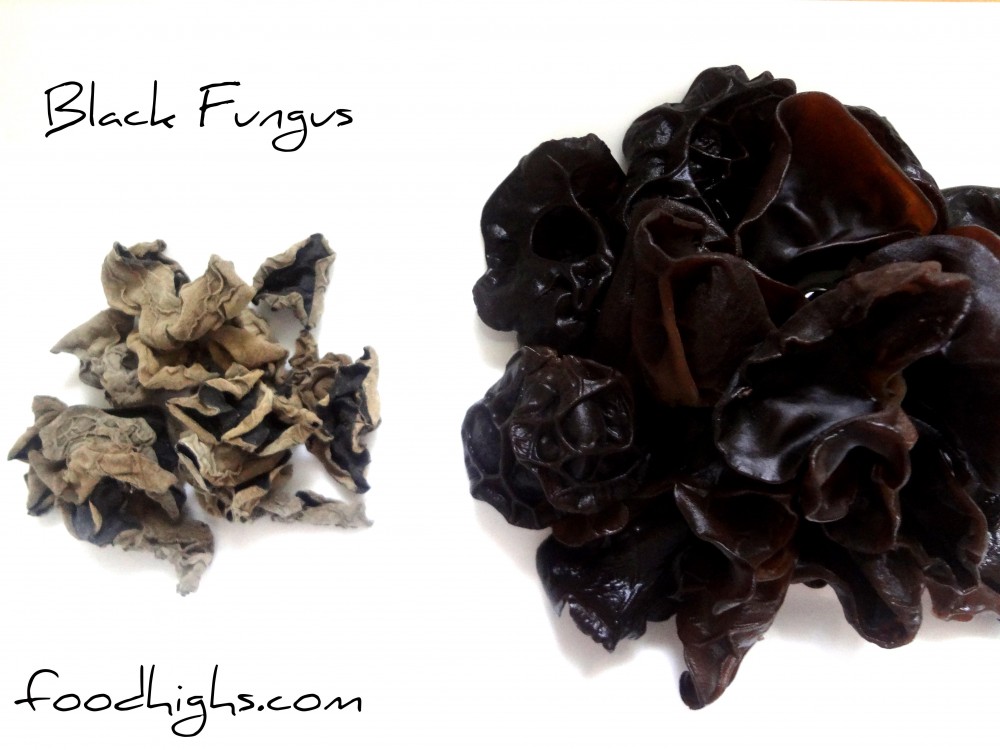 Above: Dried and reconstituted black fungus. You only need a small amount dried. Also, If you feel you are able to rinse off the dirt well enough, you may add it to the congee without reconstituting first.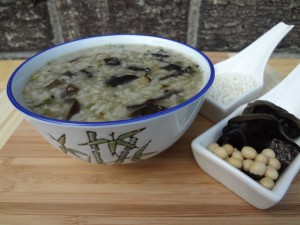 Black Fungus Congee
Ingredients:
1 cup rice (I used sweet rice)

1/2 to 3/4 cup reconstituted black fungus, stems removed, julienned or diced

6 cups water or chicken broth

optional Ingredients, if you are preparing congee for treatment of dry conditions: seaweed (strong flavor, go easy), soybeans (1/4 c), black sesame seeds (1 T.)

optional

seasoning

: ginger (to taste), green onion (2 or 3 stems, diced), umeboshi plum paste or salt to taste
Method
Add all ingredients to a slow cooker or pot on the stove top. Simmer for 4 to 6 hours. In Chinese medicine, it is believed that the longer congee simmers, the more powerful it becomes. Stir occasionally. Add water as needed. You are looking for a porridge consistency and you do not want it to dry and stick to the bottom of the pot.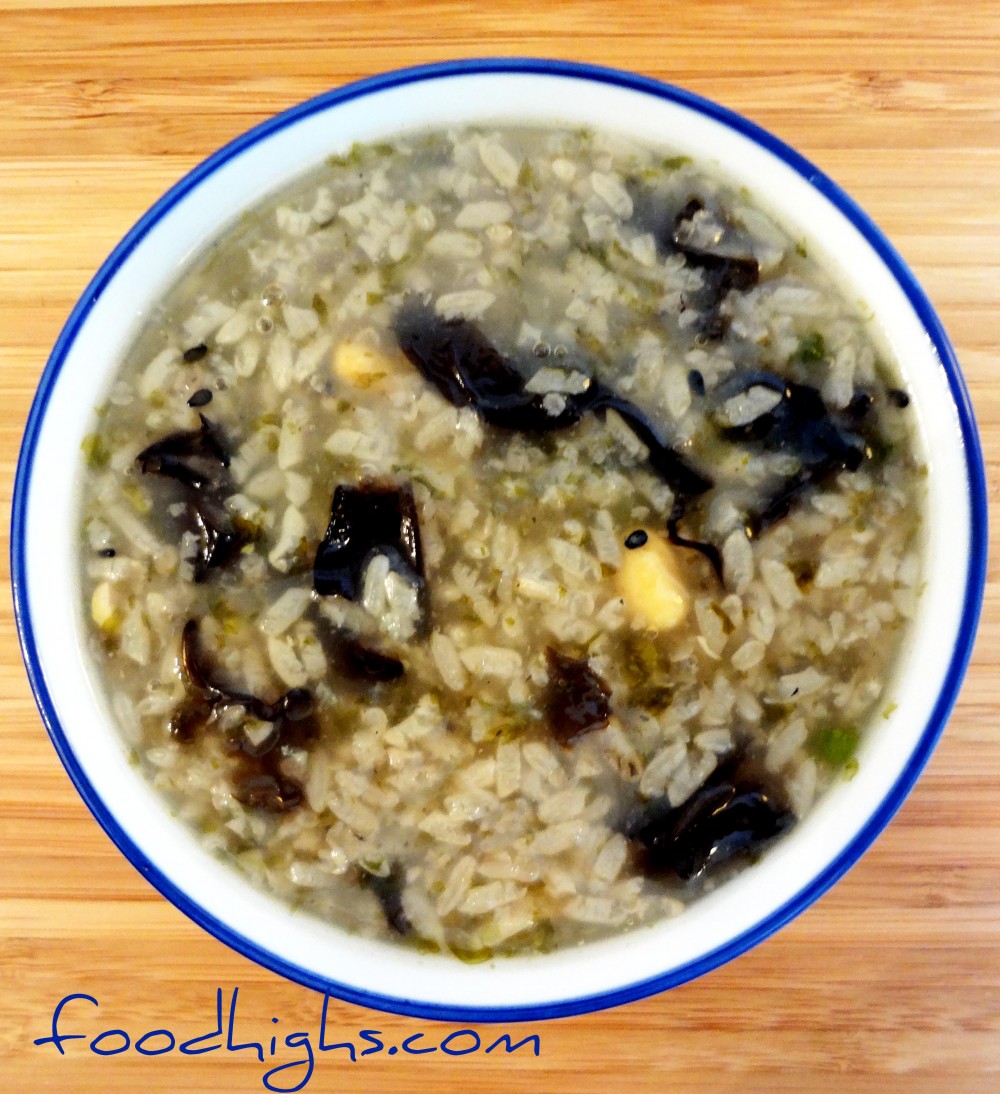 Enjoy! And good health!
[pinterest]
Please Like, Share, and Pin!