Side by side in the fridge – this homemade salsa vs. the favorite commercial salsa – my kids choose this "special diet" salsa every time! – (don't tell the kids this salsa is intended for IBS sufferers).  It is full-flavored and begging to be mounded on chips, dripping over the sides. Mmmmm  Roasting the vegetables (or fruits) together in olive oil builds complexity, and allowing the ingredients to mellow out in the fridge will develop those tangy-sweet robust flavor layers even further… IF it lasts long enough.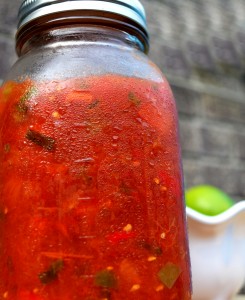 So why make a Low FODMAP Tomato Salsa? Because I have not found one to purchase. And it probably would not taste as good as homemade anyway. Homemade salsa is generally more healthful and delicious!
It is summertime… or tomato time, fresh off the vine. Yay! This is a good time to load up on our beta-carotene, alpha-carotene, lycopene, lutein, vitamin c, potassium, folate, and fiber. But for some IBS sufferers, the usual pairings of tomatoes with garlic and onion, or the fructans in them, may not be so good. High FODMAP foods are those which are generally not well digested by the small intestine, making trouble for the large intestine. This recipe brings flavor and texture without those fructans.
But enough special diet stuff… make this simply because it tastes great! Salsa is a great make-ahead, and a way to utilize all those wonderful summer tomatoes.
Tomato Salsas – Two ways
Roasted and Low FODMAP
Ingredients
4-5 fresh tomatoes, medium-sized 

1 red bell pepper
garlic infused oil* – use only the oil, no garlic pieces!
chile options – 1 T pureed reconstituted dried ancho**, or 1-2 T chile powder (be sure that you read the label to avoid products with onion or garlic in them)
juice of one lime
6 green onion stems (green part only), thinly sliced
salt & pepper to taste
Above is the salsa base, very good on its own. Optional additions:
1 seeded jalapeno, diced – if well tolerated

cilantro or parsley, diced
1-2 t. cumin, to taste
Method
Preheat oven to 400°. Halve tomatoes, red bell pepper, and jalapeno (if tolerated). Remove and discard seeds and stems. Brush with garlic-infused olive oil and place on a cookie sheet. Roast until skins begin to blister. Remove from oven, place in a bowl and cover until cool, or at least until it wont burn your fingers. Uncover, peel away and discard skins. Dice tomatoes and peppers and place in a bowl. Add chile, lime juice, green onion, and any additional ingredients.
Refrigerate. Time in the fridge will allow flavors to become more complex.
Note: Dried chiles are nice to have on hand. They store well and add great flavor. If you prefer, you may certainly substitute poblano, jalapeno, or another favorite fresh pepper for dried.
Note: 4-5 fresh medium sized tomatoes is equivalent to about one 14 1/2 oz can diced tomatoes. Roasted canned tomatoes could be substituted, if needed.
Fresh Tomato Salsa
For a raw preparation, leave out the garlic-infused olive oil. If tomatoes are summertime fresh, you wont miss it!
4-5 fresh tomatoes, diced (stem and seeds discarded)
1 red bell pepper, diced (stem and seeds discarded)
chile options – jalapeno or poblano to heat level desired, or 1-2 T ancho chile powder (be sure that you read the label to avoid products with onion or garlic in them)
6 green onion stems (green part only), thinly sliced
optional , chopped cilantro or parsley
juice of one lime
optional, 1-2 t. cumin
salt & pepper, to taste
Combine ingredients into a bowl. Allow to mellow for about an hour. Enjoy!
Garlic-infused oil and reconstituted peppers.
* You can make your own infused olive oil. Emeril Lagassi uses a ratio of 1/4 cup extra virgin olive oil to 4 cloves garlic. If I am doing Low FODMAP cooking, I might throw in more garlic! Place olive oil into a small pot on the stove top.  Heat, bringing the temperature up to 200° – this is a good simmer. Add garlic cloves. Simmer for 5 minutes. This is important to prevent bacterial growth (Clostridium Botulinum). Turn off the heat and allow to cool. Strain out garlic. Keep oil in a sealed container, out of direct light. You can leave garlic pieces in the oil and garlic flavor will intensify in storage; I find it easier to have them out of the way. It is preferable to allow flavors to develop 24 hours before using.
**To reconstitute dried pepper(s), cut away stem(s) and discard. Cut pepper(s) open and remove seeds, discard.   Place peppers in a small pot, covered with water. Simmer until softened. Remove peppers from water and puree until smooth.  This is a great do-ahead. Keep in the fridge and add to dishes for a little kick.
Also, you can purchase chili powder which contains only ancho chili. If you cannot find a source near you, you can order this online. Here is an example from World Market.
[pinterest]