Tex-Mex Refried Seeds
Nutritionists often suggest hiding healthy foods in other food… "the kids will never know" they say. Well, my kids know. They will detect the smallest granule. Believe me – I have tried sneaking things in! I did get away with it somewhat when they were little, but no more. To be honest, that was really more like never letting them know that meatloaf could be made without spinach and oats – muah ha ha. But they are old and wise now; they know many many flavors.  My daughter's palate will isolate every nuance of flavor,  and my son insists on perfect texture as well. That's why I just have to put the healthy things right out there, front and center, and make them great!
If you have not worked much with seeds, you will be amazed at their versatility and how great they can taste in many different applications.  Forget nutritional value (for now), they just provide texture and flavor that hit the spot.
When I make this dish, my discriminating kids eat them up with chips and salsa, then my ever-growing son later looks for leftovers in the fridge in case there are any to finish off. Triumph!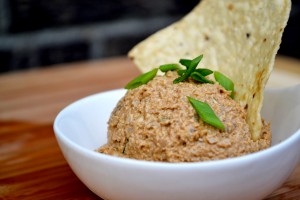 So, a bit about the "special diet" side of things. This dish fits easily into many diets, paleo, vegetarian, dairy-free, gluten-free, nut-free. But it is also a great option for a Low FODMAP diet, or anyone who cannot easily digest beans.
Per TCM, sunflower seeds are warming and sweet, beneficial to the pancreas (for the earth person), and relieve dryness in the intestines.
They are a great source of selenium (cancer-fighter), magnesium, copper, and antioxidants, providing benefits throughout the entire body!
These refried seeds can be used pretty much any way you would use refried beans – in a wrap, with eggs, in a dip, you name it.
Here's how to make them:
Plan Ahead!
"Sprout" sunflower seeds at least an hour before you plan to use them; I usually do this the day before. Simply place seeds into a container, cover with water, and refrigerate. A more accurate term for this may be "soaking", but really doesn't "sprouting" sound better? And this term is commonly accepted for soaking and sprouting (nuts, seeds, and grains).
Why sprout first? Because sprouting unlocks nutrition inside the seeds, making it much more bio-available for your body!  And for culinary purposes, it also improves the texture for food preparation and adds a bit of sweetness. Win-win.
Sprout sun-dried tomatoes if you intend to use them.
Have garlic-infused olive oil and pureed ancho ready, if you want those flavors. I highly recommend them.
Tex-Mex Refried Seeds
Ingredients:
1 cup sprouted sunflower seeds (note: starting with about 3/4 c raw will yield about a cup sprouted)
1/2 T garlic-infused olive oil (a must to keep on hand for Low FODMAP eating)
1/2 t cumin
1 t ancho chile puree (preferred), or chile powder (adjust according to preferred heat level)
3-4 green onion stems (green part only for Low FODMAP)
2 T liquid – water or vegetable broth
1 t lemon juice
2 T water
salt & pepper to taste
options: 4 sun-dried tomato halves (these will need to be presoaked, at least 2 hours), or 1 t tahini paste, or 1-2 dates
Combine all ingredients into a processor and blend to desired consistency. (I like a somewhat chunky texture, but if you have trouble digesting little pieces, make the puree smooth) If you like your food raw, you are done!
Option: To develop the flavors a bit further, place mixture in a saute pan on low-medium heat. Add liquid if needed. Adjust seasonings to your taste. Add more garlic-infused olive oil for richness if desired. Bump up heat, spices, or acidity as it suits your taste.
Yield: about 6 oz, 190 g, 3/4 cup
The following options will add richness and vary flavor. Determine what you would like to add based on how you will use the dish.
4 sundried tomato halves added to the puree. Avoid those soaked in oil with other flavors if you are preparing this for a LowFODMAP diet. These will need to be presoaked, at least 2 hours.
1 t. tahini paste helps to create a very nice texture and deeper flavor; if you add too much, it will taste like hummus, which is great if you want a hummus flavor!
1-2 dates will add not only richness, but a bit of sweetness
The dip pictured above will be used in a seven-layer dip so no additional flavor needed. I kept it simple and clean.
If you make adjustments or additions that work well for you, please share!
Enjoy!
Notes:
Garlic-infused oil and reconstituted peppers.
* You can make your own infused olive oil. Emeril Lagassi uses a ratio of 1/4 cup extra virgin olive oil to 4 cloves garlic. If I am doing Low FODMAP cooking, I might throw in more garlic! Place olive oil into a small pot on the stove top.  Heat, bringing the temperature up to 200° – this is a good simmer. Add garlic cloves. Simmer for 5 minutes. This is important to prevent bacterial growth (Clostridium Botulinum). Turn off the heat and allow to cool. Strain out garlic. Keep oil in a sealed container, out of direct light. You can leave garlic pieces in the oil and garlic flavor will intensify in storage; I find it easier to have them out of the way. It is preferable to allow flavors to develop 24 hours before using.
**To reconstitute dried pepper(s), cut away stem(s) and discard. Cut pepper(s) open and remove seeds, discard.   Place peppers in a small pot, covered with water. Simmer until softened. Remove peppers from water and puree until smooth.  This is a great do-ahead. Keep in the fridge and add to dishes for a little kick.