Homemade "take-out" Chicken & Rice Bowl
My friend Holly shared this recipe with me; I do not know where she got it. But I knew that one busy day, when I am desirous of Chinese Take-Out, I would make this… just because the picture of the Sweet Hawaiian Crock-Pot Chicken looked so good! This recipe couldn't be easier to execute. You just throw everything in a crock pot and go about your day. And except for the brown sugar, it is pretty healthful and can be included in many special diets.
While take-out is convenient and delicious, making your own is just as easy – figuring in the time you spend getting in the car and driving to the place to get the stuff. AND you have control over the ingredients; you can eliminate additives and chemicals, and substitute with foods that agree with you!
So here is the original recipe. I wish I knew who to credit it to!
SWEET HAWAIIAN CROCK-POT CHICKEN–EASY AND YUMMMY!!
2lb.Chicken tenderloin chunks
1 cup pineapple juice
1/2 cup brown sugar
1/3 cup soy sauce
Combine all together, cook on low in Crock-pot 6-8 hours…that's it! Done! Serve with brown rice and you have a complete, easy meal!!
And you are supposed to get this!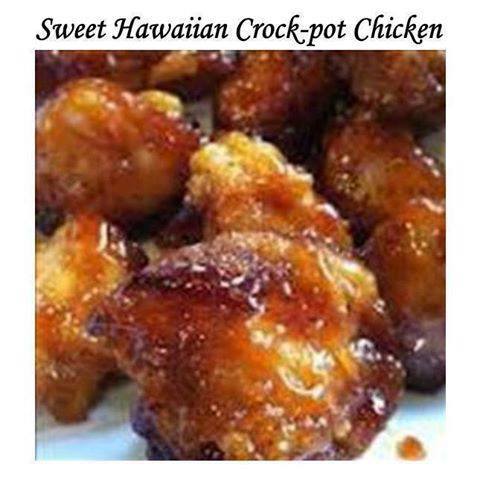 I am sure that the recipe developer who created this knows his or her stuff. No doubt, they make it perfectly every time. But I need to be able to duplicate this on a busy day without a lot of attention.
Admittedly, I was skeptical. These ingredients are great together… but I am not convinced that chicken breast can be cooked for so long in a crock pot without becoming dry and very overcooked. Is this too easy to be true?
Method
Throwing everything into the crockpot was easy! And before long, the kitchen began to smell wonderful! However, in much less than half the cooking time, per recipe directions, my chicken was done, and sitting in liquid. How could this be? I had used pineapple chunks with liquid – 1 cup, so the total liquid was reduced. There should have been less liquid!
But alas! … it occurred to me that in my haste, I used only half the chicken. Ugh! 🙁 So I can not honestly say whether this would have formed that gorgeous savory sticky crust without overcooking the chicken. My bad.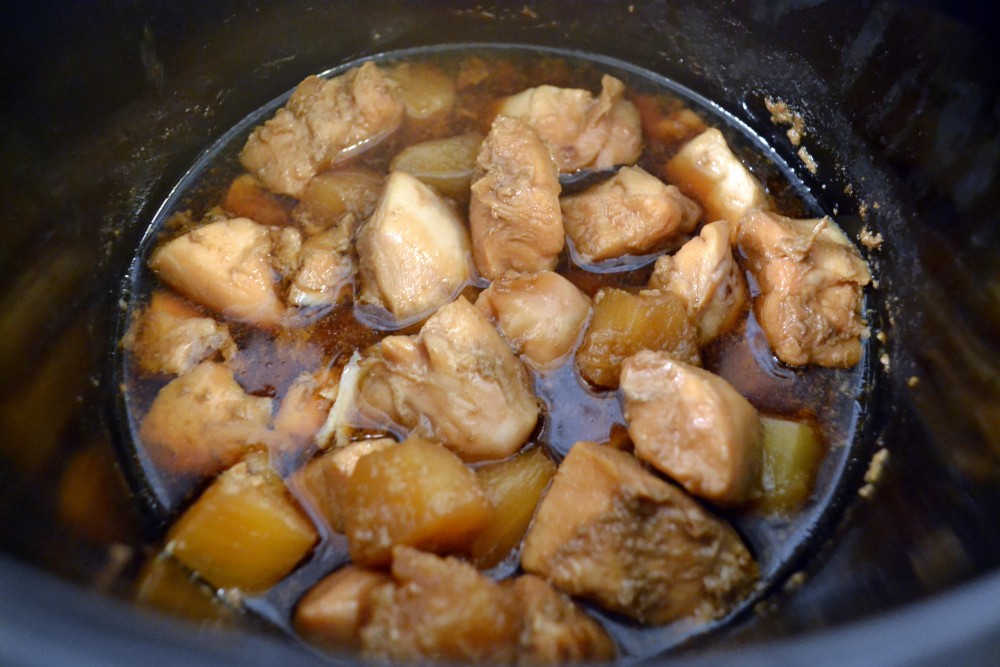 So, I can either go ahead and cook this down until the liquid is reduced and the chicken is overcooked, or I can make some changes.
I opted for changes.
Detour
Remove chicken from crock pot and set aside.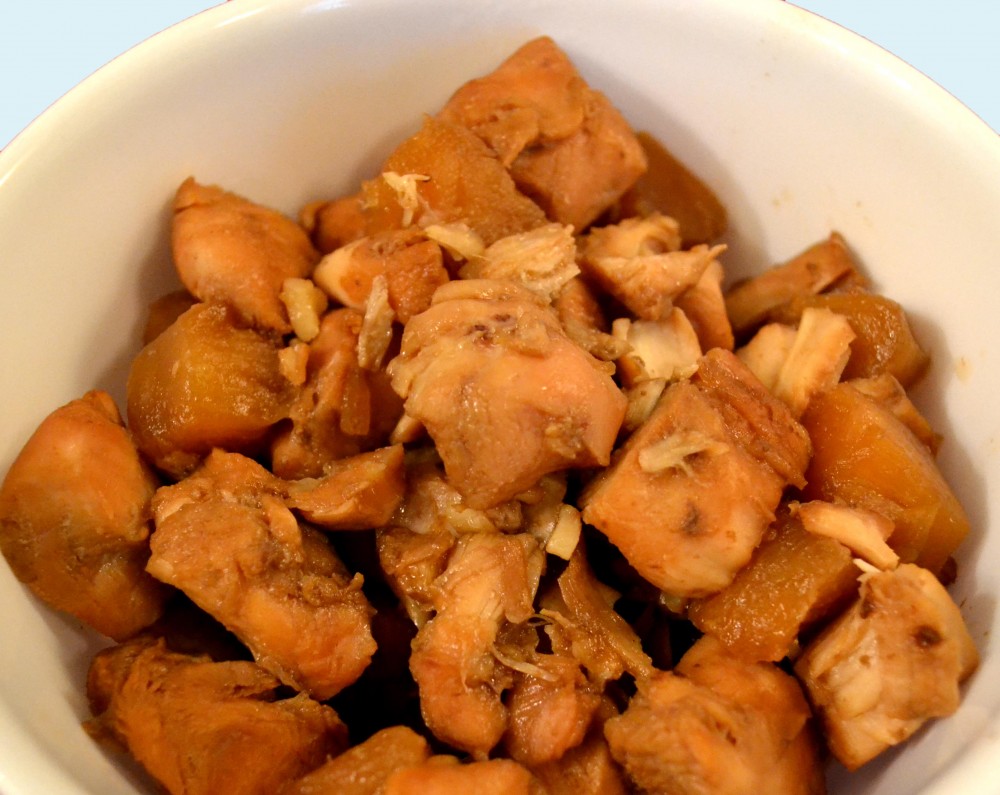 Pour liquid into a small sauce pot. In a small bowl, make a cornstarch slurry by whisking together about 1 T cornstarch with 1 T water. Whisk this into the sauce.
You can use arrowroot, instead of cornstarch, if you prefer.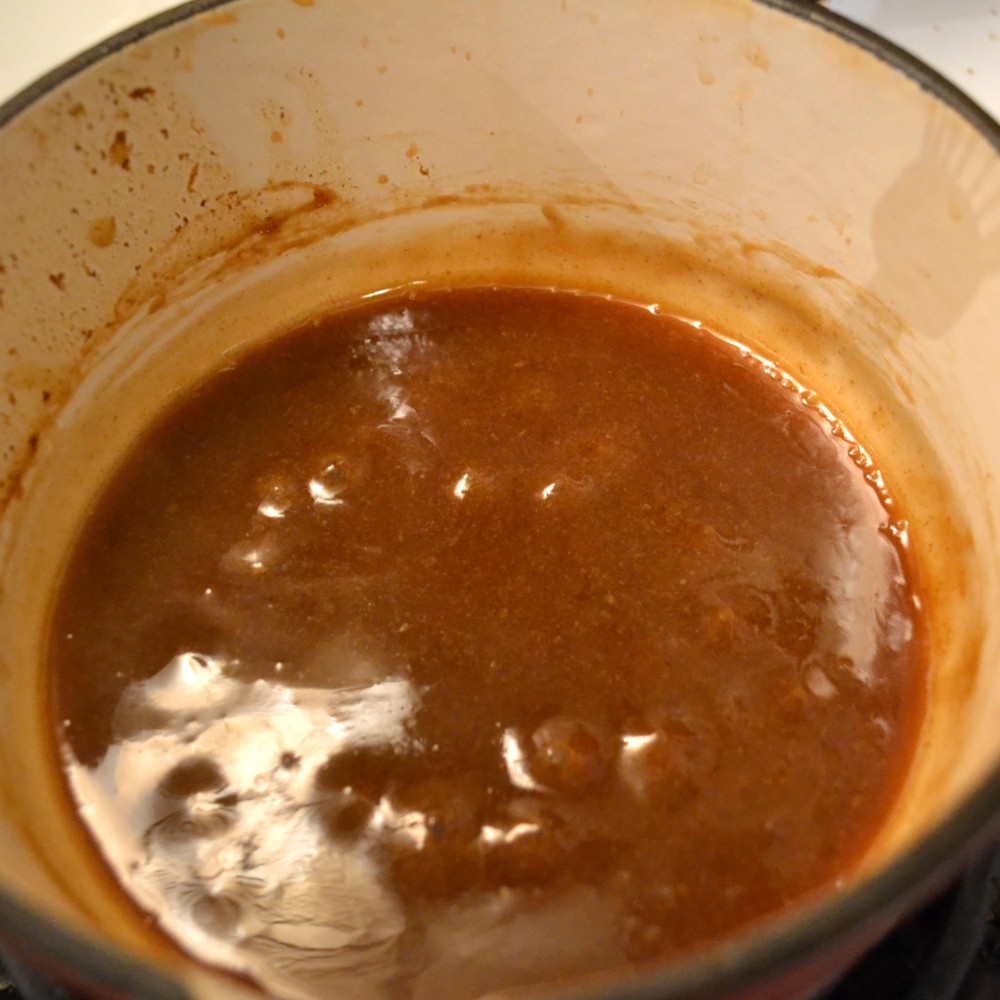 Thicken and reduce sauce. Then taste. Adjust seasonings. If you need a bit more sweetness, add brown sugar. I wanted a bit of acidity and added a few drops of apple cider vinegar. I wanted to add heat (crushed red pepper would have worked) and ginger, but my family preferred a simple sauce.
To make a "take-out" style rice bowl, make rice. Also, steam vegetables – whatever you have on hand and will please your palate. Snow peas would be delicious! We had broccoli, so a head of broccoli was steamed and simply salted.
Pour sauce over chicken and combine. Mix in vegetables.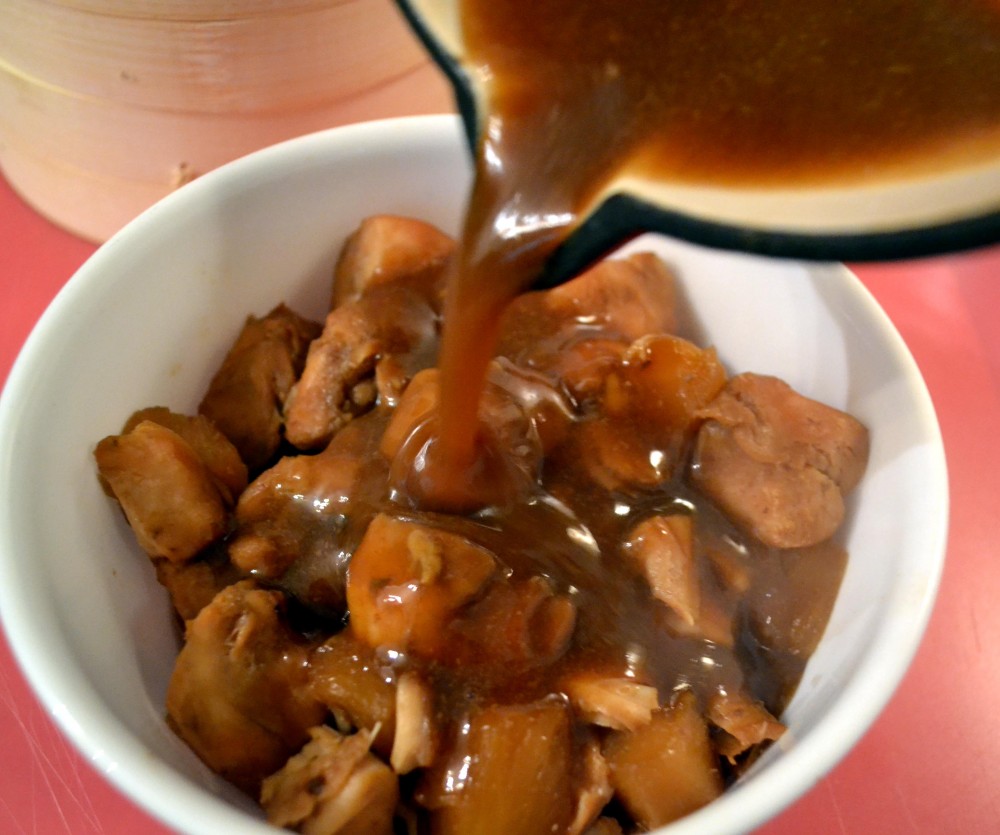 Rice goes into the bottom of the bowl.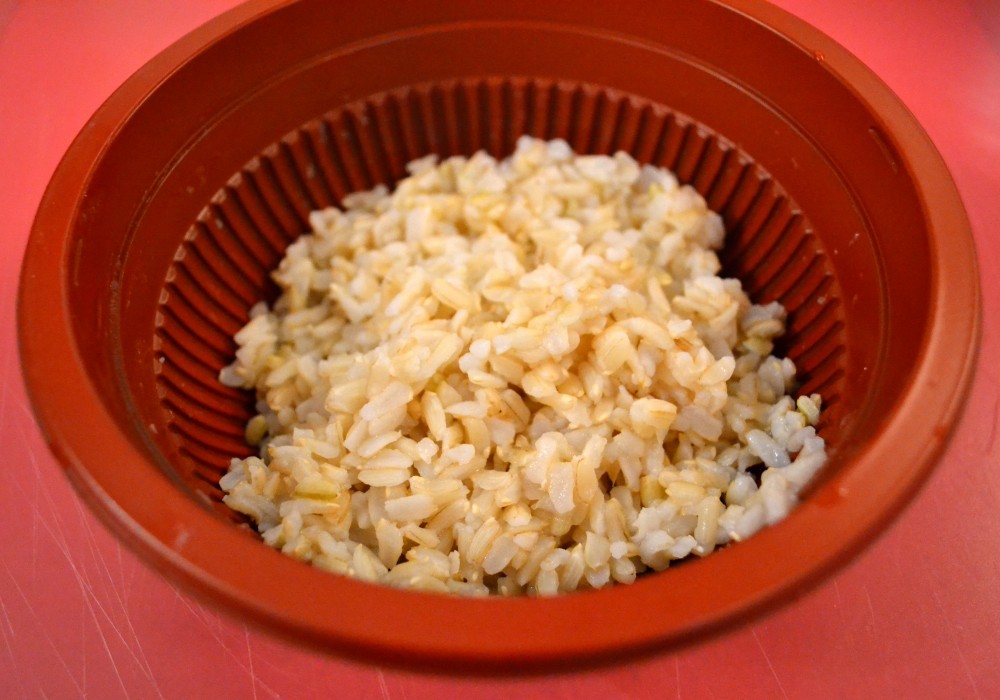 Cover rice and fill bowl with chicken-sauce-vegetable mix.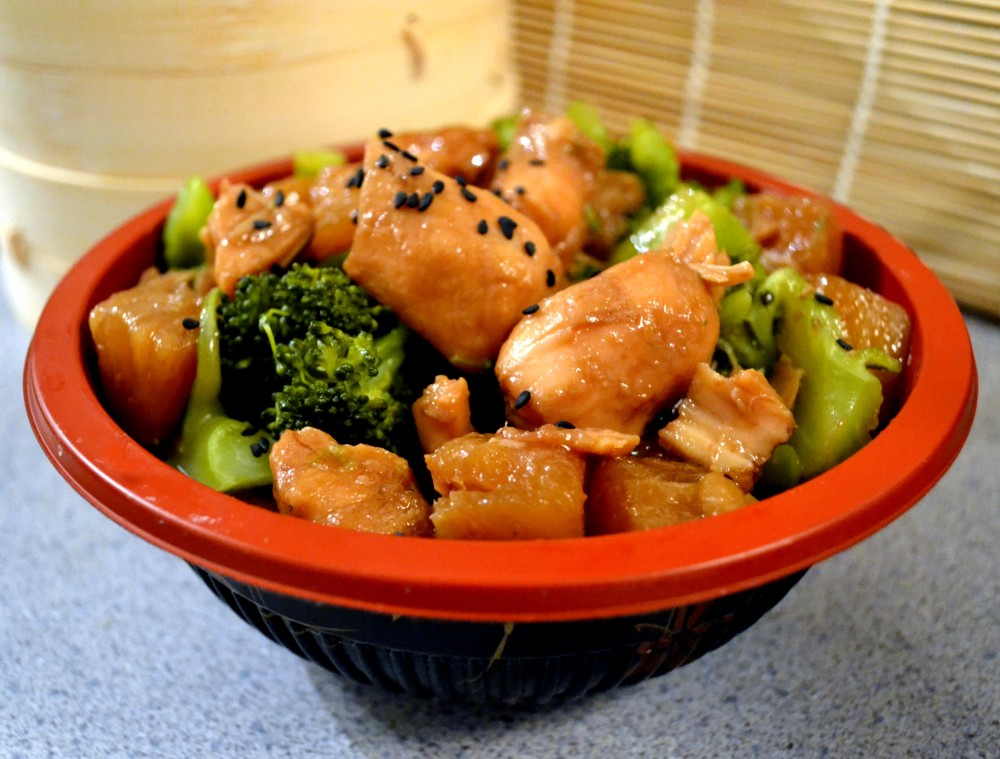 Garnish with a sliced green onion, if desired. I happened to have black sesame seeds, which worked nicely as garnish.
The only thing left to do is pour a cup of tea, put on slippers, and grab the remote.
Enjoy!
… and if you make the original recipe, or variations of it, please let me know how it turns out! 🙂