Recently, the fine chefs at Eat It and Say Yum! decided to begin a new feature for their blog. I am honored to get to be the first, of no doubt very many, chefs to be featured. Here is a link to their post… Cranberry Chutney feature. Karissa asked me for a seasonal recipe and the first thing that came to mind was cranberries. Not only are they in season now, plump, delicious, and affordable, but they are such a very healthful food!
This tart chutney is delicious over sweet apples and creamy goat cheese, and prepared this way, it just happens to be gluten-free. It would be equally delicious served dairy-free replacing the goat cheese with a nut cheese… pretty sure I will make and share this soon!
Karissa and Leia make everything, including crafts and gorgeous cakes! If you are planning a party, you may want to check their site first for inspiration and recipes. Eat it and Say Yum! And their facebook page, which I frequent myself – Eat it and Say Yum fb.
To follow is the recipe I shared. For more images, please see Cranberry Chutney feature.
[pinterest]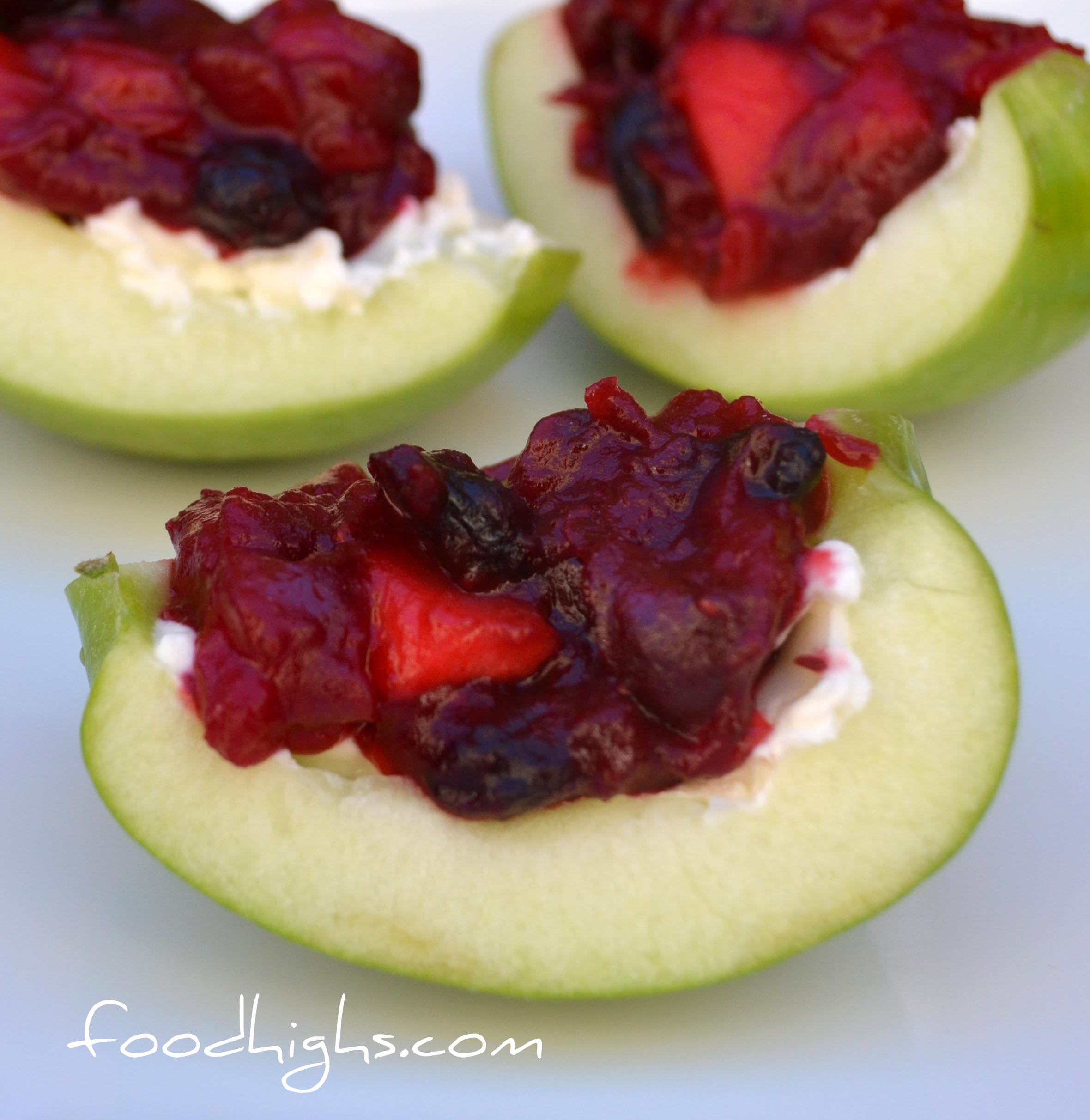 Cranberry Chutney with Goat Cheese and Apples
Ingredients:
12 oz fresh Cranberries
¼ c orange juice, add zest (if orange is organic)
Star anise – One or two dried pieces
One Cinnamon stick
¼ c honey or maple syrup, more if desired
¼ c dried fruit – raisins will add a nice sweetness. I add blueberries simply because I like this flavor.
Apple scraps
Method
Combine all ingredients together in a sauce pot, minus the apples scraps. Gently heat on low-med to med. You want to allow enough time for the flavors of the star anise and cinnamon to infuse. Cranberries will begin to pop, and mixture will thicken. If it thickens too much, add liquid (orange juice).
While chutney is simmering, prepare your apples. Quarter apples. Core and discard seeds and stems. Then core out inside of each quarter to create serving vessles. Place apple pieces in acidulated water so they do not brown. This is water with lemon juice, or vitamin C. Add all the apple scraps to your chutney.
Taste your chutney and play with the flavors as desired. At this stage, it should be a little sour. To me, this is delicious on a sweet apple. You can certainly add more sweetness if you like. If you desire a bit of an edge, add grated ginger. Yum! Do not allow chutney to cook with apple pieces for too long… unless you want apple sauce.
Remove star anise and cinnamon stick before serving. Nobody wants to bite into these.
To assemble appetizers:
When you are ready to serve, dry apple vessels, slather each one with creamy soft goat cheese, and then top with chutney. Serve immediately.
Special Diet Notes:
This can be made dairy-free by substituting goat cheese with nut cheese. Another soft tart cheese, or even Greek yogurt, would be equally delicious.
"Sugar-free" is generally used to refer to recipes which do not include any refined sugar. Honey and maple syrup are suggested for this recipe because these flavors combine so well with cranberries, however you can certainly use agave, brown rice syrup, or another sweetener. Simply adjust amounts to your taste.
Enjoy!
[pinterest]
Please Pin, Share, and Like! … so that we can keep providing these great recipes for you. Thank you!