Tender-Crunchy Hot Wings with Kefir-Ranch Dressing
We take our wings very seriously. So, this post will contain no cute story, or pertinent anecdote. We are winding up football season, and are currently focused on appropriate football foods. Preferably ones that taste great AND leave us feeling good even after the game, regardless of its outcome.
Win-Win!
Today, hot and spicy wings with sriracha dipped in a cool tangy kefir-ranch dip.
Plan Ahead: You can scroll down to check out the ingredients lists. If you do not already keep these things on hand, you can easily make them ahead, or choose handy substitutions.
The Game Plan
– or How to Customize a Recipe to Fit Your Diet and Still be Incredibly Delicious.
Our personal objectives for this dish
Hot wings for game night that taste amazing! … and bite us back
Wings that are crispy on the outside and tender and juicy on the inside
Get rid of deep fryer and heavy fat
Use spice to build digestive fire
Use probiotics for all the reasons we love probiotics
Our MVP's – & the Stats
Chicken – Whether you benefit more nutritionally from white meat or dark meat is up to you to determine. We are using white meat today… duh…. wings. In any event, antibiotic-free is good for everyone. And we opt for air-chilled; it tastes better.
Sriracha – Sriracha just tastes great! Like, really great! Heat with real flavor. And it is spicy and great for building digestive fire for those who need it. However, it is not completely free of unwanted ingredients. Here are your options for heat:
Use Sriracha as-is, because it is delicious and spicy
Use another hot sauce – any hot sauce you like!
Check out the recipe at one of my favorite Paleo blogs for a better sriracha! Click here for recipe from Nom Nom Paleo.
Clarified butter – To read about the healing powers of clarified butter and who might benefit from this ingredient, click here. You can use regular butter if you prefer.
Garlic – Among many other beneficial properties, garlic is a great source of prebiotics, which feed probiotics in our Kefir dressing, making them work even harder for us.
Kefir – Not only is kefir almost completely lactose-free, but it is a powerful source of probiotics. This makes it great for digestion and overall health.
Strategies – The Method to our Madness
Madness? Enter Alton Brown, because a seriously delicious and healthful dish requires a seriously genius, and slightly mad, method. Alton Brown has one, and I figure – why reinvent the wheel?
We want to use a method which gets rid of the fryer. Baking is a healthful method. However, what we love so much about fried wings is that they get a nice crispy crust that crunches when you bite down on them, fills your mouth with spicy flavor and juices, and is tender on the inside. Baked wings often leave a lot to be desired. If you crisp up the outside, the tend to get dry and tough. This does not a "food high" make.
Alton Brown's method fixes these problems! You can see his method of steaming, chilling, then baking on high heat, below. This is not the ONLY method for making great baked wings, but it is one that will keep your wings tender without much fuss.
Definitely a lot of clarified butter in these! You can use less if you want to, but I don't know why you would. 🙂
First, let's prep out dip and sauce.
Tender Crunchy Hot Wings with Kefir-Ranch Dressing
Make Ahead and Chill Ranch-inspired Kefir Dressing
For a dressing, kefir can be a little thin. However, it has a wonderful tang and flavor, making it a perfect base for dressing. You can mix in a thick sour cream, but we prefer to keep this dressing as probiotic as possible! Also, kefir has very little lactose, making it more easily digested.
Pouring kefir into a coffee filter will allow some of the water to slowly drip through, thickening your kefir. You can do this any way you like. A large mason jar with only the outer portion of the lid will hold a coffee filter in place. It could take at least 30 minutes to thicken kefir. This is a great do-ahead.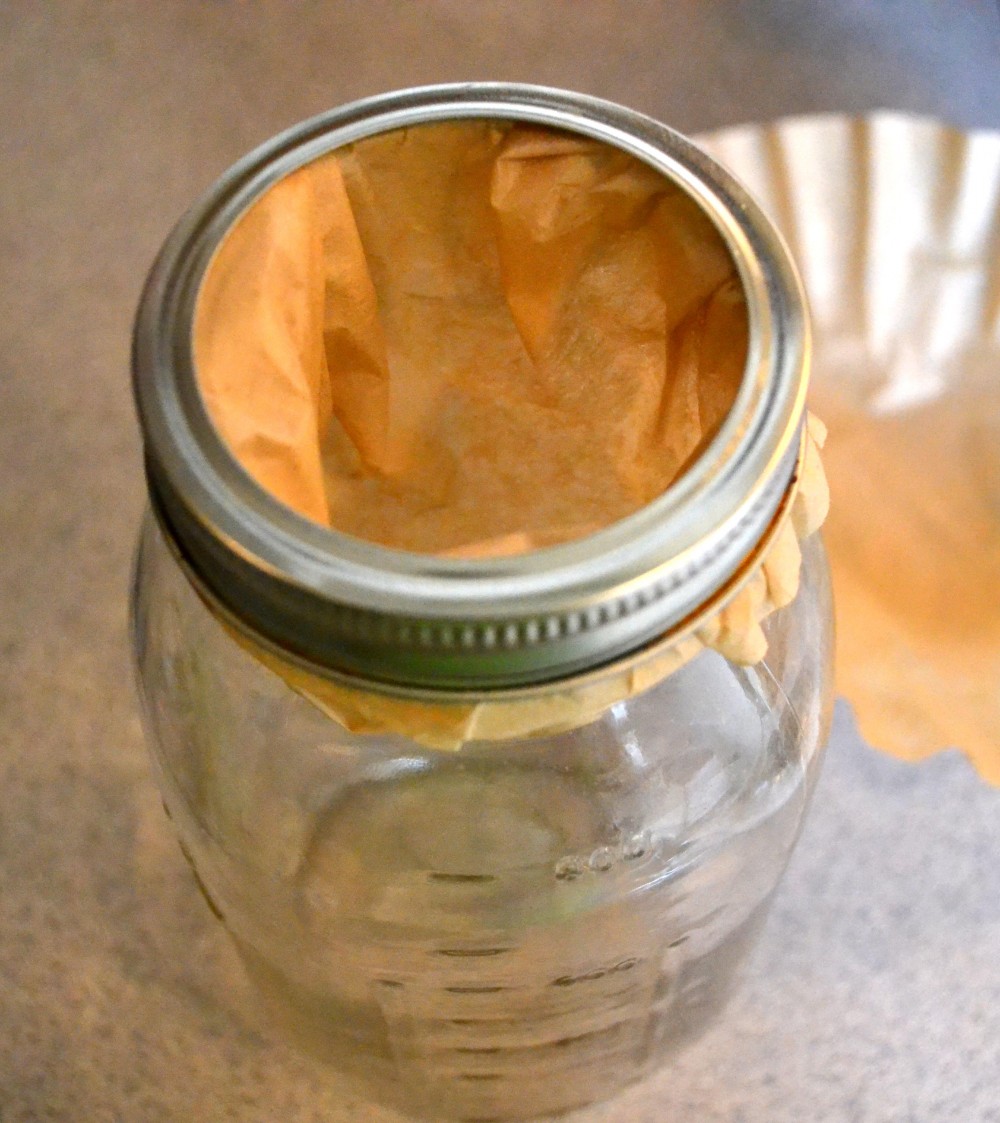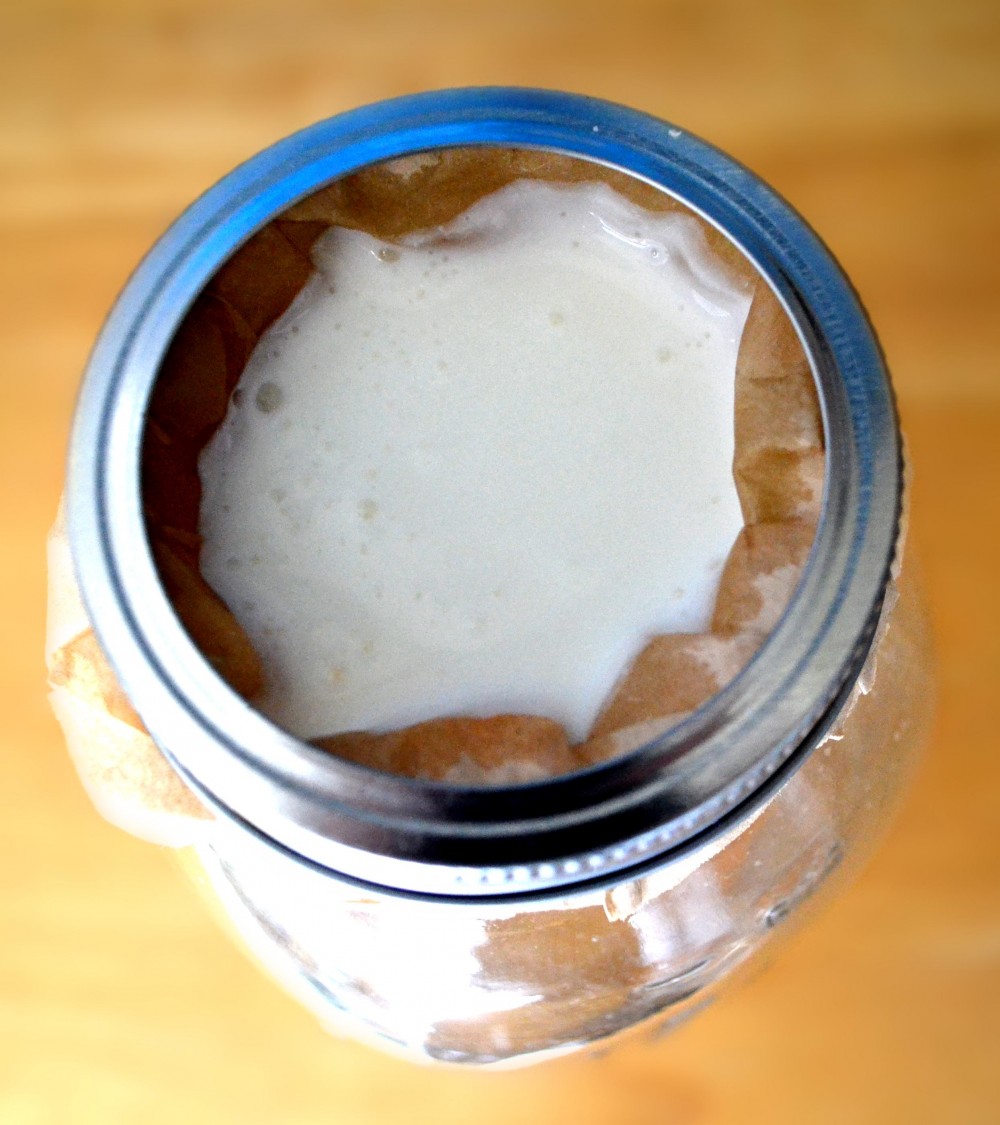 Liquid removed from kefir. There should have been more, but I got impatient.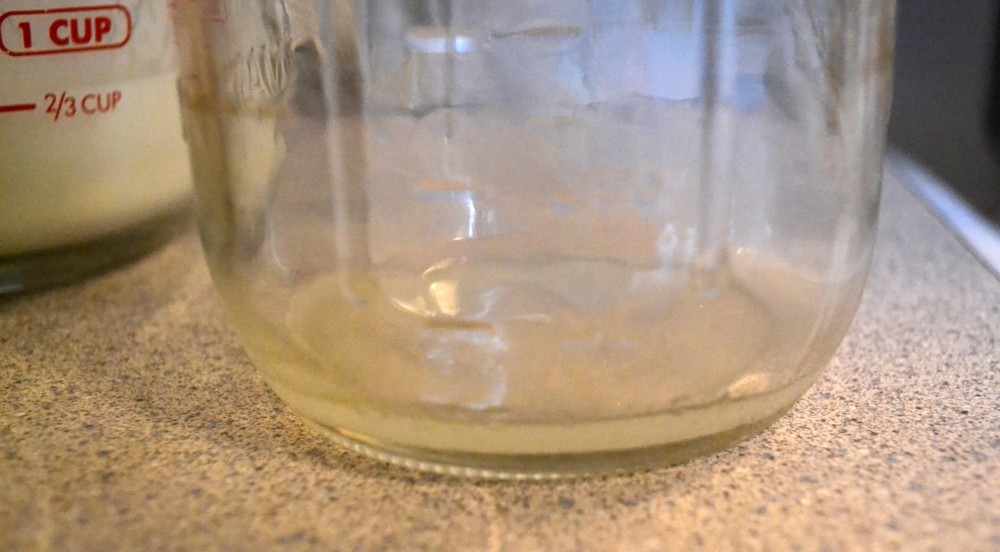 Combine all dressing ingredients. It is tasty if eaten immediately, but even better if done in advance so that the flavors have time to develop together. This is delicious in anything you put ranch dressing in!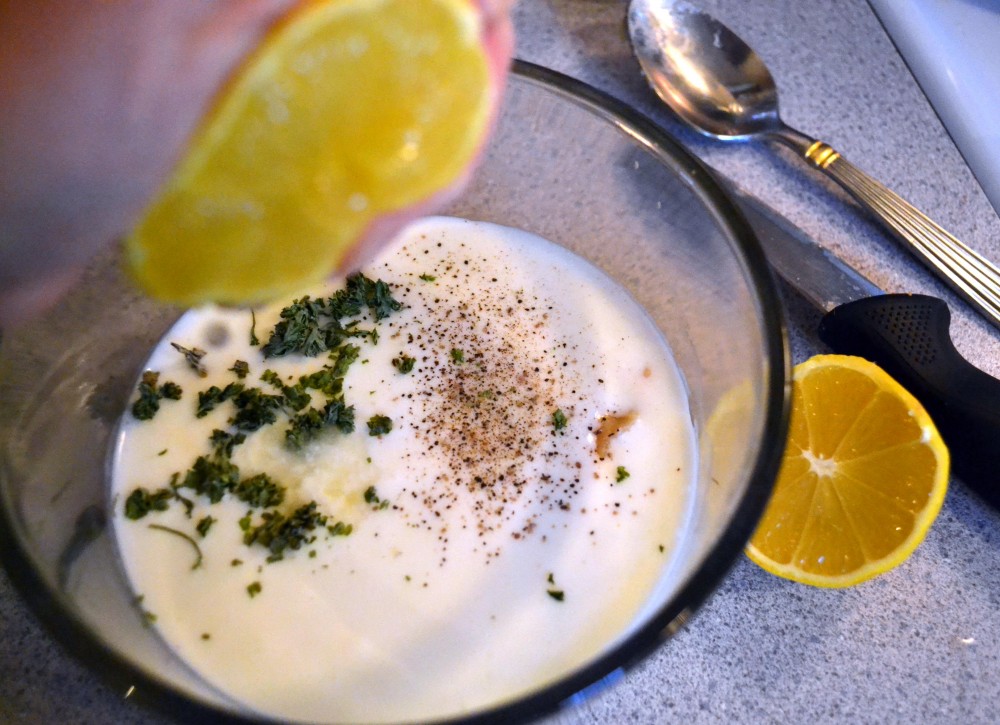 Spicy Sriracha Wing Sauce
You can make this while your chicken is baking. Prepare and set aside.
This is simply clarified butter (another great make-ahead), garlic, and sriracha sauce. You can use any hot sauce you like. To read brief notes about the nutritional benefits of clarified butter, and how to easily make your own, click here.
The spice… The butter… the Garlic… all together… At this point, my mouth is watering.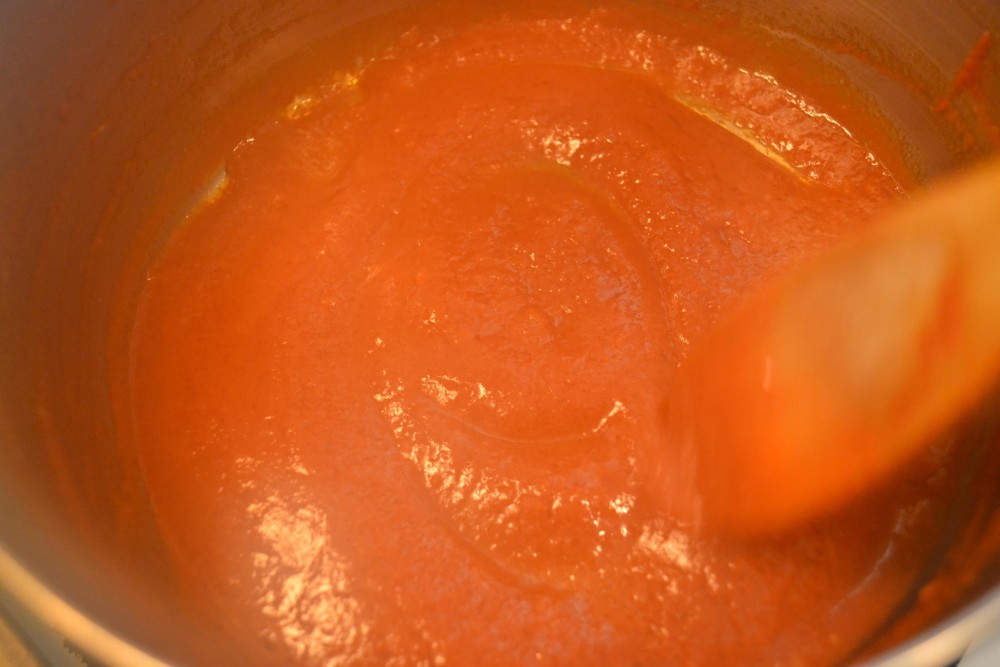 Baked Wings – Alton Brown's Method
Prepare a steam basket, bringing water to a boil.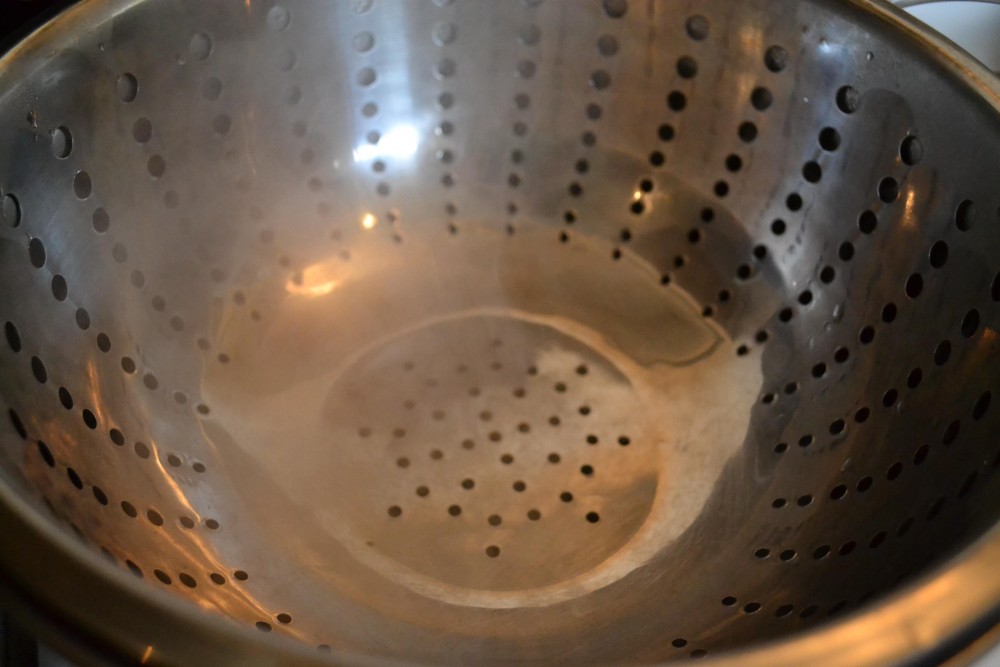 Add wing drumettes into the steamer and cover.
Note: I removed the image of the raw chicken wings from this page, because Facebook has a way of randomly choosing an image from the page and it is inevitably the raw meat, or the fuzzy photo, or the "do not do this!" photo. Why fb does not simply use the featured photo, is beyond me! I prefer to not be represented by raw chicken! Even if it is organic from a happy free-roaming bird.

Please do continue to share on facebook! But if you get an empty steamer or pot, my apologies.  And THANK YOU for sharing! My Food Highs foodies are the best!!!
Steam for 10 minutes.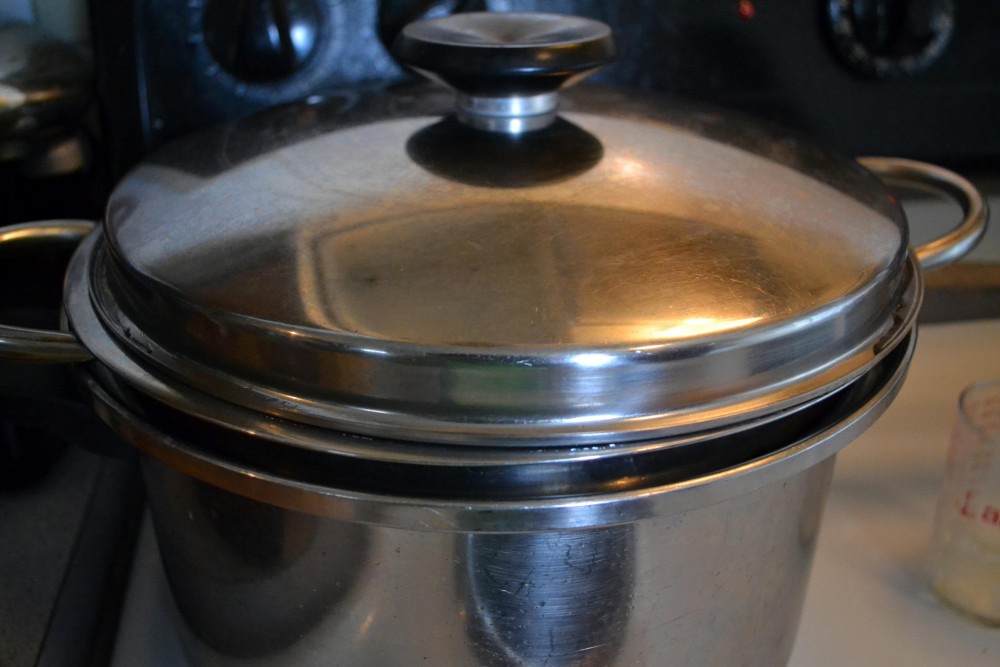 Lay wings on a rack and pat them dry. They are only partially cooked. They will finish in the oven later. Par-cooking them first allows them to not overcook later.
Refrigerate steamed dry par-cooked wings for one hour.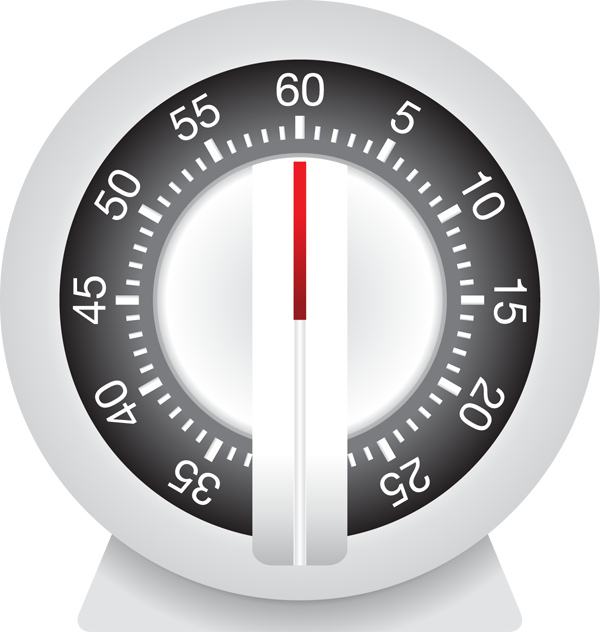 After refrigeration, put wings into a preheated 450° oven. Bake for 20 minutes.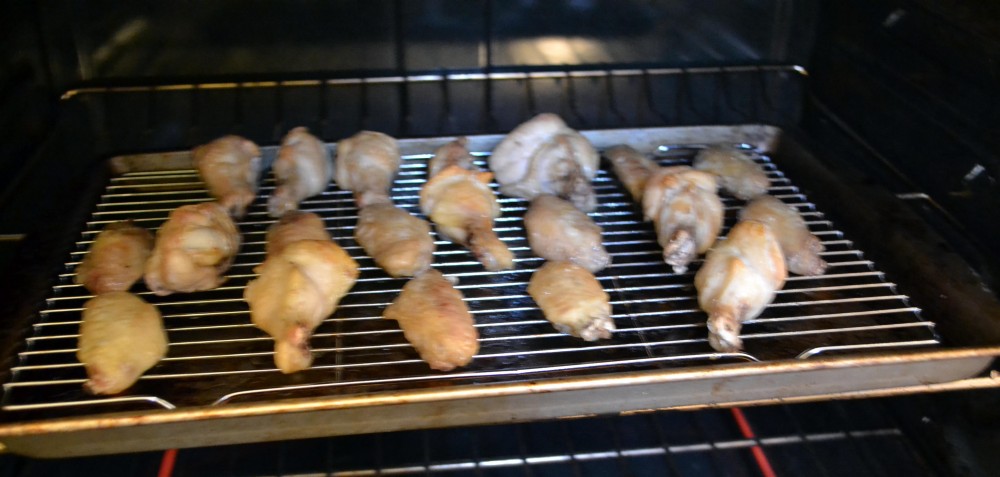 You should have a golden color with wings cooked through, and still tender. Oven temperatures vary. We did opt to broil these for just a few minutes for a bit more browning.
Remove wings from oven.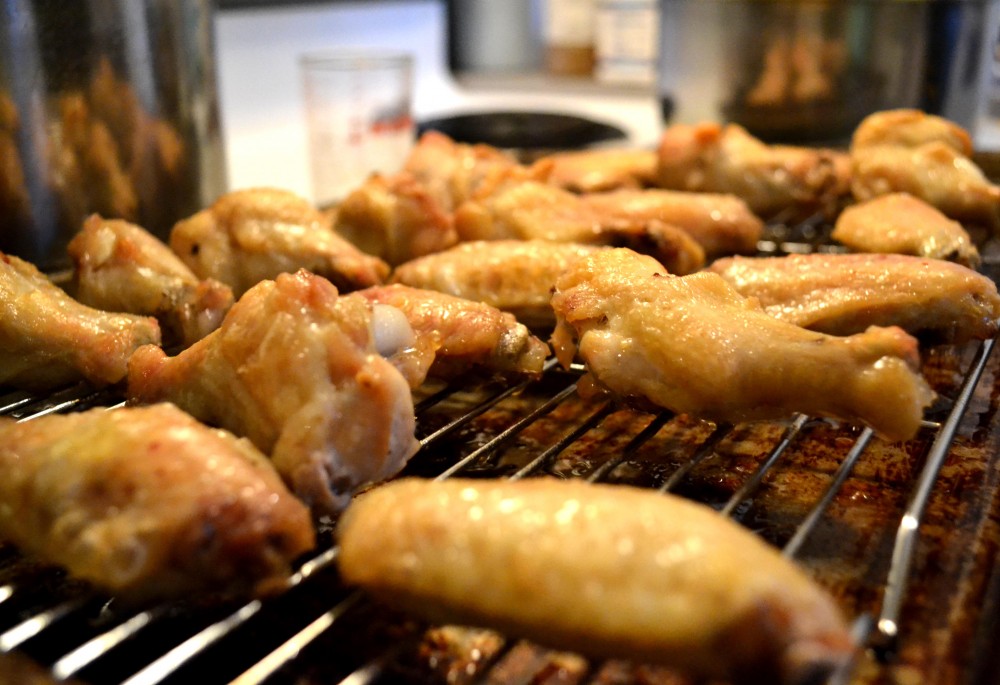 Place wings in a bowl. Pour sauce over them.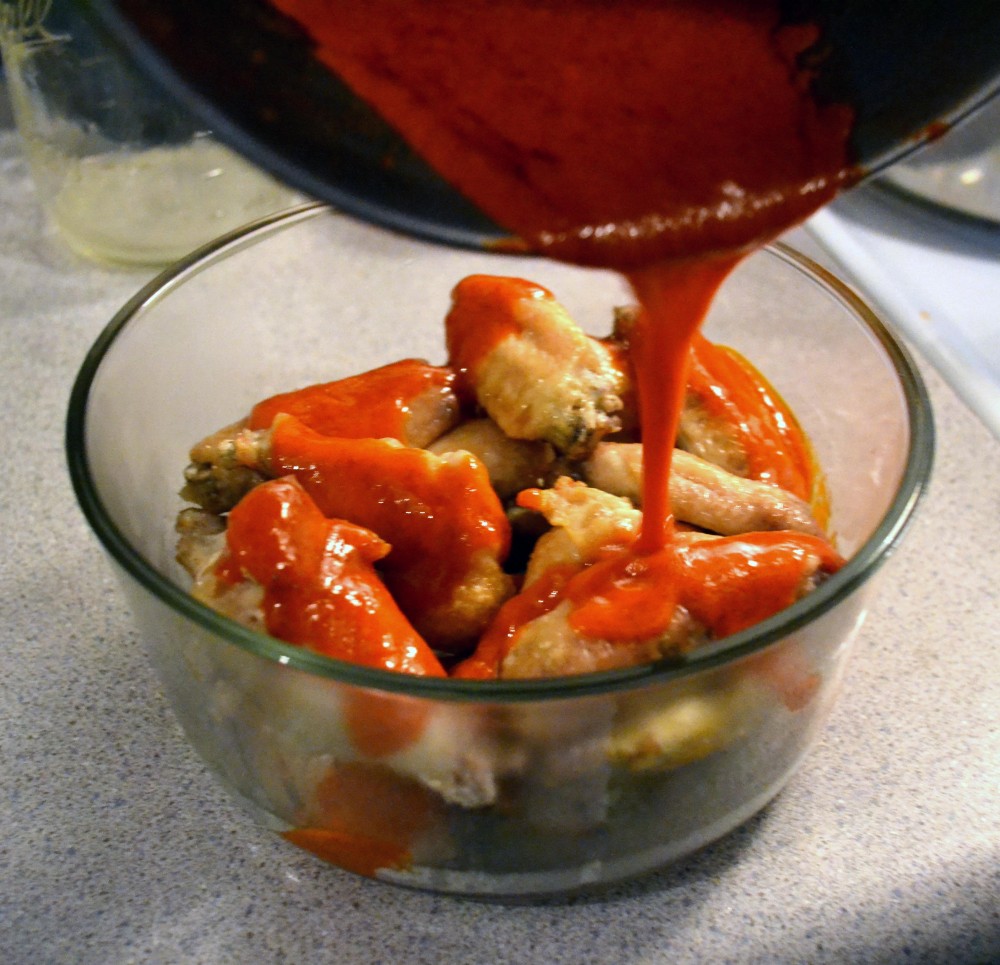 Toss to coat.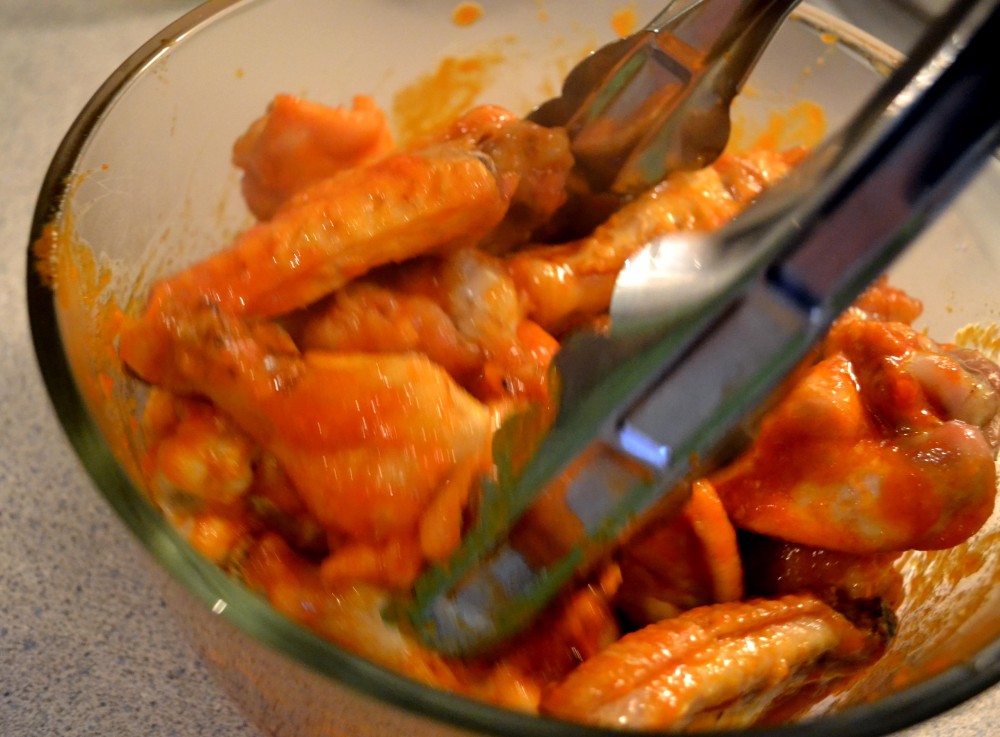 Serve with dressing, celery and carrot sticks, and napkins.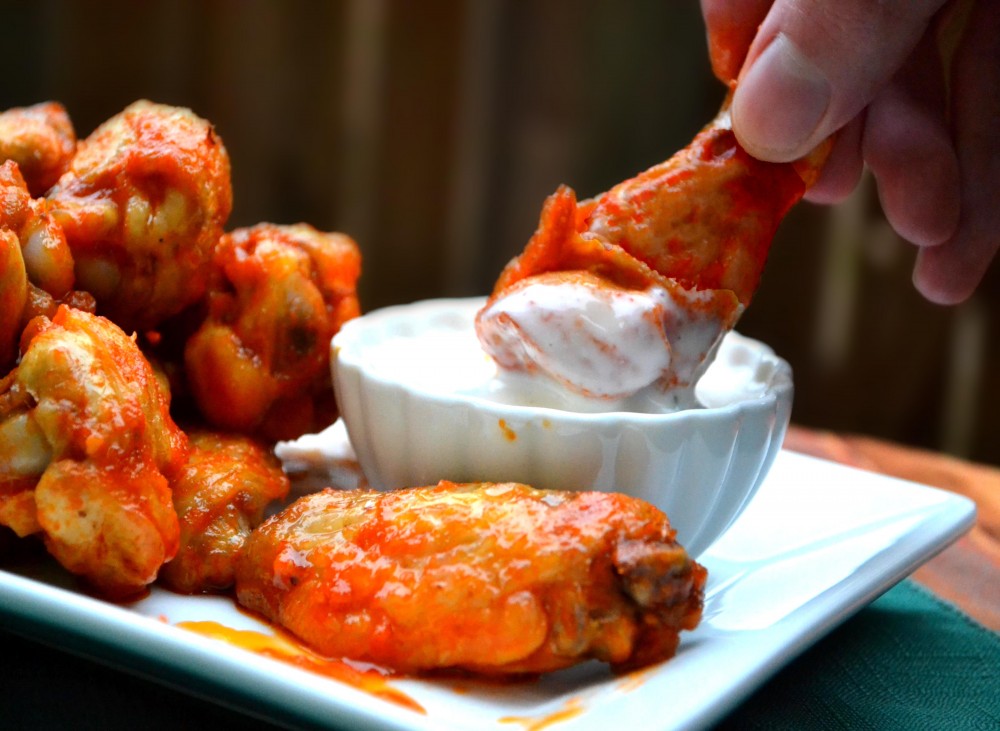 Think Ahead Suggestions
This is all very easy. but there are waiting times involved. Chicken must cool for one hour.
Most steps can be done in advance. I make large amounts of clarified butter to have on hand. You can use it many ways. And the sauce and dressing can be made well in advance. This makes wing night super easy!
Sriracha Wings
Ingredients
20-24 chicken wing drumettes
sriracha sauce – see recipe below
Method
Bring a steam pot with lid to a boil. Add wings and steam for 10 minutes.
Lay wings on a rack, blot dry and refrigerate them for 1 hour.
Bake wings in an oven preheated to 425° for 20 minutes.
Toss in hot sauce.
Sriracha sauce
Ingredients
4 oz clarified butter (you can use regular butter, clarified has specific benefits)
1 clove garlic
1/3 c Sriracha, or your favorite hot sauce
dash of Worcestershire sauce, if desired
Sea salt, to taste
Method
Mince garlic. saute in clarified butter until cooked through and tender. Add in remaining ingredients. Set aside for coating wings when they come out of the oven.
Kefir ranch-style dressing
Ingredients
1 c kefir
1-2 t dried parsley
clove garlic, roasted and mashed, or about 1/4 t. garlic powder
juice of 1/2 small lemon
salt and pepper, to taste
Method
To thicken, strain kefir through a coffee filter.
Combine all ingredients. Taste. Adjust seasoning as desired. You can make dressing ahead, refrigerate in a sealed container and allow flavors to blend and develop.
Enjoy!