Frittatas are a great way to use up leftovers! You can pretty much throw in any veggies, and meats (if desired) that you like, pour eggs over the top, add a little cheese, bake and Done!
If you like to include greens in your breakfast frittata, always add to the mix a cupful… spinach, kale, collards, whatever floats your boat. Frozen organic spinach is a great bargain! And an easy keep-on-hand ingredient.
I am adding grass fed beef to this frittata for protein and omega 3, as grass fed beef is actually a great source of this good fat. I happen to have cauliflower which needs to be eaten, and provides anti-inflammatory nutrients as well as a textural compliment to the beef. Red bell pepper, garlic, and spinach are colorful, delicious, and full of disease-fighting nutrients! Adding a little n. yeast, not only bumps up the cheesy flavor, but b12 as well.
The result is a well-rounded, high protein, nutrient-rich, Paleo-friendly dish… oh yeah, it is also yummy!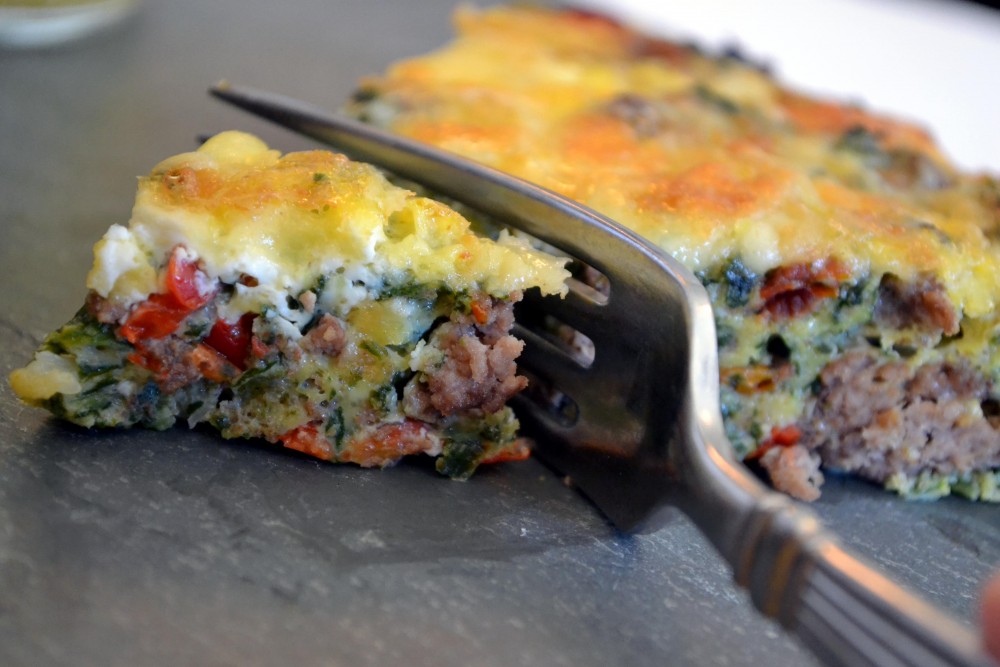 Frittata with Spinach and Beef
Brown your grass fed beef, with onion.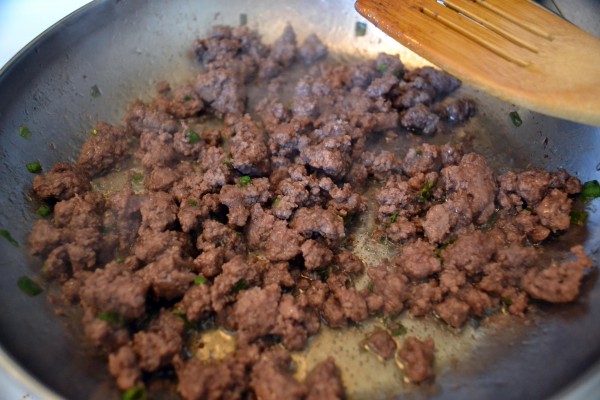 Mise en Place – chop, dice, gather your ingredients.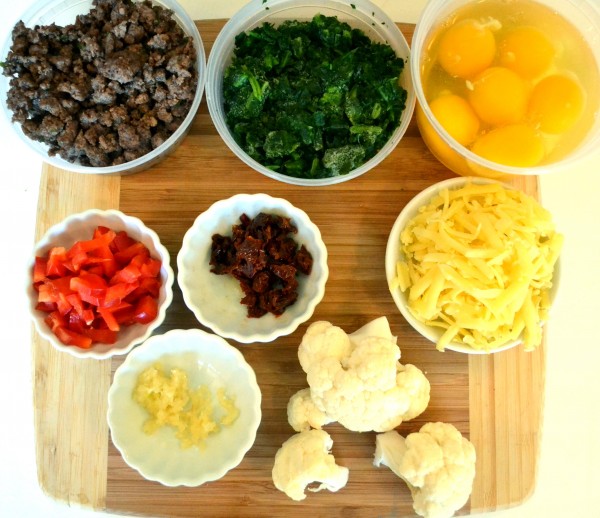 Whip the eggs. Add salt and, if desired, nutritional yeast.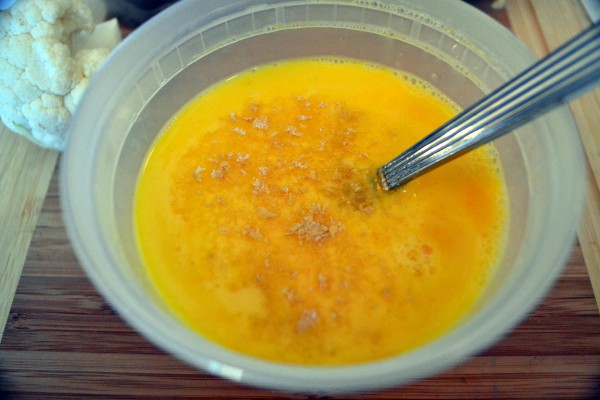 Saute cauliflower and bell pepper for about five minutes.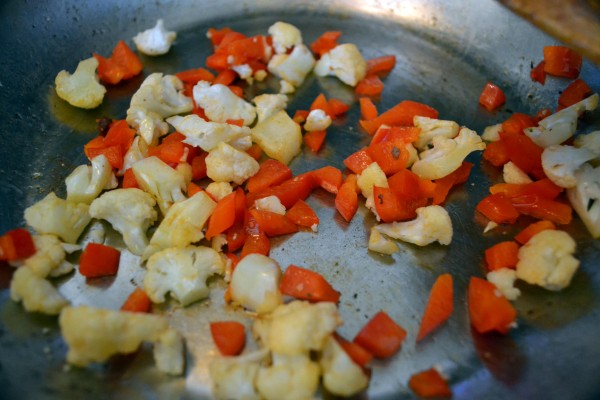 Add garlic and sundried tomatoes.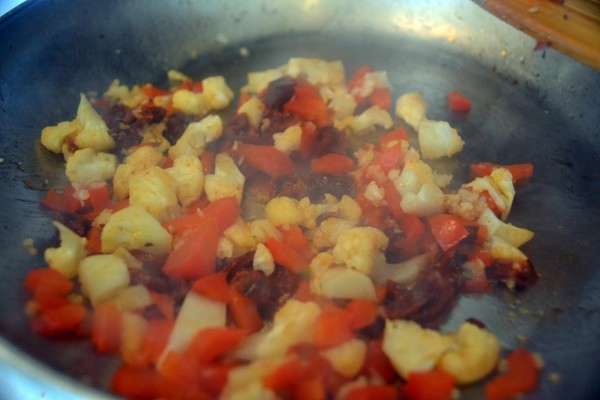 Cook until veggies are tender. My cauliflower was raw, so I added water, and a lid, and steamed until tender. If you need to do this, when veggies are tender, remove lid and cook off water.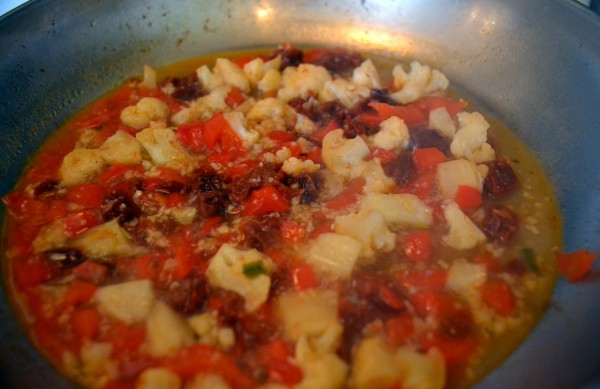 Add your spinach. Look at all this delicious and wonderful disease-fighting food! Cook until warmed, and water-free.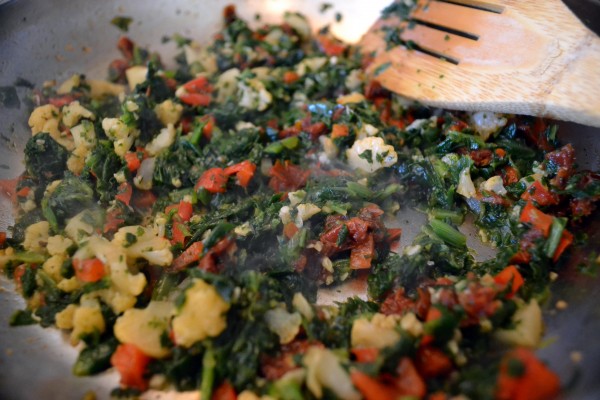 Add beef.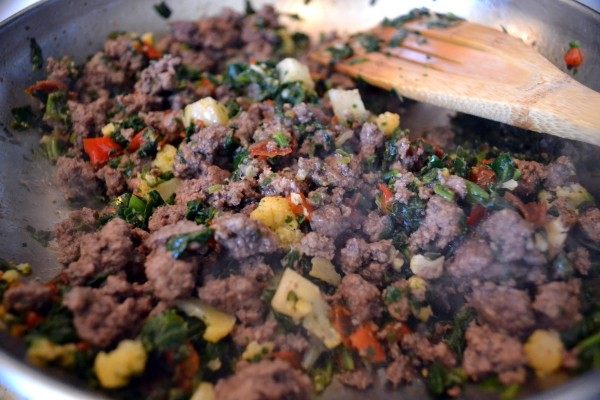 In a very lightly oiled pie plate, pour in mixture.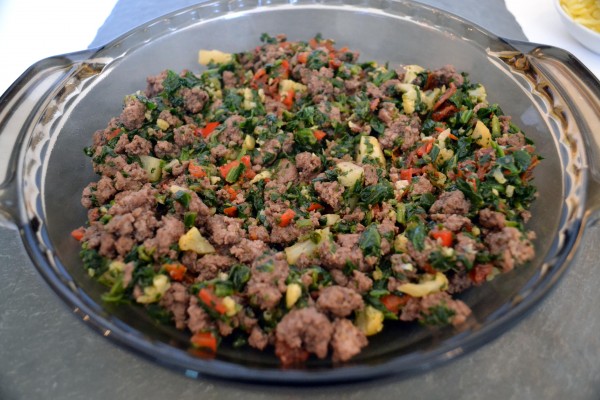 Pour eggs over mixture.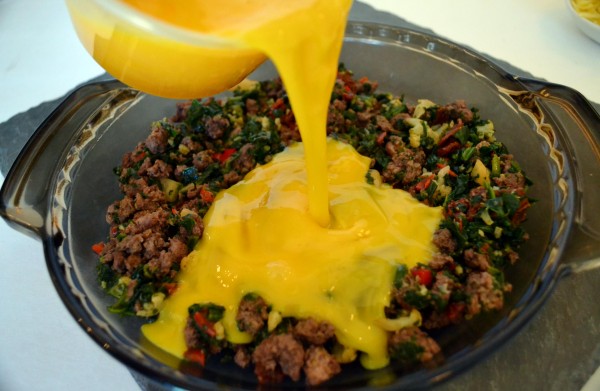 Stir a bit to even out eggs.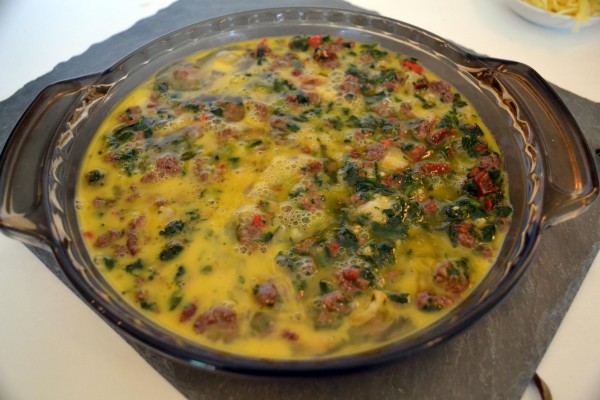 Sprinkle with cheese.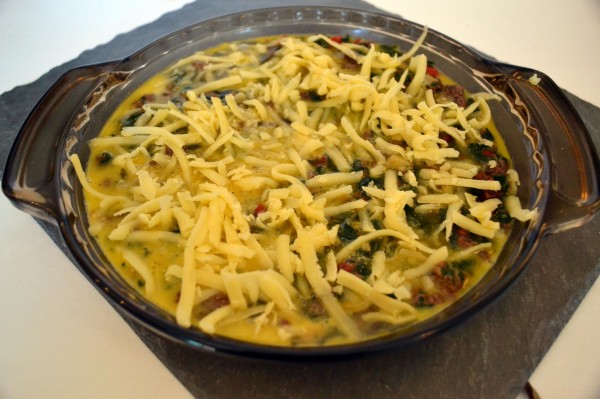 Bake at 350° for about 15 minutes, or until eggs are just set. Then turn on the broiler and quickly brown cheese on top.
Remove from oven and allow to sit for 5 minutes.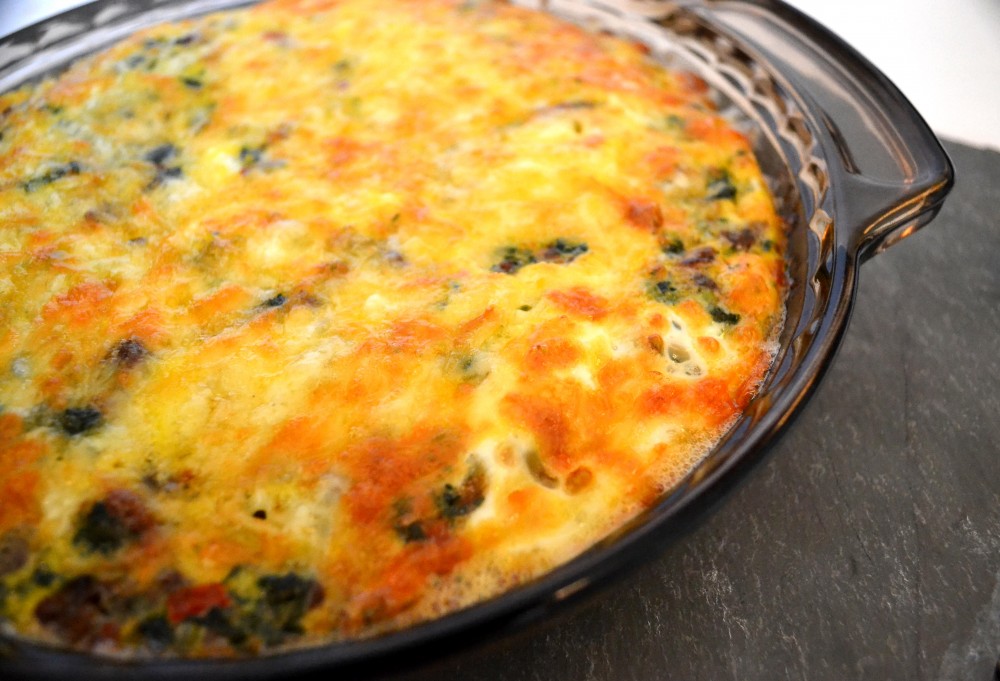 Slice and enjoy!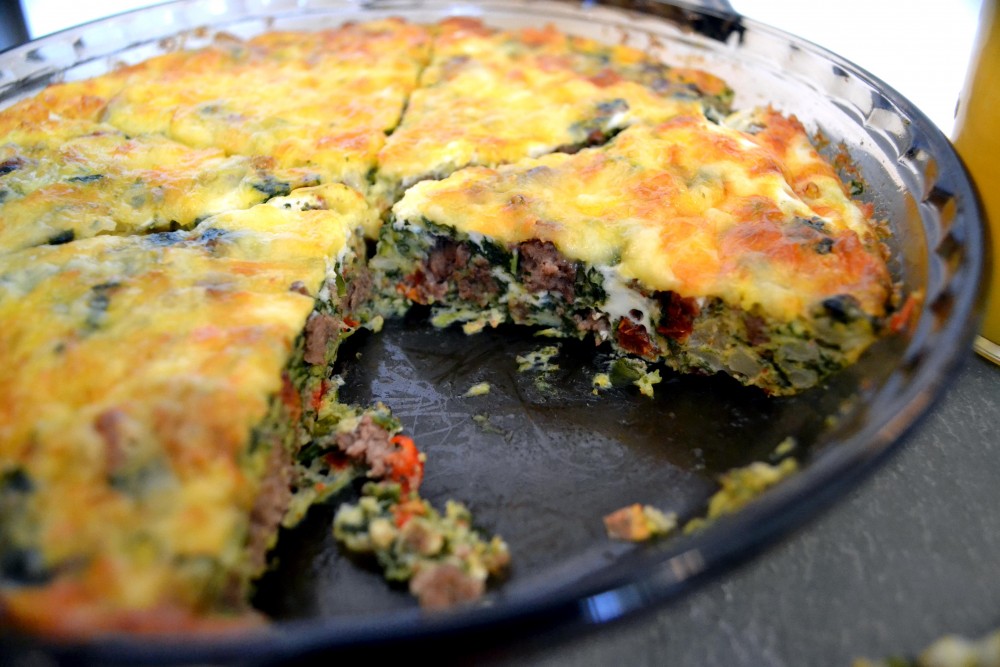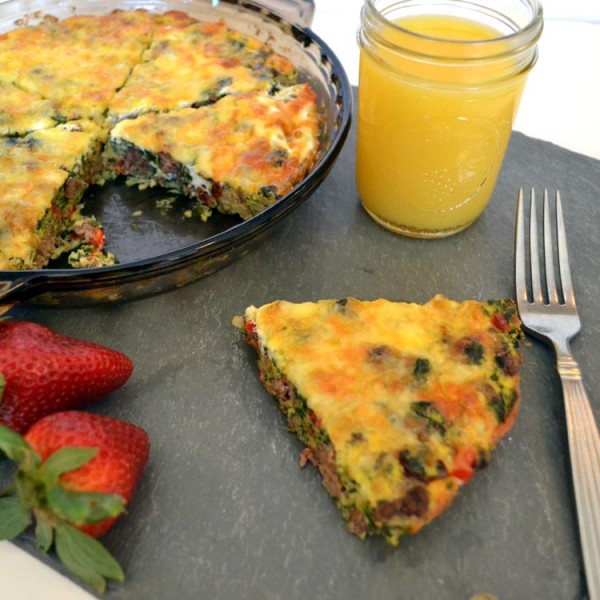 Frittata with Spinach and Beef
Frittatas are a great way to use up leftovers! Substitute any ingredient below with whatever you have on hand… if you think it would be good in a frittata. I would advise against leftover ice cream.
Time-Saving Option: Make a double batch and save for quick and easy breakfasts.
Ingredients
1/2 lb grass fed beef (omega 3)
2 T onion, diced or 3-4 scallions, green part, diced
6 eggs = about 1 1/4 cup
1/2 t salt
optional: 1/2-1 t nutritional yeast
about 1/4 c cauliflower
1/4 c red bell pepper, diced
1-2 cloves finely minced garlic
2 T sundried tomatoes, diced
1 cup frozen spinach
3-4 oz cheddar cheese, shredded
Method
Brown beef with onion. Salt, to taste. Set aside. Beat eggs with salt and n. yeast (if desired). Set aside. Prepare all other ingredients.
In an oiled skillet, saute your vegetables, starting with longer cooking veggies, like raw cauliflower and red bell pepper. Add garlic and tomatoes.  If your veggies are raw, you may need to add water, cover them and allow them to steam until tender. If you are using cooked leftover veggies, they need only to be combined and warmed through.
Add frozen spinach. Cook until warmed through and water has evaporated. Add beef and onion back to the skillet. Combine with veggies.
Transfer mixture to a lightly oiled pie plate. Sprinkle with cheese. Bake for about 15 minutes, or until eggs are set. Broil until golden brown on top.
Remove from oven and allow to cool for a few minutes before slicing into 6-8 pieces.
Enjoy!
[pinterest]
If you like this, please Pin, Share, and Like
[fblike]
[tweet]