Easy Slow Cooker Grass Fed Beef Meatballs
If you are looking for a go-to dish that is fool-proof, easy, a great make-ahead, nutritious, and versatile, you can't do much better than meatballs.
In our house, meatballs are super easy because they are prepared tag-team style. My son puts together the ingredients, and I roll them. And we make enough to freeze half so that we get another quick meal out of them later.
My son is very particular about meatball and sauce flavors, so it is much easier to let him assemble this than to hear him complain. 🙂 If I were preparing these just for me, there would be onions in the beef and wine (instead of water) in the sauce. Still, my son always creates great flavors, simple and clean. He LOVES a prominent tomato and basil flavor – who doesn't? Using a slow cooker allows you to walk away and let those flavors intensify and develop with no effort. Win-win!
These meatballs are GLUTEN FREE, and full of nutrition. And because we make and freeze our meatballs in advance, this makes an embarrassingly easy one-pot, or one-slow-cooker, dish.
Why Grass Fed Beef?
It is good for the cow. Cows were meant to eat grass, not genetically modified corn product. Cows who roam a pasture and eat grass are healthier.
It is good for the person who eats the healthy cow. Because grass fed cows are healthier, they do not typically need antibiotics and added hormones. And they produce Omega 3! You can't get Omega 3 from a corn-fed cow.
It tastes like real food!
Easy Meatballs
Combine your meatball ingredients and go into meatball production. A portion scoop (I like 1/2 to 1 oz) and a large cookie sheet will make quick work of this.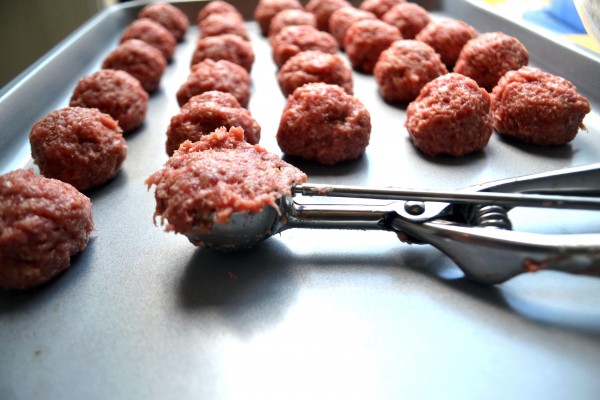 If you are making meatballs in advance – highly recommended – place them into the freezer, on the cookie sheet, until frozen. Then transfer them into a bag. This recipe will make TWO frozen batches for my family.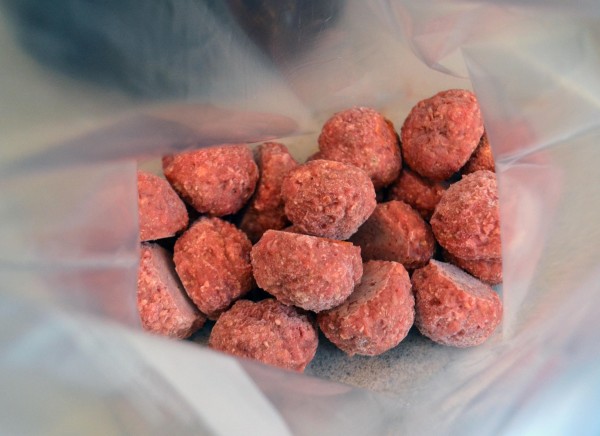 Throw all of your sauce ingredients into the slow cooker! Mix. No need to develop flavors on the stovetop; your slow cooker will do that for you.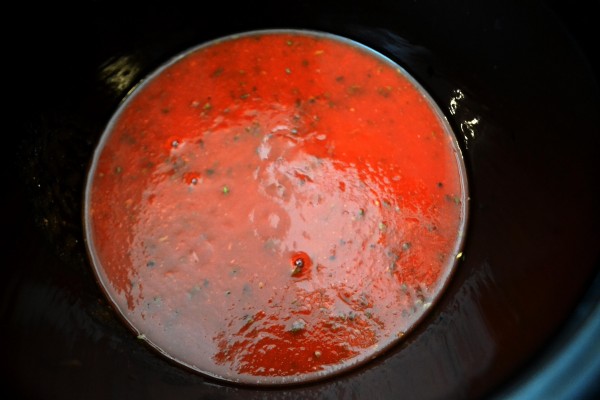 Add meatballs. Do so carefully if they are just made, not frozen. You do not want a massive clump of meat all stuck together. If you made them ahead and froze them, you can just throw them in.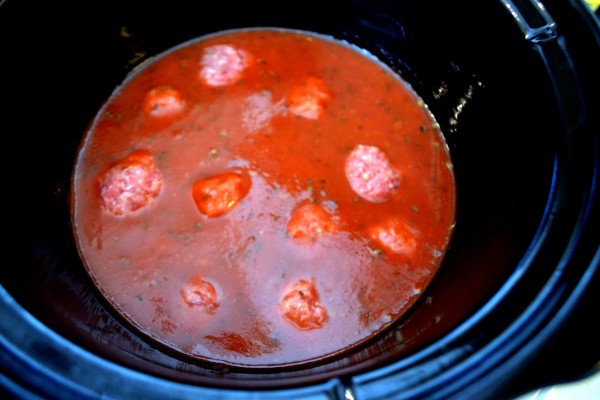 I wish that I could share the aroma… mmmmmm Developed slow cooked flavors of beef broth, tomato, and basil…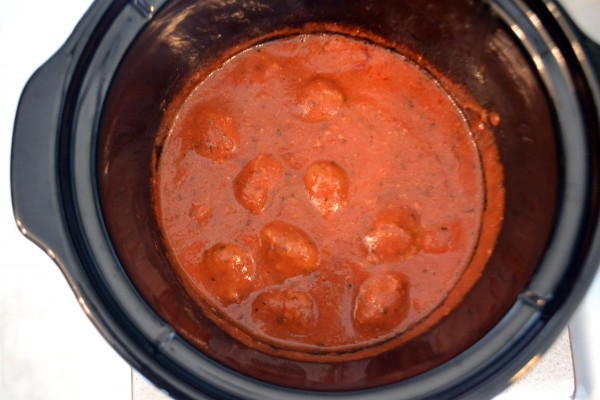 If you want a very thin sauce or soup, and and even deeper mingling of flavors, add a little more water to the basic sauce, about 1 cup total. The broth from the beef will give its goodness to the dish.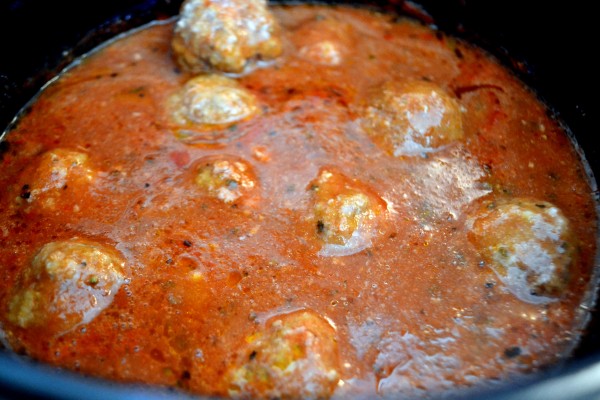 After about three hours…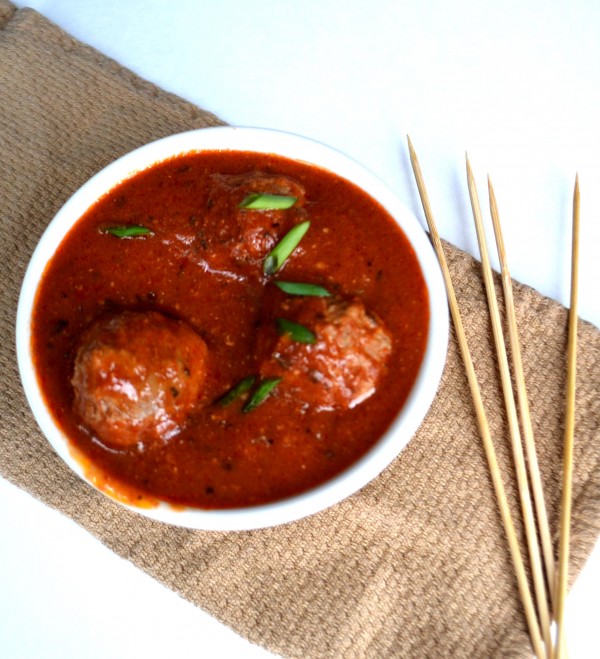 Easy Slow Cooker Grass Fed Beef Meatballs and Marinara
This recipe works well in a small slow cooker, and as part of a meal for 3-4 people. If you have a large slow cooker and need more meatballs, double the sauce recipe and use all of the meatballs.
Ingredients
about 30 oz marinara sauce, or use Levi's recipe below
meatballs, 1/2 of recipe below
Method
Embarrassingly easy – Place sauce into slow cooker. Add meatballs. Cook on high for about 3 hours, or on low for about 6 hours, until meatballs are cooked through and beautiful flavors have developed.
Enjoy on sandwiches, spaghetti squash, pasta, or however you like to serve meatballs.
For Levi's Grass Fed Beef Meatballs – One batch/Two meals
This recipe makes two meals, as long as your family is eating more than just the meatballs. I like to make this double batch and freeze half for an easy meal later. 
Yield: 44 meatballs, if using a 1/2 to 3/4 oz portion scoop
Ingredients
2 lb grass fed ground beef (you can use any ground beef you like, we like gf)
4 eggs
1 cup rolled oats, coarsely ground in a food processor
1 t garlic powder
salt, to taste, we like 1/2 T salt
pepper, to taste (my son leaves out the pepper)
Method
Combine all ingredients. Don't overmix. Pan cook a little bite to test the flavors. If needed, adjust seasonings.
Using your hands, or a portion scoop – I like 1/2 to 1 oz – portion and roll meat mixture into meatballs. Place on a cookie sheet.
If using immediately, add half of the meatballs directly to the sauce in the slow cooker – but do so carefully so they do not stick together and become one massive clump of meat.
Place the remainder of the meatballs with cookie sheet, directly into your freezer. When frozen, transfer to freezer-safe bags or containers and keep frozen until ready to use.
For Levi's Marinara Sauce:
Ingredients
2 15 oz can tomato sauce
1/2 cup water (or add a little red wine, if you prefer)
1 T dried basil
1/2 t dried oregano
1/2 t garlic powder
salt and pepper, to taste
Method
Into a mixing bowl, or directly into the slow cooker, combine all sauce ingredients. Stir. Slow cook. If sauce becomes too thick, you can add water.
Enjoy!
If you like this, please Pin, Share, and Like