Sweet Red Bean Popsicles
File this under the heading of Cold Refreshing Tasty Summer Treat
…with hidden nutrition.
Recently, I saw Judy Joo make Korean Red Bean popsicles on her new Cooking Channel program. This peaked my interest, as I had been thinking of making these. Her popsicles were simple, but looked so cold and refreshing for a hot summer's day. But I could not find her recipe to save my life! I only remember that she used sweetened condensed milk. So, I decided to play in the kitchen.
What I learned:
If you use sweetened condensed milk, rather than another milk product, or yogurt, you can hardly go wrong. The only danger may be in creating a popsicle that is too sweet… how much sweetened condensed you use should probably be determined by how sweet you have made your red bean paste.
The flavor is mild, sweet, exotic (if you are from the States), and delicious. But the texture could be improved by straining out the skins of the beans.
If you put these guys in direct sunlight to take pictures, they melt really fast!
Admittedly, there is a lot of sugar in this. For some of us, this is not a problem. If we are eating a low sugar diet otherwise, not chugging down sodas, or eating processed foods, and if we do not have blood sugar concerns, then a little sugar now and them can be tolerated (and thoroughly enjoyed).
Also, it is super easy to make your own red bean paste, using nonGMO REAL cane sugar, or possibly even another sweetener. Also, using organic sweetened condensed milk is an option, if you wish to keep out some unwanted ingredients.
This is a lot of sugar, but it is also real food. Cookie Monster might call this a "sometimes food". 
Sweet Red Adzuki bean Popsicles – with only 2 ingredients!
Click here for an easy recipe for Red Bean Paste. Make this ahead and freeze it to have on hand whenever you want it.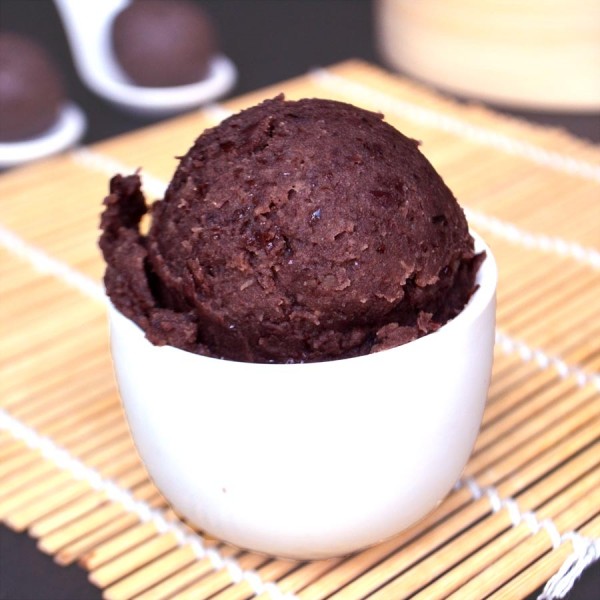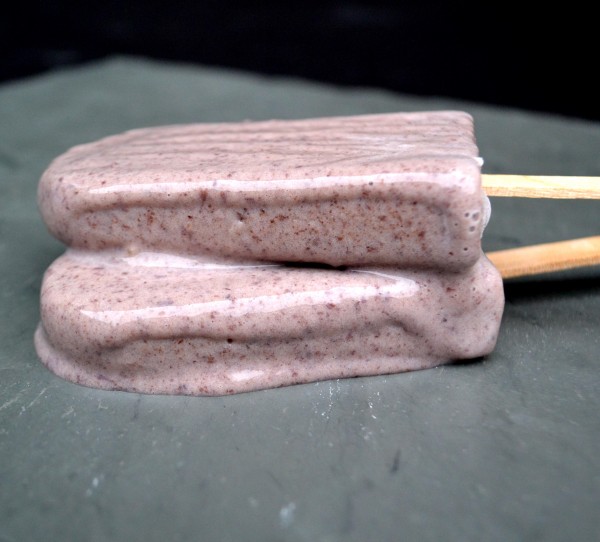 Recommended – Eat your Popsicles, rather than putting them in the hot summer sun for a photoshoot.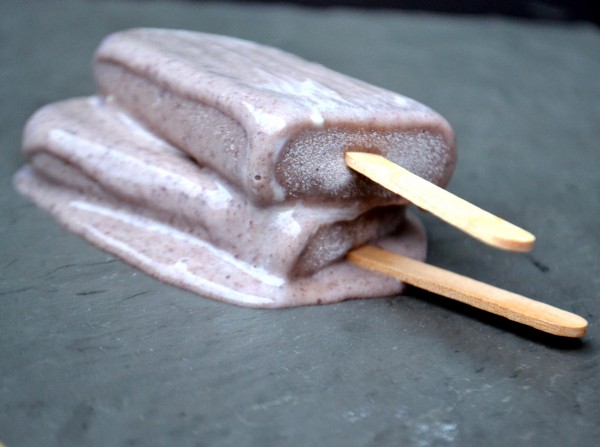 Sweet Red Adzuki Bean Popsicles
If preferred, you can use yogurt instead of sweetened condensed milk. Add honey or agave, if desired. There is so much room for play! This is optional, but the texture of these Popsicles are much improved by straining out the skins when you make your bean paste. You can also purchase a ready made smooth bean paste.
Ingredients
one part red bean paste
one part sweetened condensed milk, preferably organic
Method
Determine how much Popsicle mixture you need, based on containers you plan to fill and how many you want. Mix ingredients, using a blender. Pour into molds. Add sticks. Freeze.
Most molds release frozen popsicles when you run warm water over the outside.
Serve immediately! These melt quickly on a hot day.
Enjoy!
If you like this, please Pin, Share, and Like