I love chili. Chili con carne, chile con frijoles, virtually any chili. Using dried toasted and reconstituted ancho chili peppers is usually the way I roll, but what I most love about this recipe is that it is EASY. Throw everything in the slow cooker and let it make for you a lean mean nutrient-packed multi-bean chili.
This recipe offers you another taste of The Fast Metabolism Diet. The author's recipe is posted below, along with my modifications. The ingredients satisfy the nutritional requirements detailed in her book. This recipe is suggested for the Unwind Phase of the diet, and a big bowl of savory chili will help you do just that. You can read a quick review in a recent posting.
Meanwhile, whether you use the methods in Haylie Pomroy's book or not, you will enjoy this chili.
Turkey or Buffalo Chili
The recipe calls for canned beans. That does make prep work very fast. However, I prefer dried beans. This really is not much more work. I just soak them in water the night before and when I am ready to cook, I drain them and throw them in the pot.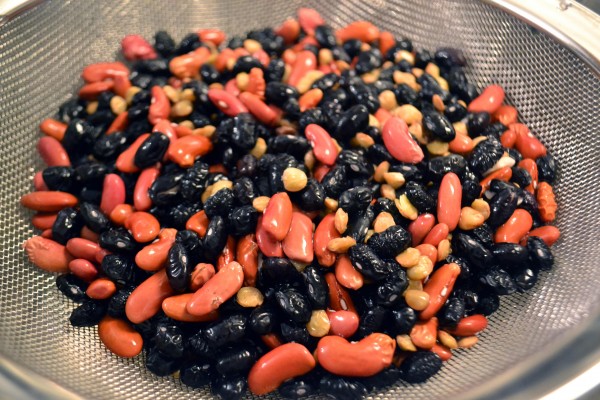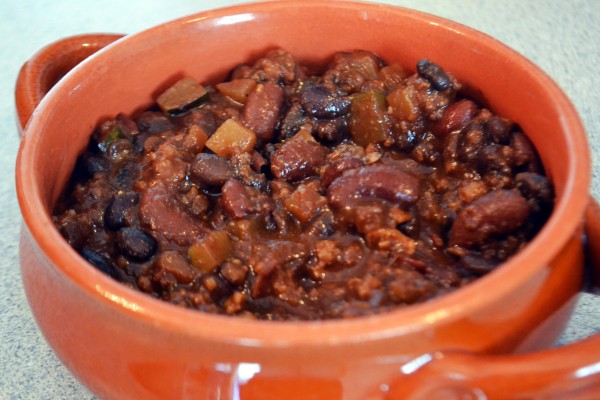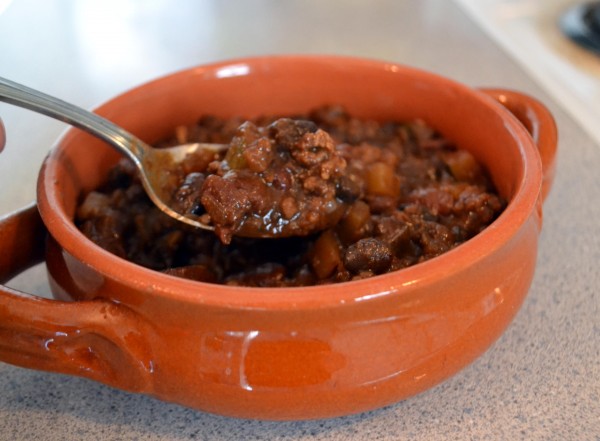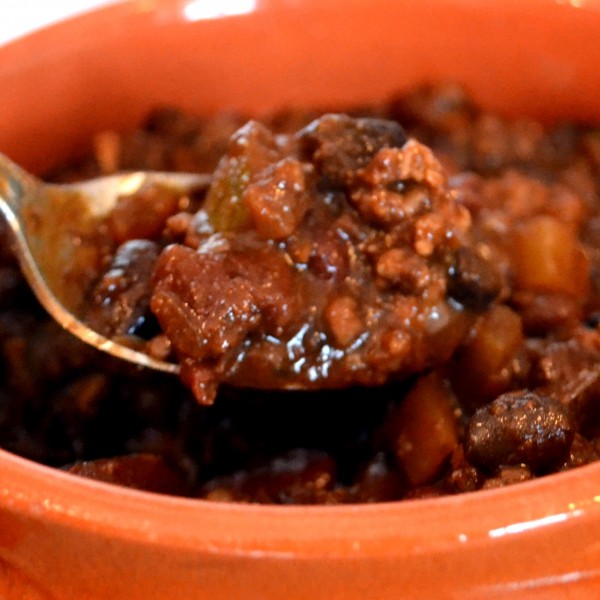 Haylie Pomroy's Turkey or Buffalo Chili
Ingredients:
1 to 1 1/2 lbs lean ground turkey or buffalo meat
1/2 cup diced red onion, or more, if desired
2 T. parsley or cilantro, or to taste (the recipe does not specify dried or fresh)
1 heaping T. chili powder
1 T. minced garlic
1/2 t. crushed red pepper flakes (or to taste)
15-oz can white beans
15-oz can kidney beans
15-oz can black beans
15-oz can pinto beans
15-oz can lentils or adzuki beans
4 cups chopped zucchini
32 oz can crushed tomatoes
1 cup water or tomato juice, if needed
1 heaping t. sea salt
Method
Brown turkey or buffalo in a skillet, and drain. (Not specified in the recipe, but you will need to add a little water, as the FM diet uses no fat in Phase One)
Turn slow cooker to the high setting. Add meat, onion, parsley, chili powder, garlic, and red pepper flakes to the pot. Stir, cover.
Open, and partially drain all five cans of beans, reserving a little liquid for a juicier chili. Add beans, zucchini, and crushed tomatoes to the slow cooker. Stir. Cook on high for 4-5 hours, or on low for 6-8 hours.
Stir and taste occasionally, adjusting seasonings as needed. Add salt.
Notes: To my taste, chili must have cumin. When making this recipe, I added cumin, and a little more chili powder.
Because I prefer using dried beans, I soaked my beans in advance, drained them, and used them in my chili. Out of adzuki beans, I used green lentils, black beans, and kidney beans. Virtually any combination you have will be delicious.
Conversion: 15 oz can beans = about 1 1/2 cup cooked beans
Conversion: 1 cup dried beans = about 2 1/2 to 3 cups cooked beans
This recipe calls for 5 15 oz cans, or 75 oz, or 7 1/2 cups cooked beans. If you are starting with dried beans, measure and presoak about 2 1/2 to 3 cups.
Enjoy!
If you like this, please Pin, Share, and Like
[pinterest]
[fblike]
[tweet]