How do you roast a whole turkey and get tender, savory, tasty results? Do you brine, or no brine? Stuffing or dressing? Yes, this is controversial, but if you are reading this post right now, you are probably the kind of person who looks controversy in the face and laughs! You are a brave soul.
Here is a quick, easy and efficient method with almost fail-proof results. Feel free to alter to your heart's content.
You will need:
A turkey
Accompaniments, like fresh herbs and root veggies
A meat thermometer (more reliable than those little plastic pop up things)
Kitchen shears (or a sharp knife)
A roasting pan or large sheet tray and a rack
Optional: stuffing (for under the skin, safer that way)
Easy Tips
Start with the best turkey you can get. If you have access to wild turkey, yay for you!
If your turkey comes frozen, thaw the turkey in the fridge. Plan ahead. Allow one day of thawing for every 4 lbs. of turkey. 
Easy Prep
To save time later and to give your turkey time to develop flavor, prepare your turkey the night before you plan to roast it. Or up to 4 days before… if you have space in your fridge, you can allow the turkey to sit uncovered in a salt and herb rub. This will deepen flavor, but if you goal is speed and efficiency, you can leave it out. prepping the day of cooking, or day before, will do just fine.
Spatchcock the turkey. The spatchcock technique allows your turkey to roast in HALF the time. You only need to remove the spine. Using kitchen shears, or a very sharp knife, cut along each side on the turkey spine. I usually start on the wing end, under the wings. If you have difficulty cutting through to the tail bone (you shouldn't), you can snap the thigh bone and go through the joints.
Press down hard on the breast bone to flatten the turkey.
This method does result in an unusual-looking presentation, but you will still be able to arrange it on a platter so that it is pretty, and dramatic.
That's it! Now you have a turkey that will cook in half the time AND stock bones!
For a visual aid, here is a short video… Alton Brown.
Longer video… also fabulous… J. Kenji Lopez-Alt. He is making a Holiday turkey, but why not roast turkey year-round? It makes a great cook-once & eat- all-week food.
Save the backbone to make broth and gravy! This is a key perk the comes from using the spatchcock method.
To brine or not to brine: If you like to brine your turkey, go for it. Because it is less bulky, fast, and produces great flavor, I like to use a simple salt rub instead of a brine. Be very generous with salt, covering every part of the turkey. As the turkey sits in the fridge overnight, the salt will be working for you to make your turkey delicious. If you like, put pepper and herbs into the rub.
Refrigerate your turkey, preferably uncovered.
If you would like, go ahead and make a stuffing for your turkey – to be placed under the skin.
Roasting Day!
Pre-heat the oven to 375º. In a large roasting pan, or on a parchment-lined sheet tray, place chopped onion, celery, and carrot to infuse flavor into pan dripping. Place a rack over the veggies. For added flavor, line the rack with fresh herbs, such as thyme, sage, or rosemary.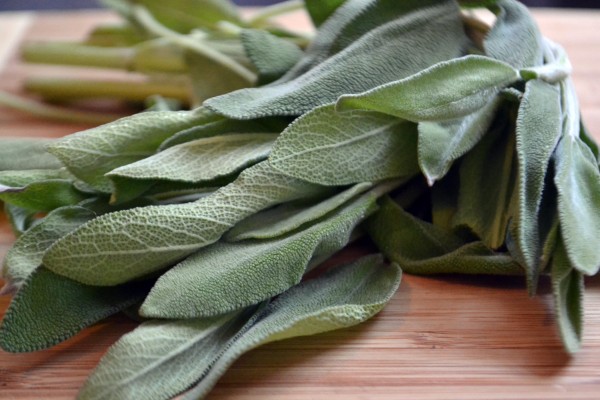 Place your turkey onto the rack, breast-side up, with legs turned out or in, depending on which presentation you prefer. Flatter turkey will mean even cooking and tender meat.
About stuffing. As a matter of personal choice, I do not stuff turkeys. I find that it is difficult to cook the turkey through to the stuffing up to a safe temperature without drying out the breast meat. But if we are using the spatchcock method, the point is mute. With no backbone, there is no cavity to stuff.
A happy compromise? Under the skin stuffing.
If you are using an under-the-skin stuffing, with your best tools, your hands, carefully separate the breast skin from the flesh. Pipe or stuff the stuffing under the skin. This will help to keep the breast tender and the skin crispy.
If you really wanted to save some time, and did not rub this turkey down the night before, be sure to liberally salt and pepper it now… on all sides.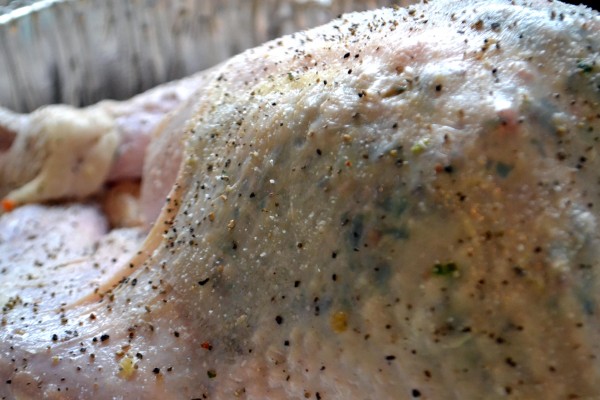 Into the oven!
Roast turkey uncovered, in a preheated 375º oven, until it is golden brown. Then tent with tin foil to stop the browning and allow the turkey to cook through. You will need to keep an eye on your turkey. Depending on your oven, and how flat is your turkey, it may brown in a short time, or it may take over an hour.
After about an hour and fifteen minutes, or so, you will want to insert your meat thermometer into the thickest part of the thigh – NOT touching the bone. When the internal temp reaches 160º, remove the turkey from the oven and allow it to rest. Carry over cooking will bring the turkey up to a safe 165º. Of course, do not eat an undercooked turkey unless you want to become very ill.
Save your pan drippings! …for delicious gravy, of course.
Presentation
You can present your turkey whole, on a bed of greens, in a more traditional manner. Or you can carve the turkey and place it on the platter any way your like. When your family sees tender meat with golden brown skin, they will probably not care how it is presented.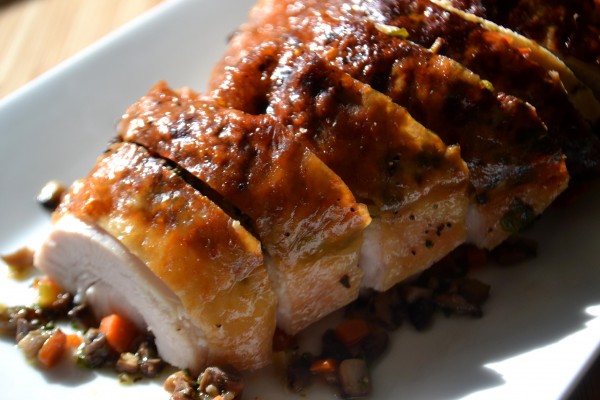 It is not cool when you turn your back and that juicy little piece on the end disappears. This is the chef's nugget!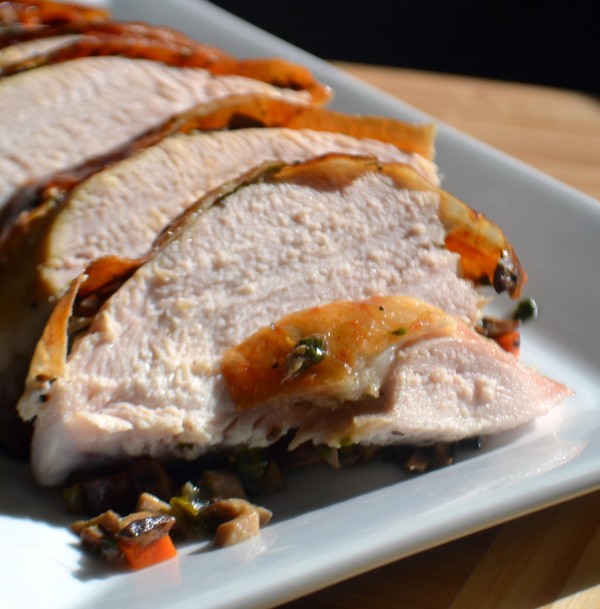 "Stuffing"
This time, I used a simple allergen-free "stuffing". It would have been easier to stuff had I thrown the mix into a blender, but I wanted more texture today. You can use any stuffing you like! Just dice it very small or blend it to a smoother texture.
Ingredients:
1-2 T cooking oil
diced onion (about 1/2 c)
very small diced celery (about 1/4 cup)
very small diced carrot (about 1/4 cup)
minced garlic (about 2-3 cloves)
dried thyme (about 1/4 t)
small diced mushroom (8 oz), I had portabella, but chanterelles would be great!
chopped frozen spinach (about 1/4 cup)
chopped fresh sage (1-2 t)
salt and pepper, to taste
Saute the onions and and celery in oil until tender. Add carrot and cook until almost tender. Add garlic and thyme and cook for just a few minutes. Adding salt will help the onions release moisture and cook a little faster. Set this mixture aside.
Saute mushrooms in a little oil. Do not add salt until mushrooms are tender. Add spinach. Add onion-carrot mixture back in. Add sage. Salt and pepper to taste.
Options: To make this really yummy, add in butter. If you let this cool and smash in some butter, it will melt into the turkey as it roasts and will be soooo delicious!
If you certainly toast up some bread, traditional, gluten-free, paleo, whatever you eat, grind it up, mix it into the veggies, and let the fats from the turkey develop the flavor. You will probably want to grind everything up a bit before stuffing.
You could try adding finely chopped walnuts or chestnuts. Mmmm
Veggies… delightful aroma!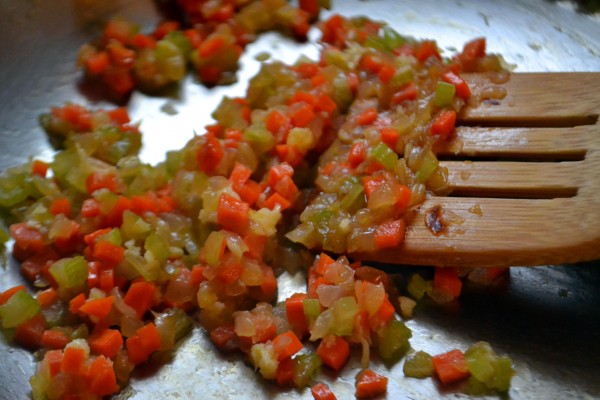 Mushrooms…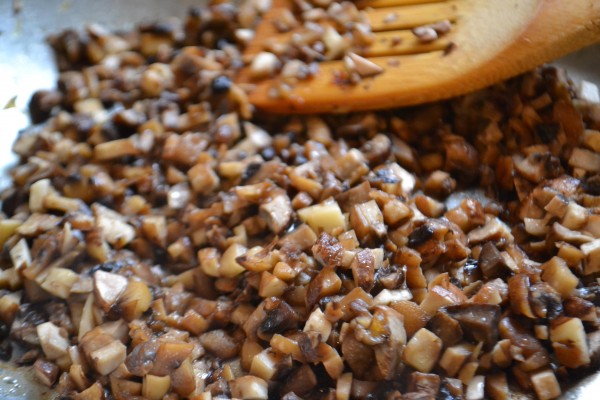 All together now…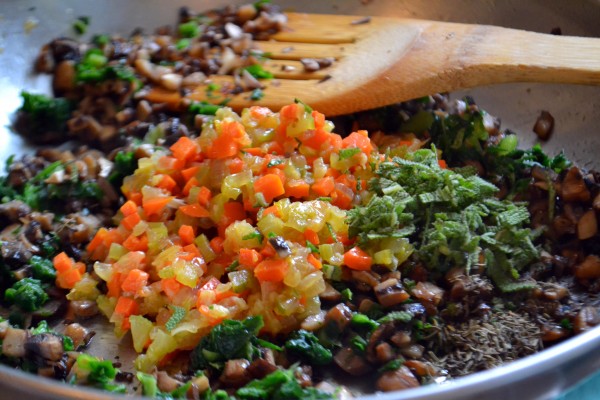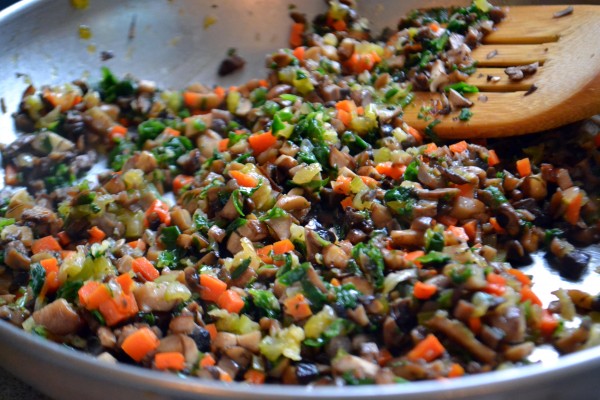 What it looked like in the pieces that didn't lose their stuffing. 🙂
A blender would have kept the stuffing in place, but I was fine with piling it all together on the plate.

Of course, this turkey was covered in smooth palate-awaking gravy made from broth from the backbone, and intensified with pan drippings. Mmmmm When the turkey is gone, I could probably just eat bowls of gravy.
Makes a great soup base too! 🙂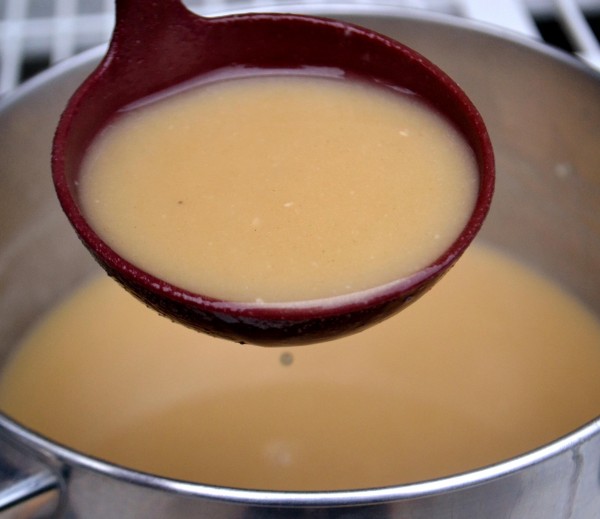 Enjoy!
If you like this, please Pin, Share, and Like
[pinterest]
[fblike]
[tweet]