If you have roasted your own spatchcock, or butterfly, turkey, then you have likely also used the backbone to create a beautiful broth. Now it will be a piece of cake to turn that broth into gravy. Turkey gravy is special. It is comforting, delicious, and has the power to save dry turkey meat. 🙂 Although, it you butterflied your turkey, you are not likely to have dry meat.
To Make Stock
You can prepare a turkey stock in the same way that you prepare your chicken stock. Place the backbone into your stock pot with root vegetables. Carrots (1 or 2), celery (1 or 2 ribs), and garlic (3-4, we like garlic) impart a lot of flavor and nutrition. Wash your carrots and celery, peeling is not necessary and will waste nutrition. Garlic can just be smashed. If you like onion, add one! (sometimes I feed the scraps and carrots to my little dog, so I leave the onion out)
Always add a bay leaf or kombu, as this will make the nutrition in the stock more bioavailable. And they add flavor. I like to throw in a little thyme for flavor, and parsley for digestion. You can add salt and other seasonings, if desired. I keep my stock simple so I can use it for anything.
Add water to cover everything. Bring to boil, then immediately reduce to simmer. Simmer for at least an hour. I usually let it go for two or three hours.
Over a large heat-proof bowl. strain out the liquid. Cool. You can use the broth immediately of refrigerate. If you chill the broth in the fridge, its fat will rise to the top and you can spoon it off. Although, turkey really does not produce a lot of fat.
If you can salvage any scraps of meat, save them! Add them to finished gravy. throw them in with leftover turkey, feed them to the puppy – no bones for the puppy!
To make Gravy
Put broth in a sauce pan and heat to warm. Adding cold broth to a warm roux of butter and flour will create lumps. Whisk in your butter-flour roux, and allow a few minutes of cooking for broth to thicken.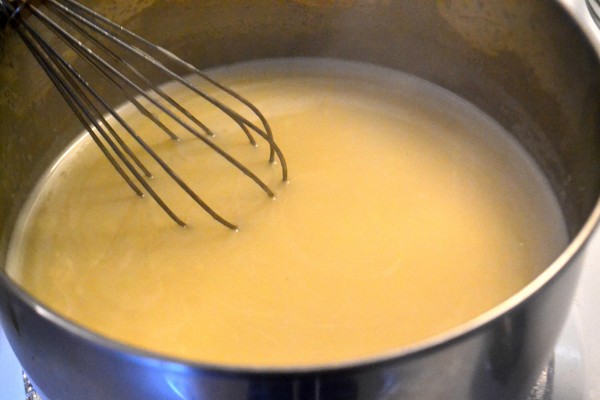 My pan drippings had time to chill and the tiny bit of fat that collected on the top was removed.
Can you see all that flavor? This is rich. I am salivating as I type.
When you like the consistency of your gravy, add in your delicious flavorful pan drippings.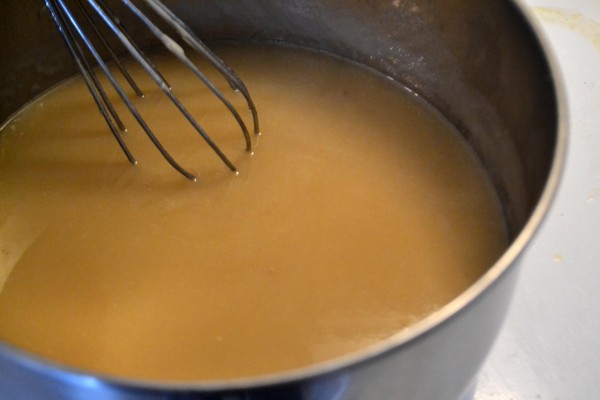 Done! Rich, creamy, savory, delicious! You may not even need to add salt.  This batch did not even need a grain of salt. Those drippings brought all the flavor required.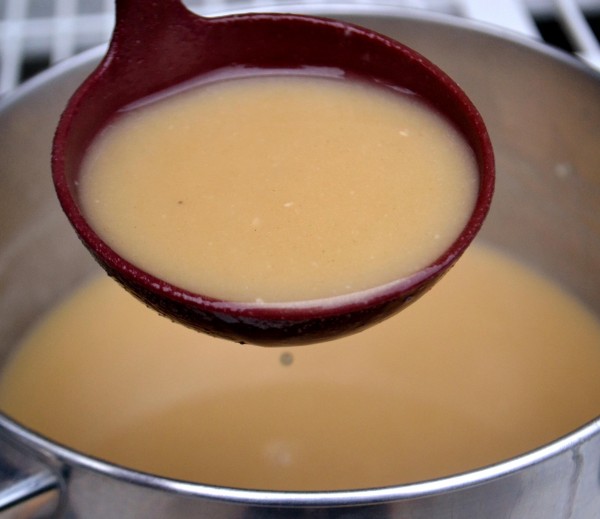 Turkey Gravy with Pan Drippings
I made this gravy with only 3-4 cups of my turkey broth. If you want more gravy… and you can always use more gravy, you can easily double the recipe… everything but the pan drippings, which are really the icing on the cake.
Ingredients:
3-4 cups turkey broth
3 T butter
3 T ap or spelt flour, or for gluten free, use gf flour or garbonzo bean flour
pan drippings, from your roasted turkey
salt and pepper, to taste
Method
Put broth in a sauce pan and heat to warm. In a skillet, on medium heat, melt butter. Whisk in flour until butter and flour are fully combined. This is your roux. Add roux to warmed broth and continue to whisk to prevent lumps. Allow a few minutes of cooking for broth to thicken. When you like the consistency, add in your delicious flavorful pan drippings. Taste your gravy and adjust seasonings, only if needed.
If you want a thicker gravy, you can always make, and whisk in, more roux. Garbonzo bean flour works great as a thickening agent for soups and gravies, however, it is best to use a little at a time and no more than needed. Too much garbonzo bean flour will alter flavors and may result in an odd texture.
Notes: I like spelt flour because spelt is an ancient grain and is often tolerated by people who have gluten intolerance, even though it does contain gluten. Today's wheat is not the same wheat that was available just a few decades ago. It is hybridized and for some, more difficult to digest.
Enjoy!
If you like this, please Pin, Share, and Like
[pinterest] [fblike] [tweet]