Vegan Lunch – Green Celery Soup and Purple Cauliflower
When the weather starts to cool, the soups come out. Creamy, brothy, chunky, smooth, they are all good. They warm us up all the way down to our toes and give us that comforting nourishing feeling of sitting wrapped in a blanket with slippers in front of a fireplace with a good book.
I like soup.
Don't be too quick to dismiss the idea of soup in summertime as well. In fact, hot soup in hot weather may seem counter intuitive, but it is actually very healthful. In Chinese Medicine, it is considered best to put warm foods in a warm body, as cold foods can shock the system and be detrimental to health. Warm soups digest very well.
So to keep our lunches interesting, here is a fun take on soup and salad. While colorful cauliflower is in season and available, why not throw it in your lunch? It is so simple, and surprisingly delicious raw, just the way it comes from the earth. No work needed. If cauliflower is not available, you can certainly use whatever is in season and appeals to you. While you are grocery shopping, why not grab something unusual, or pretty, or something you have not had in a while? It will make your lunch experience interesting and highly munchable.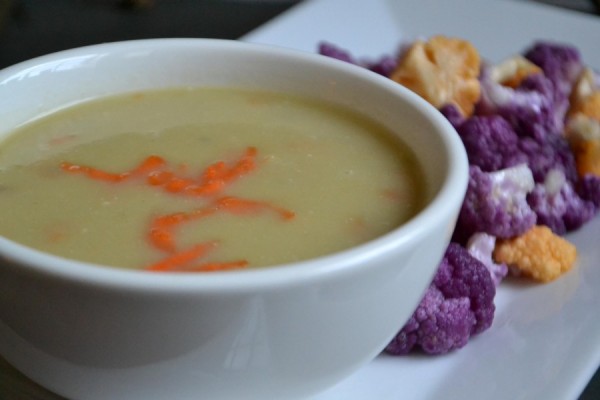 Purple and Orange Cauliflower
This cauliflower is just washed, broken into pieces, and sprinkled with a good extra virgin olive oil, garlic powder, onion powder, salt and pepper. It really doesn't need anything else. And it gives the perfect cool crunch compliment to the hot creamy soup.
To pack your lunch
Soup goes hot and steamy into a thermos. Cool cauliflower goes into its own container. How easy is that?
Green Celery Soup
The soup, or it's base without milk, can be made ahead and refrigerated or frozen. For a quick lunch, you will only need to heat it up.
3 cups celery, chopped
1/2 cup onion, chopped
water or vegetable stock, enough to cover celery (I prefer a good flavorful veggie stock)
1/2 cup almond milk, or more if needed depending upon the flavor and thickness of your milk
tarragon, 1/2-1 teaspoon fresh, chopped (you can use dried, if preferred)
salt and pepper, to taste (white pepper, if preferred)
optional: for a bit of sweetness, add 1/2 cup chopped parsnip with the celery or add potato which will also thicken the soup
optional: grated carrot, for color, sweetness and nutrition
Place celery and desired vegetables (onion, potato, parsnip) in a pot and add enough water or stock to cover them. Bring to a boil. Reduce heat. Cover and simmer until vegetables are tender.
Puree until smooth in a blender, magic bullet, with an immersion blender… whatever you have. Be careful! Its hot! If using dried tarragon, add this now. Use only a little at a time until the flavor is pleasing to your palate. Cook for a few minutes to allow tarragon to develop.
If using grated carrot, sprinkle it in and allow to cook for just a few more minutes, until you like the doneness of the carrot.
At this point you have a great base. option: If you would like, you can freeze this into single serving sizes to reheat and add milk later.
If soup is too thin, simply cook until soup reduces. If soup is too thick, add liquid. Add salt and pepper, to taste.
Add almond milk. (Taste and adjust salt, if needed)
If using fresh tarragon, add this at the finish, or as a garnish.
Option: garnish any way you like! You can use celery leaves, diced and blanched veggies, croutons,  whatever  suits your needs.
Enjoy!
Some nutritional perks from eating celery:
Two… Among many other benefits, celery is anti-inflammatory, and a great source of phytonutrients! Celery benefits the cardiovascular system and digestive system.
A few uses in TCM: Celery is a cooling food; it is beneficial for the stomach and spleen-pancreas, it calms an aggravated liver, and improves digestion. It purifies the blood, dries damp conditions, and because it is high in silicon, is very beneficial for joints, bones, arteries, and connective tissue.
If you like this, please Pin, Share, and Like