Star Wars Theme Drinks
Admittedly, my knowledge of spirits is sadly lacking. To respect the pros, and avoid embarrassing myself, when looking for fail-proof ideas, this blog will be deferring to the experts.
I do have one recipe that is simple enough even for me! And in my view, it is a MUST HAVE. Beautiful Blue Bantha Milk. You can find the recipe here.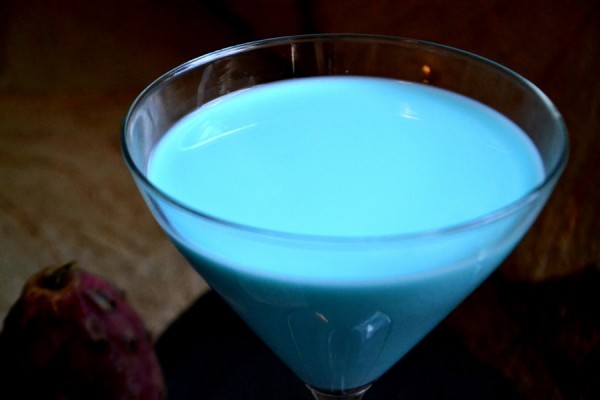 With cactus pears and stupid-easy Galactic Wraps. Recipes in How to Serve Aliens. (will add the link in as soon as I have it)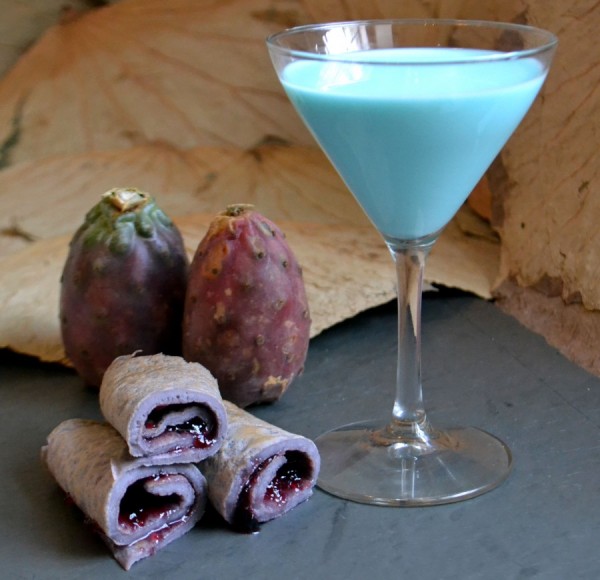 To follow are some simple and impressive cosmic concoctions to celebrate the the Star Wars universe.
Disclaimer: this blog is in no way affiliated with Disney, the Star Wars franchise, or any of its affiliates. These are merely inspired artistic expressions from fans, who know about spirits.
… with minimal kitsch.
Enjoy!
To Represent the Jedi
A simple Blue Martini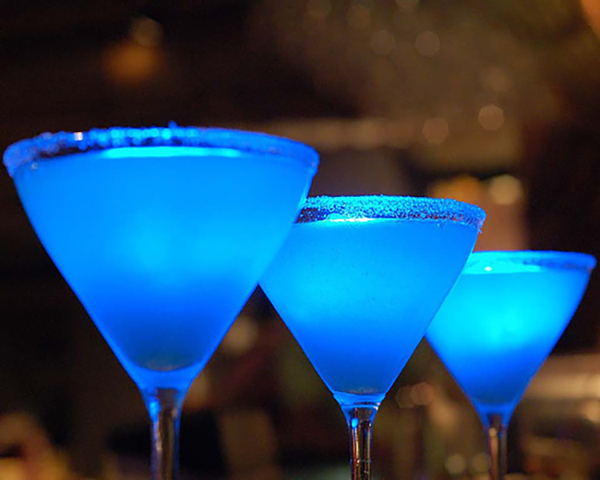 Image from righthandevents.com. They have a blacklight over this.
Jedi Martini
A simple WikiHow Blue Martini
2 oz gin
1 oz blue curacao
twist of lemon
ice cubes
Pour the gin into your chilled cocktail shaker.
Pour the blue liqueur into your chilled cocktail shaker.
Add the ice.
Cover and shake well.
Strain and pour the contents of the cocktail shaker into a chilled martini glass.
Sith Red
There are TONS of options for red drinks. You can mix up a simple cranberry or pomegranate juice drink, make anything reddened with grenadine, or do this…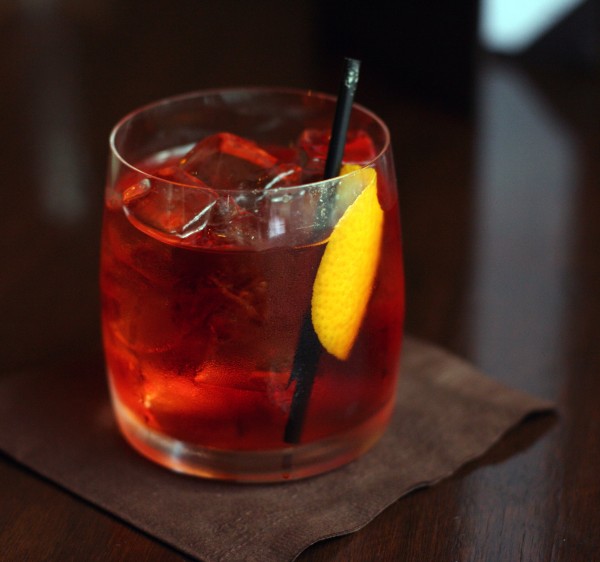 Negroni
one part gin
one part vermouth rosso (red, semi-sweet)
one part Campari
half slice orange
Pour ingredients over ice. Stir.
Blue and red, like a Tatooine sunset
This, from cdkitchen makes beautiful red and blue layers.
And what about throwing in two lychees into each glass to represent the twin suns? Or maybe round candies? hmmm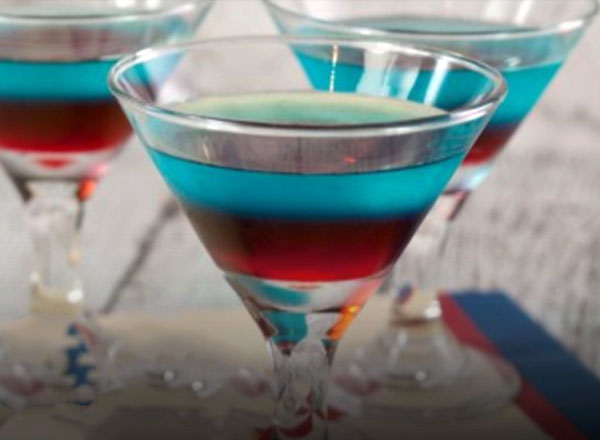 Sunset on Tatooine  – 4th of July Cocktail from cdkitchen
1 1/2 ounce vodka

1/2 ounce triple sec

1/2 ounce sweet & sour mix

1/2 ounce blue curacao

1 dash grenadine
Combine all ingredients except the grenadine in a shaker with ice. Shake well to combine. Strain into a martini glass.
Carefully pour the grenadine into the middle of the glass. The red grenadine will sink to the bottom and create a layer under the blue layer.
OR… a shooter from aboutfood
1

/

2

oz grenadine

1

/

2

oz curaçao (

blue

)

1

/

2

oz vodka
Pour the grenadine into a shot glass.
Float blue curacao on top of the grenadine.
Float the vodka on top of the curacao.
Dark Side
A super simple blavod vodka Intoxicology.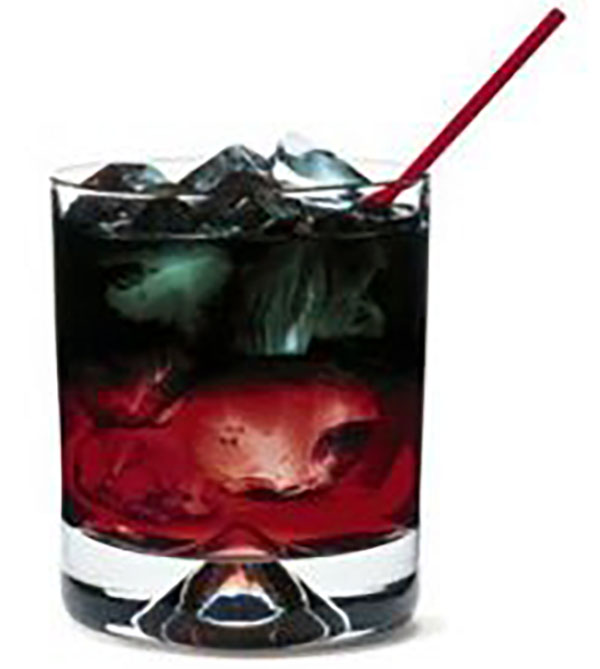 Black Widow
2 oz Blavod Vodka
3 oz Cranberry Juice
Pour cranberry juice in a highball glass filled with ice. Float Blavod vodka on top to create the desired effect. Serve unstirred.
For more easy and Black Vodka recipes, click The Webtender.

The Blackbeard
The black is squid ink. But you can use food coloring.
Ingredients:
1 oz spiced rum
1/2 oz Fernet Branca
1 1/2 oz crème de cacao
1/8 teaspoon squid ink (optional), you can substitute black food coloring
1/2 oz chocolate stout
Method
Start by adding the spiced rum, Fernet, and crème de cacao to your shaker.
Next, add the squid ink.
Give the ingredients a hard, dry shake (no ice).
Fill your shaker with ice and shake vigorously for a full 30 seconds so that your drink becomes cold and frothy. Double strain into a chilled cocktail glass and top with the chocolate stout.
You can find step-by step images from HonestlyYum here.
More Star Wars themed drinks…
…including Hans Solo Cocktail. I cannot find an image or the original creator, but here it is.
Hans Solo Cocktail
Ingredients:
3/4

oz Vodka

3/4

oz Gin

3/4

oz Triple Sec

3/4

oz Rum

1

oz Bourbon Whisky

2

oz

Sweet and Sour

1

oz 101 Wild Turkey Bourbon Whisky
In a highball glass with ice, build drink over ice in order and top with 101 Whiskey.
May the Force Be with You!
For more ideas, including great jello shot flavor and color synergistic combos, check out my ebook: How to Serve Aliens. Also, in no way affiliated with Star Wars, Disney, or any other franchise. But there are a lot of great ideas in there! Fan tested and approved!