Because pork stock is a vital ingredient in Thai cuisine, and Jok (a rice porridge dish) has been requested (by friends and family), here is an authentic recipe that will do the job nicely. This is a great make-ahead and can be frozen, then used for any number of dishes.
Hot Thai Kitchen is a great source for video tutorials and recipes for any lover of Thai food. This recipe comes from this site. Check it out!
Pork Balls and Broth in Thai Jok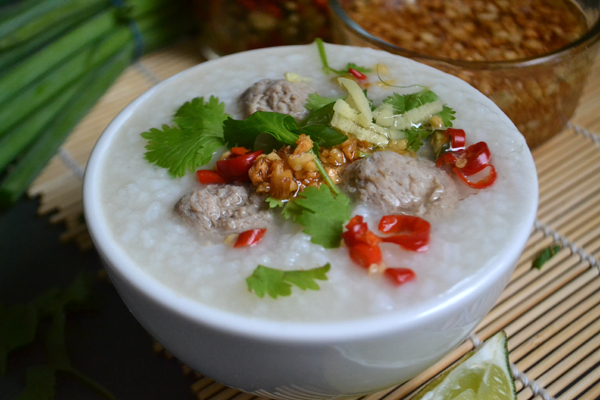 Pork Stock
Just the bones. Preferably good quality – abf, humanely raised. Simmer.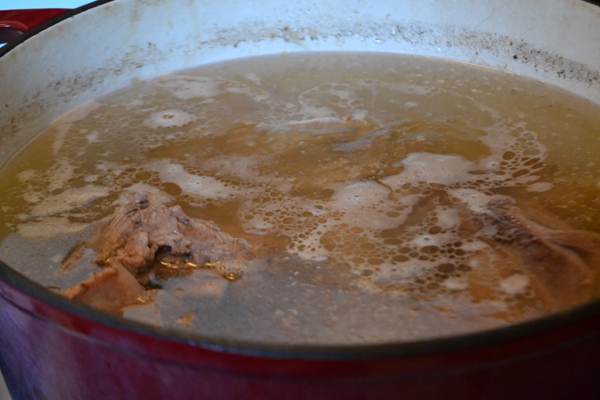 Any scum that develops can be skimmed off the top and discarded.
Add aromatics. Simmering stock with aromatics…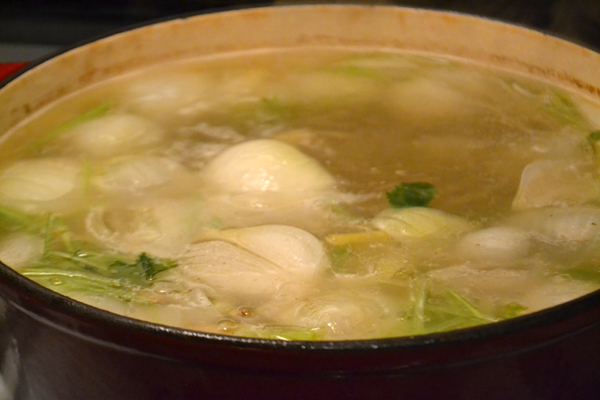 Strain.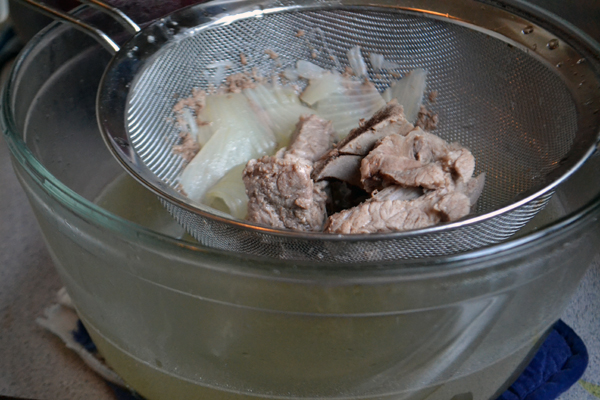 At this point, I like to cool the stock and refrigerate it so that the fat will separate. You can choose to skim the fat off the top, or even leave it in, if preferred.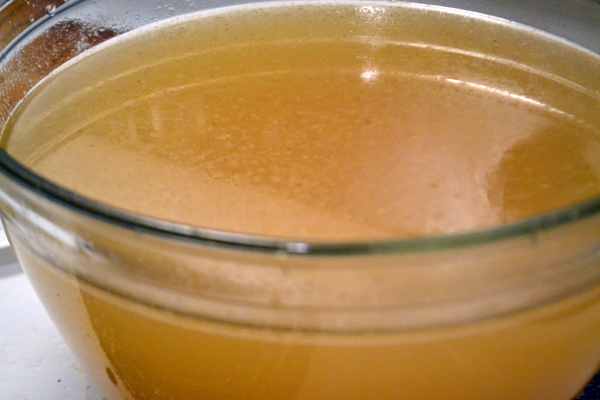 Once the stock has been refrigerated, the fat can be easily removed from the top.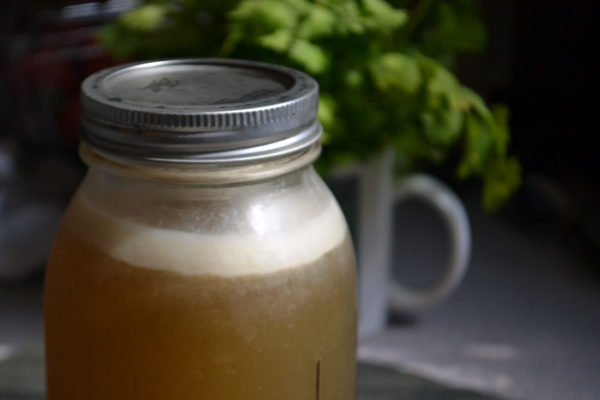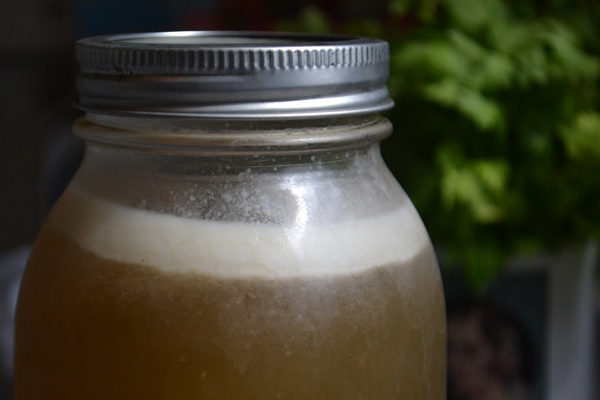 Thai Pork Balls
So easy! Everything just gets thrown into the food processor and thoroughly processed. Then either roll little meatballs, use a small portion scoop to make uniform balls, or just drop clumps into hot simmering stock.
Alternatively, you can freeze these raw on a cookie sheet, and then throw them into a freezer bag to use as needed.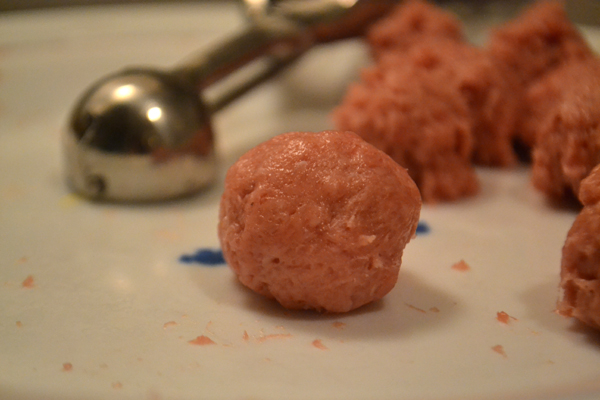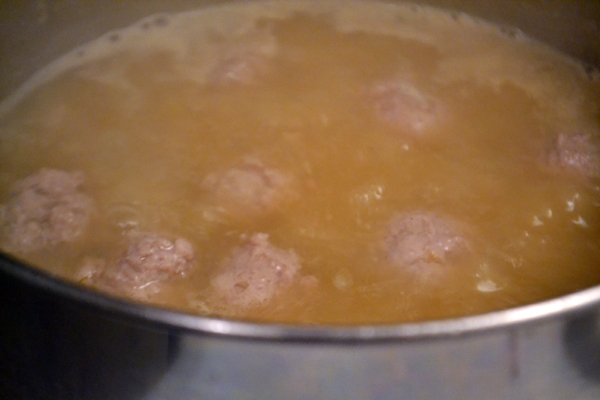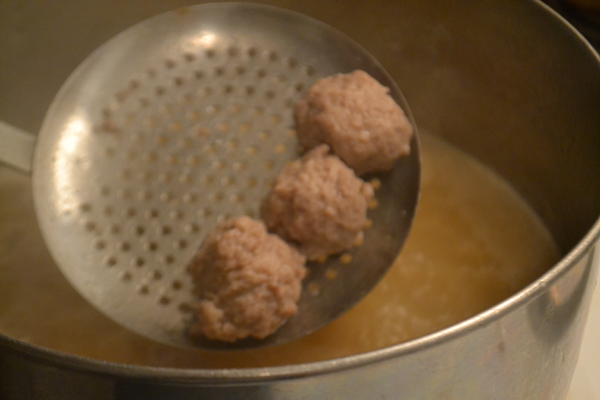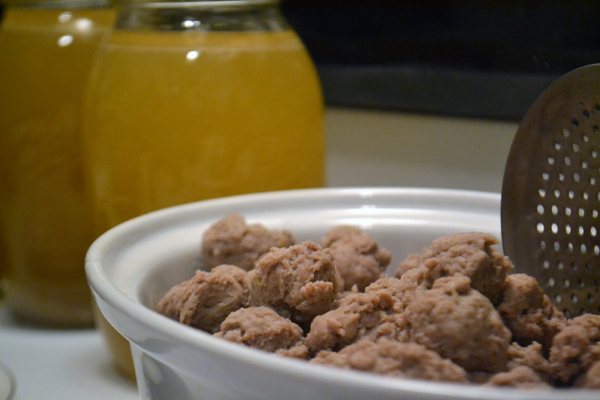 Hot Thai Kitchen Pork Stock
See more here.
Ingredients:

Makes 6-8 cups
2 lb pork bones or chicken bones
3.5 L water
Top half of one lemongrass, crushed and chopped into 2″ pieces
4-5 cloves garlic, crushed
2 cilantro roots, crushed – if you cannot find the roots, use about 1/4 cup stems
1/2 onion, large diced
1/2 tsp white peppercorns, crushed – (I use ground white pepper, to taste, if I have no peppercorns)
Method
Wash bones in cold water and add to a large stock pot. Cover the bones with cold water and bring to a simmer. Let simmer for 1 hour, then skim off all the scum that has floated to the top. Add the aromatics and simmer for another hour. Strain and use immediately or store in the freezer for future uses.
Freezing stock in flat packs allows you to stack them in the freezer and break off the amount you need, whether one bowl of soup or a family meal.
Note: Quick-cooling the stock and refrigerating it, will allow the fat to float to the top and be easily removed, if desired.
Hot Thai Kitchen Pork Balls
See more here.
Ingredients:
250 g ground pork
1 Tbsp soy sauce
1 tsp fish sauce
2 tsp sugar
1/4 tsp white pepper
1 small ice cube
Process all ingredients in a food processor until it resembles a paste.
Roll into little balls, or just drop pieces directly into simmering broth. Simmer until they are cooked through. Eat immediately or store in the fridge or freezer, either in the stock or separated. Use as needed.
Alternatively, you can place raw pork balls onto a parchment-lined coolie sheet and freeze. Then transfer them to a freezer bag for use any time you like.
If you like this, please Pin, Share, and Like
[pinterest] [fblike] [tweet]