Author of the beloved Priscilla the Great series, devoted wife and Mom, and my friend, Sybil, takes an approach to vegan cuisine that is all-encompassing. She makes everything, and has become a master in an area in which I have only dabbled, faux meats. Full disclosure: I have never been a fan of faux meats. Making meaty food from plants, yes! But foods like seitan, tempeh, and a lot of soybean products are not a prevalent part of my diet or culinary POV.
So why share this?
Because… Sybil. Sybil is one of those people who gets an idea and then takes it to its highest heights. Learn a language, get a degree, homeschool the kids, write a novel… no problem… BAM… she will have it done in no time, and it will be phenomenal. Only a couple of years ago she was excitedly stunned to learn that a person could make their own seitan. She quickly realized that she could make her own anything… and she actually did!!
And now, Sybil is one of only a handful (or less) of cooks who can offer faux meat and I am there with a fork. If vegan meat substitute conjures up in your mind images of chick'n, tofurkey, and beyond meat burgers, you can let that go. Freshly prepared seitan with flavors infused can be extremely flavorful, tender, and juicy. This food does not even need to be considered a "meat substitute"… it is just really good food.
We are all just waiting for her to get a food truck and start serving up mouth-watering indulgent belly-filling guilty pleasures. (She is probably tired of hearing me say that.)
You can read more about Sybil's story and her personal journey to vegan life here… www.sybilnelson.com.
Another thing you might need to know about Sybil is that before transforming her diet to vegan, she loved Popeyes chicken. Not wanting to give up those mouth-watering familiar Louisiana flavors, she compiled and mastered recipes and techniques for all of her family's favorite items on the menu.
In a recent demo, Sybil made all of these delicious dishes. Links to all the recipes are on their way!
Here's how the Fried Seitan Louisiana "Chicken" is made…
After vital wheat gluten is combined with tons of flavor and made into a dough, it is ready to knead and cook.
Kneading the dough. You can control the finished texture by the length of time you spend kneading dough. Because gluten develops and tightens during kneading, the longer the dough is kneaded, the more dense and chewy it will become. Because Sybil wants a tender chicken-like texture,  she does not knead for very long… about 2-3 minutes.

Broth is seasoned and prepared for boiling seitan pieces.
Dough is portioned and pieces are dropped into boiling broth. Once cooked, out they come, ready to be dredged and browned.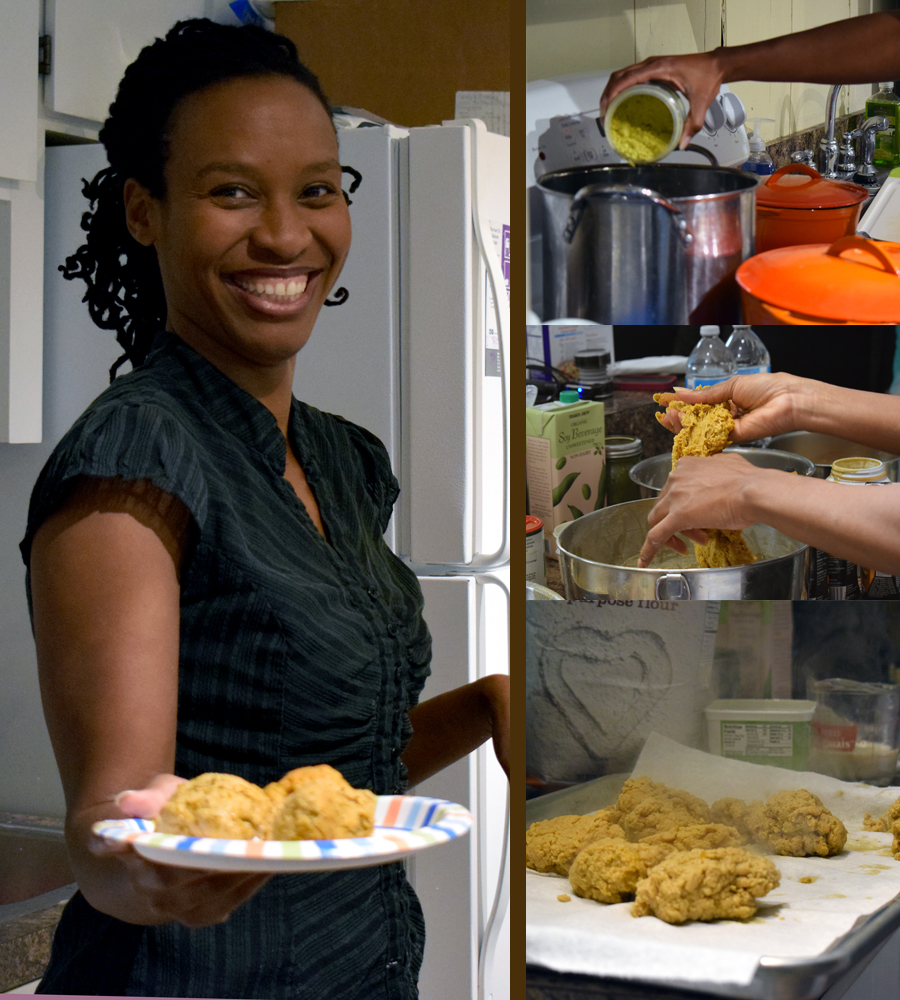 Getting ready to prepare the dredge. Hot sauce, if you please.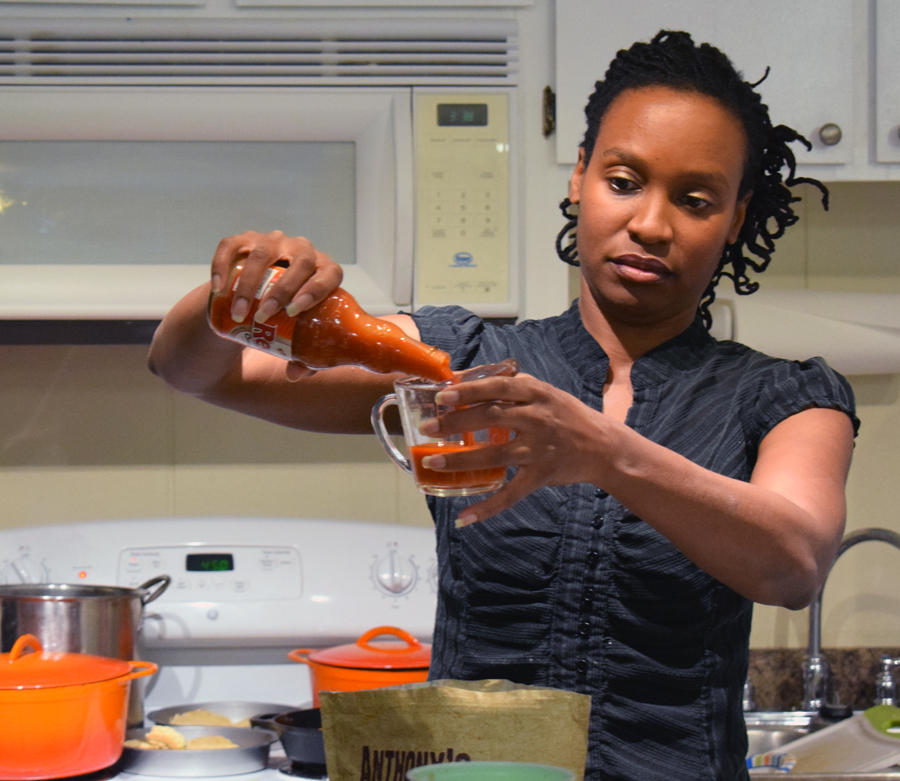 Next, the dredging station, where cooked seitan pieces are covered in flour, then the spicy red sauce, and back into flour. This makes for a delightfully crunchy skin with a soul-warming heat.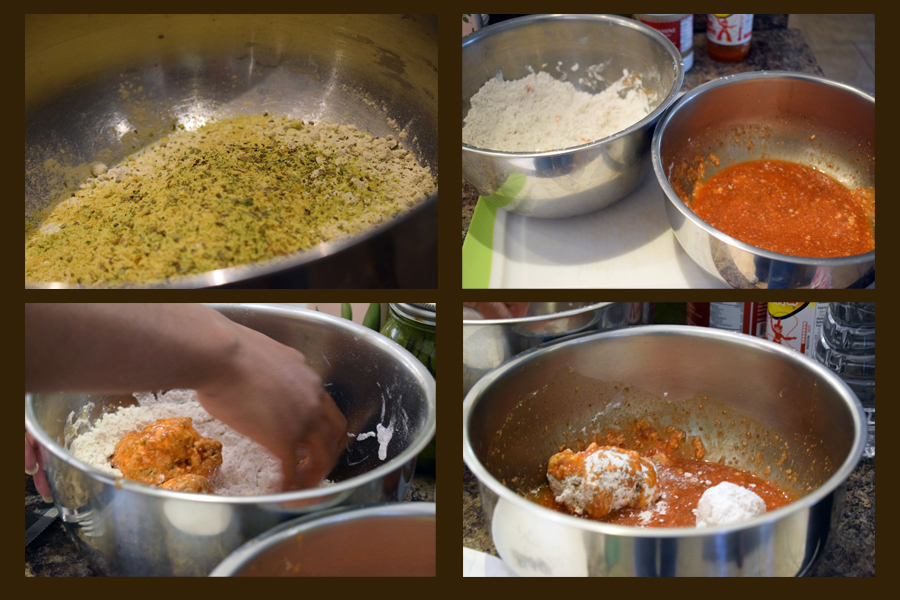 Frying… let's just take a moment…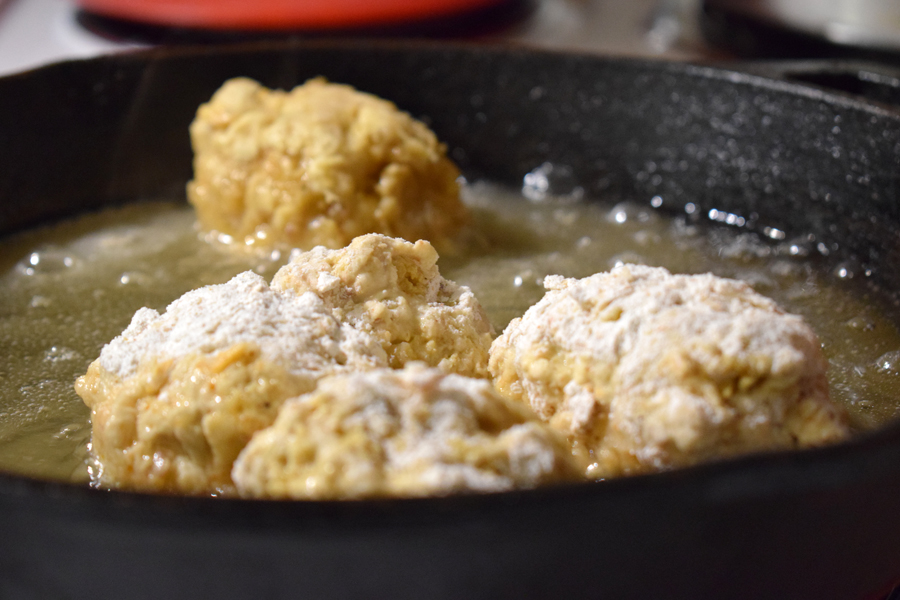 Fried and ready to eat!!
To get the full way-better-than-fast-food-whole-meal experience, add fresh made buttery biscuits, creamy mac and cheese, and chocolate chip cookies on the side…
Sybil's Louisiana Spicy Fried Chicken Style Seitan
Adapted from The Edgy Veg
Fried Seitan "Chicken"
2 cups vital wheat gluten
5 tbsp nutritional yeast
2 tsp onion powder
1 tsp salt
1 tsp herbs de provence (or poultry seasoning)
1½ cup hot sauce (for a less spicy version sub 1 cup vegetable broth instead)
5 tbsp tahini
6 cups of vegetable broth
Dredging Station Seasoned Flour
2 cup all-purpose flour
1 tsp salt
Creole seasoning
¼ tsp sugar
Dredging Station Sauce
⅓ cup hot sauce
3 eggs worth of egg replacer (Sybil uses flax eggs)
Oil for frying
Method
In a mixing bowl, mix together wheat gluten, nutritional yeast, onion powder and poultry seasoning (I used vegetable broth seasoning).
In a larger bowl, combine hot sauce and tahini and whisk until smooth.
Mix the dry ingredients with the wet and stir until well combined.
Knead the dough until it is elastic but not dry. Sprinkle some additional gluten flour if you find you have made your dough too sticky.
Divide the dough into chicken size pieces. Keep in mind they will grow to about twice their size, so make them a bit smaller than a normal chicken breast. You can do nugget size at your own risk. They never work for me, just always fall apart. I have also had success with cutting it into strips and making chicken tenders.
Place the nuggets in a pot filled with boiling broth, ensure they are totally covered.
Cook nuggets in broth for 1 hour at a low boil, stirring every 15 mins.
Remove from broth and place on a paper towl to dry.
Coating and Frying
Combine the hot sauce and water and egg replacer in a small bowl.
Combine the flour and all spices in another shallow bowl, and whisk until well combined.
Working with one piece of seitan at a time, coat each piece with the flour, then dredge it in the hot sauce mixture, and coat again in the flour mixture.
Set aside until the rest of the seitan is breaded.
Heat up plenty of oil in a skillet, or heat up your deep fryer. When hot (350 degrees) fry the pieces for 8-12 minutes or until they are light brown and crispy.
Drain on paper towels or a rack.
If desired, serve with biscuits, mac and cheese, and cookies.
Enjoy!
If you like this, please Pin, Share, and Like
[pinterest]
[fblike]
[tweet]