ON THIS PAGE Below – Food Fast Facts FOR YOU!
Below you will find 22 great tips, fun facts, fast facts, and ideas designed to make your daily cuisine its very best! This is actually and pretty good synopses of what Food Highs is all about!
Food Highs = Optimal eating. 
This includes Flavor Highs, Sensory Highs, Nutritional Highs, Healing Highs, Time and Money Saving Highs… even a little presentation and molecular gastronomy for Spectacular Highs now and then.
Food Highs is for everyone! But built into each blog is a little extra help for people with health concerns who are living on a special diet… because nobody should feel deprived by their special diet.
Overall – Food Highs mission is to inspire, motivate, and facilitate each and every person who visits and follows.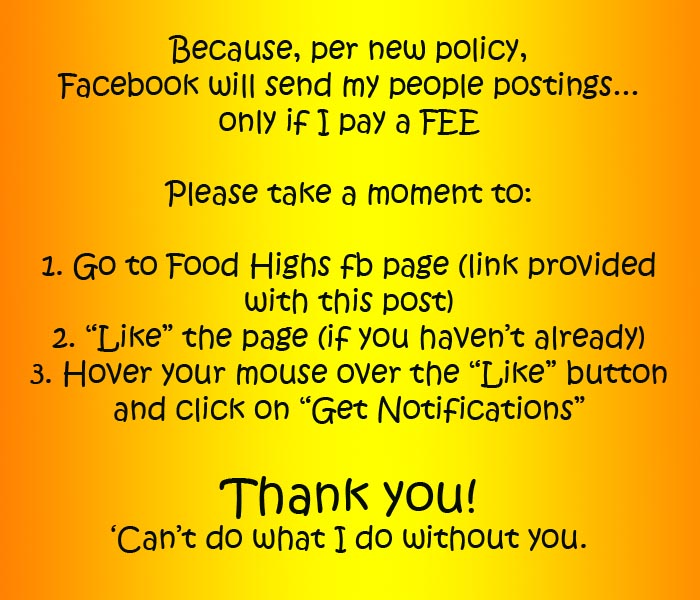 About Your Facebook "Likes" 
If you have "Liked" my Facebook page and are not receiving recipes, there is a reason for that. Facebook has changed their policies. They are making small businesses, even nonprofits, PAY to have postings delivered. Otherwise, they only send postings to a few individuals who interact with the page – Comment, Like, and Share.
This frustrates me. I actually created a private group on my personal page. In order to keep getting "stuff" from say… Alton Brown (my culinary hero), and when I can't always interact, I Share his "stuff" with myself regularly. This keeps his "stuff" posting in my inbox where I want it. (I share with others too.)
Option Two: You can do this… see yellow box.


1 + 1 = 1000!!!
When piperine in pepper is combined with curcumin in turmeric, curcurim becomes much more bioavailable! Men's health magazine says its bioavailability is multiplied by 1000%! Some sources say 2000%!
This means that adding a little black pepper to your turmeric gives you 1000 times the power of curcumin properties, which are:
anti-cancer
anti-inflammatory
anti-allergic
antioxidant
pro-immune
…which means that it is powerful for fighting and preventing disease, including arthritis, Alzheimers, cancer, liver disease, digestive disorders, even depression.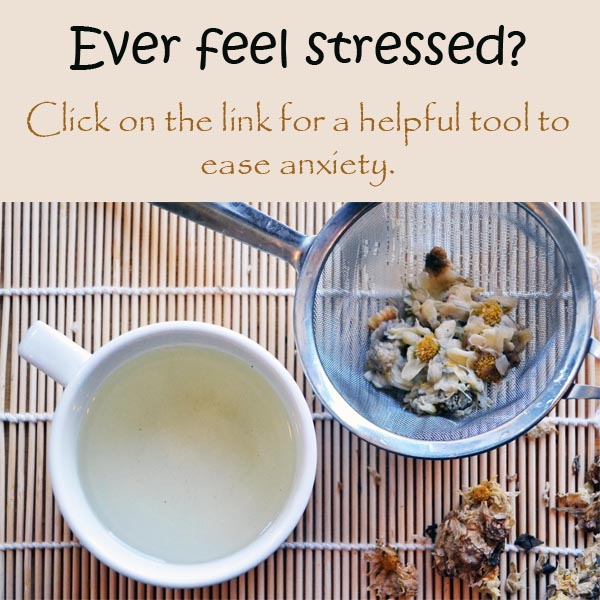 "Better to be deprived of food for three days, than tea for one."
– Ancient Chinese proverb
My personal approach to health is very East meets West. For dealing with stress, there are many methods and endless writings on the subject. We all deal with stress. Here is just one simple and effective tool… dried chrysanthemum tea.
Heat water to almost boiling. Add dried chrysanthemum flower. Allow to steep for only a couple of minutes. Strain. Sit down. Breath. Enjoy. You may actually feel a calming effect.
Chrysanthemum is used for many healing purposes in Eastern Medicine. Included in these is a calming of the nerves and clearing of the brain. It creates a soothing effect. Western nutritionists credit its B carotene, and long list of essential vitamins and minerals for the health benefits it provides.
Pick some up in a Chinese Market near you or order it online. Drink a little every day if you like. Look for yellow in the dried flowers. Mine (pictured) is not the prettiest, but it still worked for me this morning. 🙂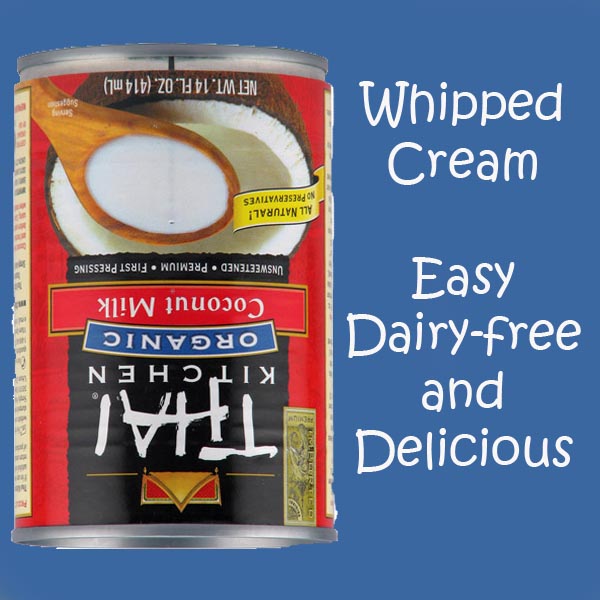 How to make EASY dairy-free, very tasty creamy coconut whipped cream
I think I have only one cool can trick. This is it.
Start with a full-fat can of coconut milk
Put it in the fridge upside-down – let it chill – overnight is good
Remove the can, turn it right-side up.
The milk should have separated with water on the bottom and solids on the top. Scoop out the solids, leaving the water.
Place the solids in a bowl and whip it. It will be whipped cream in minutes
I add sugar, syrup and/or vanilla, or another extract
Don't throw out the water! Drink it or add it to a smoothie, or another dish.
Canned foods Pros and Cons
PROS
Convenience – cans are easy to store & save cooking time
Natural Disaster supplies – handy food source for catastrophic events
Cost – cans are often cheap
Product availability – some food items are difficult to find outside of cans
CONS
Bisphenol A, aka BPA – toxic chemical in cans – bad stuff – very detrimental to health
Aluminum – leakage can cause metal toxicity
Preservatives – sulfites, sodium, a list of unpronounceable additives – more bad stuff
Poor nutrition – especially from imported products, not all foods are harvested at the peak of freshness. Many are canned after already losing most of the nutritive value. If you have heard that "canned foods are as, or more, nutritious than fresh or frozen", this is simply untrue. It is true that some foods, like tomatoes, are more nutritious cooked than fresh, but there is simply no need to process them in a can.
Poor food quality – have you tasted the difference between a canned mushroom and a fresh one?
OPTIONS
Many canned products can be purchased in glass jars
Limit use of canned goods by buying fresh, or frozen, as much as possible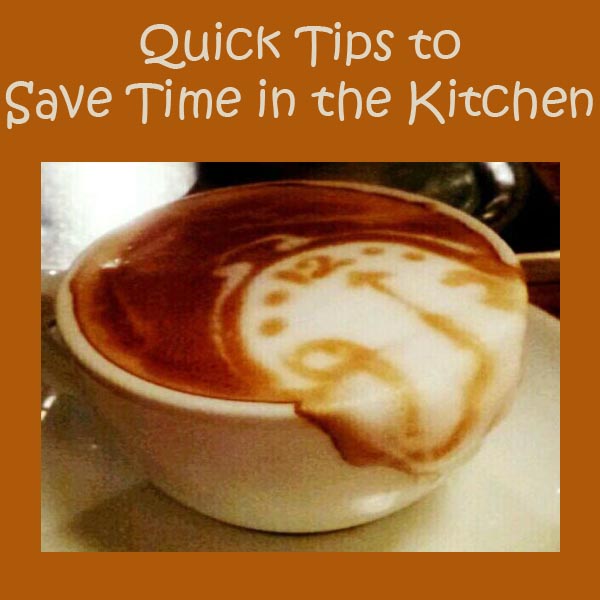 TIME-SAVING HIGHS
Saving time in the kitchen is all about thinking ahead. If you live in the Charleston area, and are too busy to think about these things, you can hire me to help you with some personal time-saving methods based on how you eat. I love the challenge! Here are some basics.
Keep staple ingredients on hand
Simplify… There is a gadget or widget for everything. These often take up too much valuable real estate – counter-space, storage. Keeping counters clear to work is a time-saver.
Mise en Place, aka "Everything in its place". Prepping ahead as much as possible – cutting veggies, par-cooking. etc – makes those time crunch times much easier – like when you are tired after work.
Double up! Some foods freeze very well. Making a double batch and freezing half will make for a quick easy dinner another day.
Cleaning as you go! A stainless steel skillet can cook almost anything. To prevent having a big clean up job with stuck on food, immediately take your skillet straight from the heat to the sink. Use running water and tongs holding a wire mesh sponge or a rag to instantly remove scum. Its like magic! Use the heat to help you clean the skillet and you will never have to soak and scrub nasty pans again!
There are so many ways to save time in the kitchen. Keep following Food Highs for ideas, and use what works best for you.
No pressure. It's only food. 🙂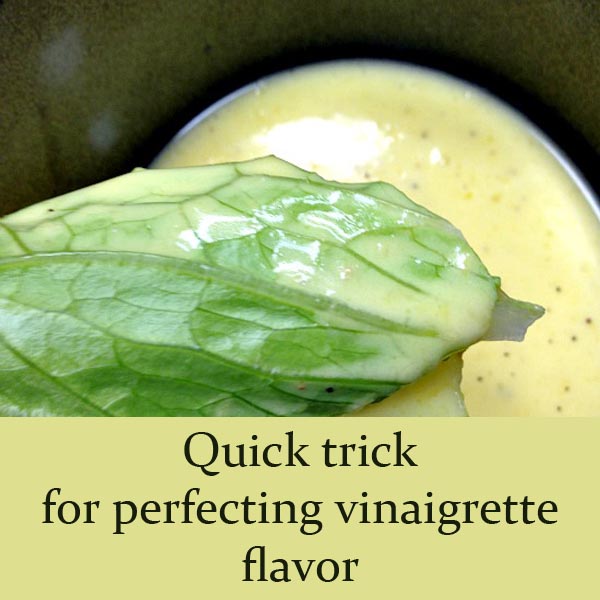 No need to buy the bottled stuff!
When making a vinaigrette, taste as you go, but always do so on a piece of lettuce. If you taste from a spoon, it will be difficult to balance the flavors properly and get the desired results. Using a piece of lettuce will give you a very good idea of what you need. More vinegar? More oil? More salt? Just perfect!
Generally, you want a ratio of about 3:1, oil to vinegar. Example: 3/4 cup extra virgin olive oil to 1/4 cup balsamic vinegar. (This would be a lot of dressing!) Whisk in a bowl or shake in a sealed container.
After that, add salt & pepper, herbs, mustard, whatever you want!

MONEY-SAVING HIGHS
Fresh, Organic, Toxin-free, Cruelty-free, fully nutritious foods SHOULD be accessible to everyone. But I will step down off my soap box and simply offer a few simple suggestions for those of you who are trying to eat clean on a budget.
Eat from the Clean 15 list; utilizing a variety of foods
Eat produce in its season. It is cheaper AND less expensive, not to mention more nutritious.
Look for sales, and plan around them. Whether I need them or not, I ALWAYS check the price on organic meats and dairy. If the price is good enough, I use my freezer and save!
Store brand organics can be very budget-friendly.
Incorporate Meatless Monday, even if you are a carnivore. This is a healthy practice that saves money.
Beans and lentils. Underused. Highly nutritious. Cheap.
Whole organic chickens on sale – If you learn how, it only takes minutes to break these down and make several meals from them. You will spend LESS than you do when buying processed chicken in pieces. (Note to self: Post a How-to)
Make your own everything! Now we run into a "time" problem. That's why I am working hard to develop easy – from scratch – recipes and methods, to save you both time and $$, while getting optimal nutrition.
Follow Food Highs for more tips. My family eats organic foods on a very strict budget too. 🙂

FLAVOR HIGHS
Best chef's secret for making great-tasting food … use the best possible ingredients.
We are just talking taste here… nothing else… a few quick examples:
Fruits and Vegetables – Whenever possible, use fresh, locally grown, in season, organic – Example: a fresh organic apple is so much more delicious than a 14-month-old waxed apple. If you want your kids to eat more fruit, hand them pieces that are fresh and sweet.
Fish – Fresh whole fish should not smell like fish. There should be a metallic sheen, with rich vibrant gills. Clear eyes, no cloudiness.
Butter – Homemade from farm-fresh grass-fed cows… can't beat it. Plugra is delicious, but the fat content is much higher (that's why it is delicious). My preference = one of the Irish brands, from grass-fed cows, like Kerrygold = Great flavor!
Eggs – Farm fresh and free-roaming, hands down, will provide you with optimal flavor. If you don't have a friend with a farm, look for reputable purveyors with healthy, anti-biotic-free, cage-free (for real) chickens.
Chicken – Air-chilled chicken is not soaked in bleach water. It tastes better. The texture is better.
Coffee – Fair-trade coffees are not only are ethically optimal, but as a general rule, taste better. Chances are that more care was given to the production of a fair-trade brand – especially if it is also organic. They tend to be less cloudy, and have a deeper, cleaner flavor, whatever the region of origin.
A general note on animal protein: Happy, healthy, and free animals are not stressed; they produce better flavor and a much better product all-around.

The Clean 15 – Foods with the lowest levels of pesticides
If you pick and choose what you buy organically, this is a list of much less toxic items. These foods, for various reasons, have less contamination.  Yay!
Asparagus
Avocado
Cabbage
Cantaloupe
Sweet Corn
Eggplant
Grapefruit
Kiwi
Mango
Mushrooms
Onions
Papayas
Pineapples
Sweet Peas (frozen)
Sweet Potatoes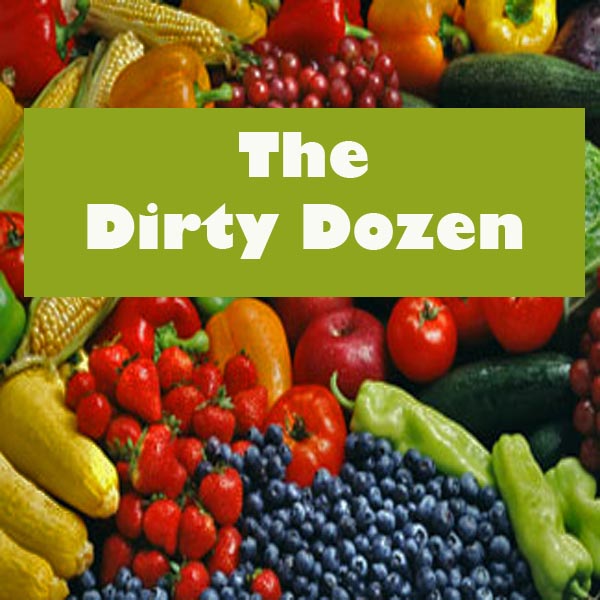 Dirty Dozen – Foods with the highest levels of pesticides
If you wish to avoid pesticides – and why wouldn't you? – buy organic, at whatever level works best for you – all things considered. Yes, organic is more expensive. But it is cheaper than compromised health. In any event, don't stop eating fresh vegetables! Try to get a good variety. Include the Clean 15 – less toxic varieties.
Apples
Strawberries
Grapes
Celery
Peaches
Spinach (many sources extend to other leafy greens, like kale and collards)
Sweet bell peppers
Nectarines
Cucumbers
Potatoes
Cherry tomatoes
Hot peppers
EWG (Environmental Working Group) add summer squash to the list
Many lists also contain blueberries – domestically grown
Healthy Lunches… with Variety and Flavor

If you read my blog, you know I love a good make-ahead. If you do a little advance prep, you will thank yourself when it is so easy to get food on the table, or in this case, in the lunch bag. And if you are sick of the same old pb&j day after day, here is one method for organizing lunches that will be full of both nutrition and variety.
Let's break it down… Fiber is an important lunch component. Incorporate some fiber and you should not be hungry again an hour later. Protein will keep you going. Great flavor is a must to prevent boredom!  And you need a wrap or a base of some sort, like salad or pasta, to bring it all together. Soup is a great base too, but I could not fit everything on one page! And, of course, there are other nutrients to consider. Keep other add-ins handy, like crunchy cucumbers and creamy avocado slices (good fat), cheese or yogurt.
In the chart are 7 examples days… Each line is a lunch. Or mix and match to your heart's content. Make your own lists with items your family likes.
If you want to be a lean mean lunch machine… label and fill four stackable containers with each category and let your family do some of the work by choosing their own components. This way, they can't blame you if they don't like it. 🙂 This would certainly keep things interesting.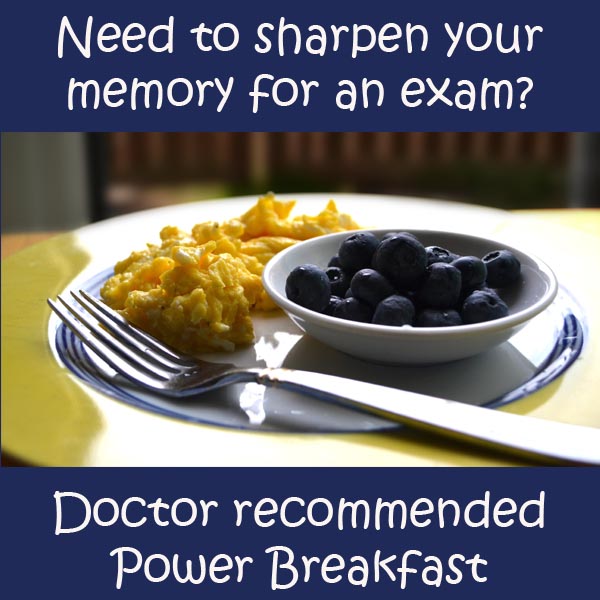 Optimal Pre-Exam Foods, or anytime you want to look smart. 🙂
Among other healthful foods, like whole grains, nuts and seeds, two big brain boosters recommended for a pre-exam power breakfast, are eggs and blueberries. Here is why.
Eggs are a great source of choline. Choline is a supporter of neurotransmitters. This can reduce some of those neurological misfires.
The antioxidants in blueberries aid short-term memory, spacial learning, and coordination. If you want to read more, check out this article in Psychology Today.
Of course, if you stay up all night partying the night before, and don't study, don't expect your eggs and blueberries to perform a miracle.
Are bananas good or bad for… ahem …digestion?
Yes.
Actually, it depends on the banana. A green banana has a higher starch content, making it suitable for eating when diarrhea is present… and, no, I cannot believe that I just referenced diarrhea on my food blog. But wait! There's more! Bananas are rich in potassium. Individuals with chronic loose stools are often depleted of this nutrient. Green bananas may be a great food to include in the diet.
For constipation, choose a ripe banana with its high fiber content. But not too many! Other, maybe better, choices would include dates, figs, apricots, peaches, and prunes. Mix it up! Variety is a good thing. Drink lots of water, as well.
One more quick note: a banana makes a GREAT after workout carb replenisher!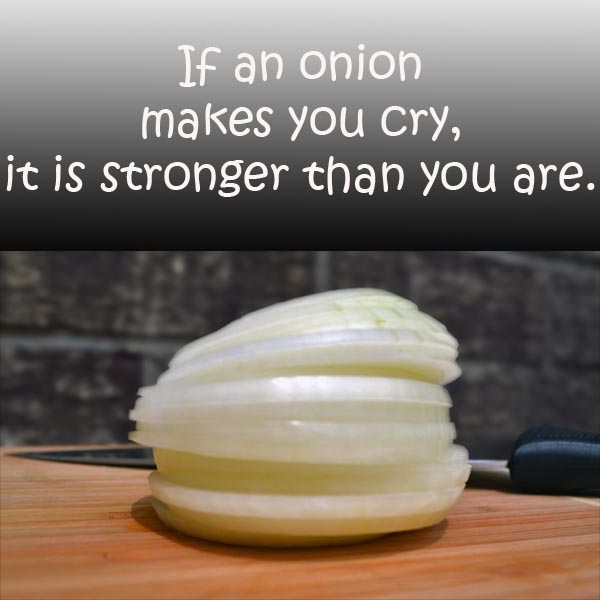 How to use the onion to beat the tears!
You have probably heard all the antidotes for counteracting onion fume induced tears. Stick your head in the freezer… wear goggles… soak onions in water… Man up!
Instead of getting mad at the onion, consider what might be going on inside of you. Among MANY other healing properties stored inside an onion, is the ability to act as an expectorant.  An onion will act to bring up congestion which is already inside of you. This makes onions very useful for fighting colds, coughs and flus.
Preparation Tip: If you are using the onion for this purpose, raw is preferable. Think juicing. Add honey to make it palatable. Or throw shredded onion into finished dishes. Or chop them up and place them where you will breath in those healing fumes.
This is ancient Chinese wisdom :-), but modern science is catching up! Studies agree that the stronger the onion, the better!
Eight Reasons to Make Garlic-Infused Oil
Click for an easy garlic-infused oil recipe!

Get 2 for 1 every time!
If you use the green part and not the white, you can place the white root end of green onions (scallions, spring onions) into water and regrow the green! No effort on your part. Just put them into a glass jar on a windowsill, so it can get a little sunlight, and let it make free food for you. 🙂
Some who suffer from IBS are unable to digest onions because of the fructans they contain. However, the green part of scallions is actually Low FODMAP diet friendly! Onion flavor without side effects – YAY! Keep a pair of kitchen scissors on hand to snip off greens as needed. And if it sits for too long, empty and refresh your water.
Note: You do not have to use a coconut oil jar… I don't like waste. I happened to have an empty coconut oil jar that was destined for the recycle bin… at the same time I had a fresh batch of roots (and needed to clean my other jar)… Voila! easy green onion saver. You can use a classier container, if you like.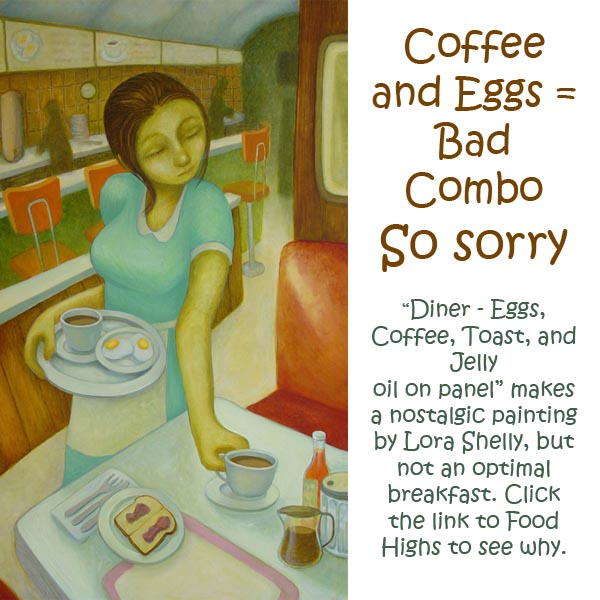 Coffee and eggs – not an optimal pairing 
This kills me! My most convenient go-to breakfast consists of eggs, oatmeal with blueberries, and coffee. Coffee is a great source of disease-fighting polyphenols. Yeah, THAT'S why I drink it. Eggs are a great source of iron. But combining the two is not nutritionally optimal. Coffee polyphenols prevent iron absorption. So, you won't get the most out of your eggs, unless your goal is to not absorb nutrients.
Some sources say that you should not pair coffee or tea with any solid food! … because the tannin interferes with absorption of calcium, iron, and zinc. Not sure I would personally go that far. "Food Highs" also include optimal enjoyment. But consider a glass of OJ with your eggs. Vitamin C and Iron are good friends! And have your coffee at another time.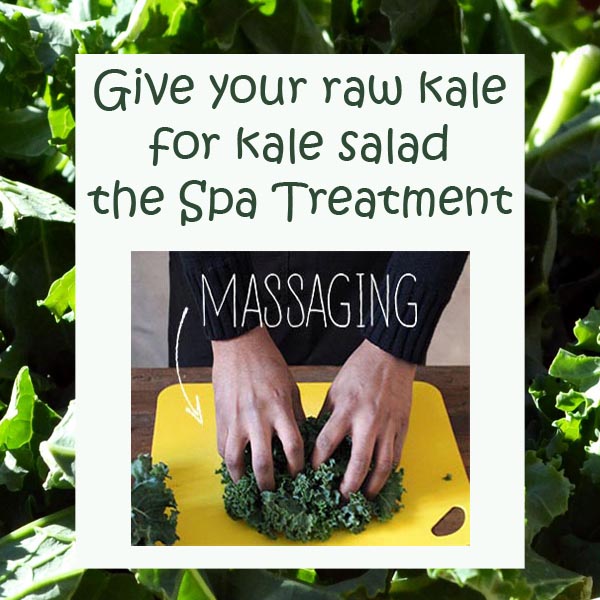 Massage Your Kale! 
Really? Yes! Really! I can hear you through the computer. If you have not done this before, you are scoffing at me. But trust me… it will return the favor.
Massaging kale breaks it down a bit. (Aren't you more relaxed after a nice rub down?) Your bit of effort is paid back with dark green kale that is much less bitter and much more easily digestible. So you have to spend a little time giving your kale the spa treatment… doesn't this still beat slaving over a hot stove on a busy work night?
Massaged kale makes a great component for a quick salad. If your kale tastes better, you will eat more!
Here's how: Message with or without a bit of oil… my preference is first cold pressed olive oil, but any oil you like will do, and this makes a great base for your dressing. Taste a piece now and then to see if it is to your liking. And, of course!…super clean hands!
Because kale is phenomenal! And available year-round, it will get special attention on my blog this month. Stay tuned for more!
High Fiber – Low Glycemic Load – No cooking!
Do you want convenience food? Great nutrition? Save time in food prep? It does not get any easier than this.
On your next grocery shopping trip, instead of throwing packaged sweets and chips into your cart, grab some Medjool dates and pecans! Then when the snacking mood strikes you, slice a date, stuff it with pecans… Enjoy! Medjools are sweet and delicious! …  like sugary caramel. Seriously, get good dates, no bulk for this.   Add pecans and it is like eating pecan pie!
Fiber is good every day, but if you have been indulging in greasy low fiber foods, say… over a day of Seahawks and Broncos, a little extra fiber may be a good thing. …just sayin'
Want to know more about how amazing dates are? Click here.

Soak quinoa? Why?

It does not take all that long to cook quinoa. Rinse, and cook in about 12 minutes. Still, you can save most of that time by keeping sprouted quinoa in the fridge. That may not seem like a big deal… kind of like quick-cooked vs rolled oats. But if you wish to incorporate more quinoa into your diet, and are a busy person, those few minutes add up. Sprouted quinoa cooks in only a couple of minutes! This makes it easy to throw quinoa into virtually any dish.
Besides saving time, soaking unlocks its nutrition, making it more bioavailable. More bang for your buck!
Here's how. Place quinoa in water in a glass container in the fridge. That's it. If you do not use it right away, rinse and change the water every few days. You will always have quick-cooking bioavailable living fresh quinoa on hand! You can even eat it raw this way! You will detect a slight bitterness if you eat it by itself, but if you add other flavors to it, it is nutty and chewy and nutritious.
Heart Health Fast Tip – When to Salt
Salt your food in preparation, not at the table.
Whether or not you use salt at all is a matter between you and your physician. But if you do use salt, add it in the kitchen during food preparation. Here are three good reasons why:
(1) When salt is added during the cooking process, it assimilates into the food, making it easily digested by the body. Your body recognizes this and knows what to do with it. If salt is added at the table, it is almost like eating salt alone! This is not a good thing for your vascular system.
(2) In general, less salt is used overall when it is added during cooking, and not at the table.
(3) Your food will taste better if properly seasoned during cooking.
Would you like to know more about different types of salt, and which are better? Click here.
Nutritional Yeast – unfortunate name, fabulous product!
Fast and Easy Energy! Dairy-free, Gluten-free, Sugar-free
This cultured yeast was developed for the purpose of providing a vitamin B12 food source for vegetarians. Turns out, that it is more than "nutritional". It is surprisingly tasty! It is a little nutty and sharp, like Parmesan cheese.
If you have candida, or issues with yeast, you should avoid this product. If not, then purchase it at a health foods market, or order it online, and ENJOY!
You can throw it in chili and stews, or in nutrition bars, in a salad, or anywhere you want a cheesy taste, boost of nutrition, or would use Parmesan.  My favorite way to use n. yeast – keep it in a mason jar in a handy easy-to-grab location, and sprinkle it on spaghetti or over pizza. I use it a lot in both Vegetarian and Paleo cooking.

Broccoli + Tomato = Cancer fighting synergy!
This is more "serious nutrition" fact, than "fun" fact.
Broccoli is a cancer fighter. Tomato is a cancer fighter. Together they pack a powerful one-two punch that exponentially increases their effectiveness against prostrate cancer.
Here are preparation tips to make them work even harder for you: Tomatoes release more nutrition when cooked. In general, broccoli retains more nutrients when it is only gently cooked. So when combining these two ingredients, consider something like a tomato sauced pasta with steamed broccoli florets, or a sundried tomato and broccoli salad. Adding a little olive oil makes it all work even better!
 The best of health and happy eating to you!
Thank you
[info_box]Information on this site is not intended as medical advice. You are a unique individual; what is best for you should be determined by you and your healthcare professional(s) of choice.[/info_box]
Fun Fact Image Sources